Omar Rodriguez-Lopez started out learning bass guitar at the young age of fourteen, but switched to primarily playing electric guitar as he desired more strings. Fifteen years later, this Puerto Rican native is the composer and guitarist for both progressive avant-garde band the Mars Volta as well as his own band the Omar Rodriguez Lopez Group. Rodriguez-Lopez will be taking his band to Australian shores in December, as well as bringing along Mexican punk band Le Butcherettes for the opening slot.
Hey Omar, thanks for taking some out and speaking with us. How was your Thanksgiving?
Good, thank you. I just spent it with my family.
As you compose all songs for both the Mars Volta and your own band, the Omar Rodriguez-Lopez Group, it seems like you're essentially a full-time musician. Is this the case?
I wouldn't really consider myself a musician at all. I think that would be a little insulting to actual musicians who have vast knowledge of music theory. It would be like calling myself a chef because I know how to cook. I just see myself being a full time expressionist. I like expressing myself a lot, and music is one of the many vehicles of expressing myself, along with my filming and photography. Music is just what I'm known for in the exterior world and because of that I'm received as a musician though I've never thought of myself as one.
That sounds like a pretty humble view of yourself.
Yeah, but it's just the way it feels. I've been lucky enough to be blessed with being able to do this for a living and have the opportunity to play with real musicians and have real musicians play my compositions, so I can easily see the difference between myself and a musician.
You released ten records for your band in 2010 alone. Is that because you and Cedric Bixler-Zavala had decided to slow down the Mars Volta's album creation rate?
There was no rhyme or reason for it, really. On average I make about fifteen records a year but don't release all of them. There are some that I keep for myself or give to my friends as gifts. Sometimes people will say something like "oh, why didn't you release that record? That was a really nice one!" And then I might decide to have another listen to it and think about releasing it. I guess that in the exterior world it seems like fifteen records per year is a lot of music to produce, seeing as most artists release about one album every two years. People may see creating all this music as some sort of intensive labour and I'm always hard at work, but it's just me playing music.
Seeing as you have such a large discography, is it difficult to choose what pieces to play for a show?
It just depends on what I crave. Whenever I sit down with my band and plan our sets it's usually us saying things like "Oh, we haven't played this one in a while" and "Oh we've never played that one; that'd be great to play." It's a very intuitive and relaxed process.
What are the differences between playing with the Mars Volta and playing with your own band?
There's none, really. The main difference is that the Mars Volta is more of a corporation and because there's a bigger budget, there are a lot less limitations. It's the same method for both bands when we rehearse and set up before a show. I write the compositions for both bands so they're both really special to me.
I wanted to ask you about your old band De Facto. You guys re-released De Facto's debut album Megaton Shotblast. Do you plan on re-releasing any more of the old records?
Absolutely! We plan on re-releasing all the albums and also putting out a documentary of the band made up from a journal and some film I took when De Facto was active.
I have heard that you record a lot of band footage. Naturally, a lot of your fans are going to want to see a lot of your recordings – when do you plan on releasing it all to the public?
Hopefully around some time next year. I'll probably start to go through my footage when it feels most natural to work on it. Unlike a lot of artists, I don't really have an agenda so what I do from day to day depends generally on how I feel.
You're bringing Mexican punk band Le Butcherettes as an opening act on your Australian tour while also filling in for their bassist. Are they excited on going on their first overseas tour?
Oh, are you kidding? They can't believe it! You can never believe your first overseas tour. When you're first in a band and you tour interstate for a while it's fun, but when you first get invited to go overseas then there's nothing quite like it. It's really good that Le Butcherettes are so enthusiastic about this tour because it's really good to be around energy. It's really all they've been talking about.
– Tom Gaffney
Omar's Australian tour commences this weekend. We've got all the details.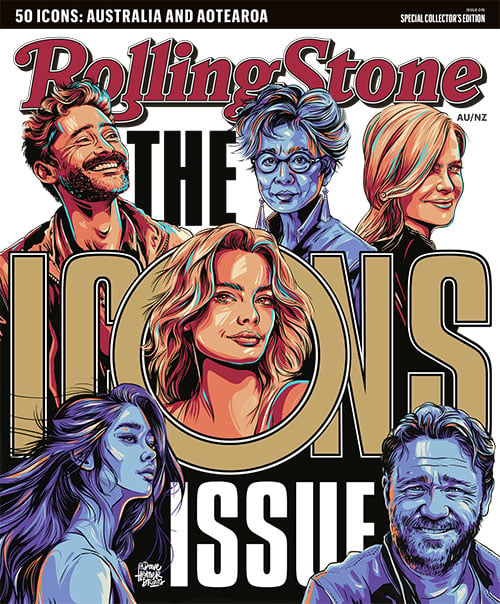 Get unlimited access to the coverage that shapes our culture.
Subscribe
to
Rolling Stone magazine
Subscribe
to
Rolling Stone magazine