When guitarist Austin Brown from Parquet Courts picks up the phone, he's sipping on wine and watching movies – a well-earned moment of rest for one of Brooklyn's hardest working post-punk bands. After having just completed a tour of Europe and the US, the boys are gearing up to tour Australia for the first time as part of the Laneway Festival in 2014.
All hailing from a small town in Texas (except bass player Sean Yeaton, who's from Boston, Massachusetts), Brown met frontman Andrew Savage at college before later moving to New York, where they now call home.
The city has become a sort of renewed "hometown" for the group.
"We all kind of moved up here separately for our own personal reasons. For me…I'd lived in Texas for 22 years and just kind of had enough. I wanted to be somewhere else."
Brown admits, "I really admired the way of life in New York and wanted to try it out. I kind of fell in love with it, and I've been here ever since. I consider it my home now. I feel way more at home here than I do in Texas."
When it comes to interacting with fans, Brown adopts a minimalist approach and is cautious of overloading their followers with information. He dislikes even the idea of guiding the listener by listing influences, hating the notion of creating a "pigeonhole for my taste in that way". Essentially, Brown wants fans to be able to think for themselves.
"I feel like the influences are pretty obvious to me whenever I hear it, and I don't know if it's really doing the listener a service by making a reading list for them – a listening list, as it were."
"I would hate to end up in anyone's spam folder"
Similarly, the group have little to no presence on social media, operating online solely through a small blog. Brown believes that creating a Facebook or Twitter account is "one of those things that bands do when they first start out" and proudly affirms Parquet Courts' decision to not "interact with people that way".
"In the grand scheme of things, social media is very new and, I think, a pretty irrelevant way for musicians to interact with their fans or people that they would like to interact with. I hate to think of us using some sort of pre-determined social media format to get peoples' attention and I would hate to end up in anyone's spam folder."
Calling out the "digital pollution" of groups that flood your inbox, Brown believes that this lack of contact ultimately makes the experience of a gig much more rewarding, referencing the nature of having to "seek" or "find" something for yourself.
"I appreciate that about certain bands whose online and digital presence is very low. I want people to have the same experience with us."
Having debuted their first record Light Up Gold with "really no expectations", the four-piece received an incredible critical response – even scoring an 8/10 with the folks over at Pitchfork. It would seem natural for the boys to have felt pressure when it came to creating their latest offering, the five-track EP, Tally All The Things That You Broke. But for Brown, this was not the case. Instead, he found that his deepest critic was himself and the "pressure to impress the people that we cared about".
"Once I put something out, I don't feel too concerned about the pressure from anyone else, to appease anyone else's standards. If it passes my test and I'm proud of it, then I couldn't really care less about whether someone else gets it or they don't. That's kind of how I feel. Either someone's gunna get it or they're not, and if I don't think that it's a success, then I wouldn't put it out there for people to hear…it's more like, do you want to go on this ride with us or do you not get it and want to stay at home?"
"I like the idea of putting the pressure on the listener, not necessarily on us."
Australian fans will get their first chance to see if they want to "ride" with Parquet Courts when they tour here for the first time as part of the Laneway Festival early in 2014.
"I've always wanted to go to Australia, but I never really imagined being able to make the trip. I now have a great excuse. It's a real privilege to go over there."
Brown is also keen to catch up with buddies Total Control and The UV Race, having toured with the groups over summer. "They're all really awesome."
"I like the idea of putting the pressure on the listener, not necessarily on us"
Similarly, Brown is quick to praise the current Australian music scene, cooing, "There's so much great music going on over there right now" and that he looks forward to seeing "all that's going on in that part of the world".
Touring the world had been a goal of Brown's "forever". After having achieved this so early on, he finds it "hard to put abstract goals" on the future of Parquet Courts.
"I'm more excited about the evolution of our band. The rest of the goals are just creative. Those are really hard to think of or express without actually making something. I'll make a chart and I'll get back to you!"
Now to the important stuff. When one of your most popular tracks is titled 'Stoned And Starving', there is one question that is simply unavoidable. When put on the spot, just what is Brown's ultimate midnight munch? He replies, "…. oh shit!"
It seems that proximity is key, and Brown's neighbourhood sounds like a dream. "There's a great chocolate company that's just down the street from me called Mast Brothers Chocolate. They make really good dark chocolate."
"I don't have much of a sweet tooth. I'm more of a savoury kind of guy. Chips and salsa is also a really great one, and I love a good cheese. There's a really great cheese shop in my neighbourhood. I'm a big fan of that."
Brown discovered on tour that it wasn't the store-bought goods he missed the most, but the old standards – Peanut Butter and Jelly and cold, day-old pizza. "I think that's a really great snack and that's the kind of stuff you just can't buy in a store. It really makes you appreciate being at home."
"It's the little things in life that really make you appreciate what you have and appreciate the ones you love. Like the cold pizzas of the world…it's a long process, to get the cold pizza, but it's always worth it."
Parquet Courts will tour Australia for the 2014 Laneway Festival and will play sideshows in Melbourne and Sydney.
Read our review of Light Up Gold here
Parquet Courts Laneway Festival 2014 Sideshows
Wednesday 29th January @ The Corner, Melbourne w/- Total Control + Constant Mongrel.
Tickets on sale now from The Corner box office. Presented by Mistletone, Triple R and The Music.
Wednesday February 5 @ The Standard w/- Total Control + Bed Wettin' Bad Boys.
Tickets on sale 12noon from The Standard. Presented by Mistletone, FBi Radio and The Music.
Also performing nationally:
Laneway 2014 Dates & Venues
Brisbane: Friday 31st January – RNA, Fortitude Valley
Melbourne: Saturday 1st February – Footscray Community Arts Centre/River's Edge
Sydney: Sunday 2nd February – Sydney College Of The Arts, Rozelle
Adelaide: Friday 7th February – Harts Mill, Port Adelaide
Perth: Saturday 8th February – Esplanade Park and West End, Fremantle
Tickets and info at http://lanewayfestival.com/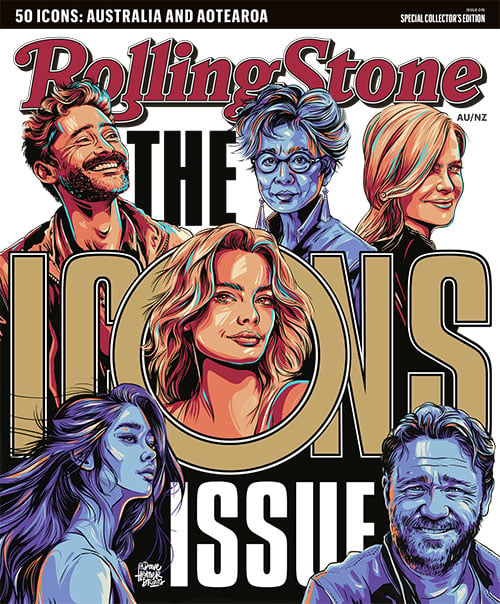 Get unlimited access to the coverage that shapes our culture.
Subscribe
to
Rolling Stone magazine
Subscribe
to
Rolling Stone magazine