Peter Saville's cover artwork for Joy Division's landmark debut 'Unknown Pleasures' depicts the stacked plot of radio waves emanating from the first known pulsar star.
It could scarcely be more iconic.
It's been filed under cultural shorthand, an image encountered on posters, t-shirts, beer mats and any other object you imagine that can physically hold a screen print. Reframed and reimagined in countless tributes, parodies and mash-ups, like the Ramones logo it has transcended even itself to become an emblem.
But emblems and icons are dusty things. They become codified and divorced from their original vitality. The songs of Joy Division and New Order have a still beating heart and demand to be played live. And that heart sits firmly in the barrel chested Mancunian frame of Peter Hook. And Hooky will shortly be returning to Australia to do just that.
His third visit to Australia with his band 'The Light', follows on from the release of his third book and will be focussing on the titular 'Substance' albums of Singles and B-Sides. A wildly diverse undertaking that runs the gamut from the primitive opening thrash of 'Warsaw' to the polished cocaine pop of '1963',  Hook's performances underline his ongoing passion for this music and ensuring its legacy.
"When New Order split up I was happy because I thought it had reached its natural conclusion, but when they got back together again they went to great lengths to downplay the bass, so by doing The Light I've actually made sure that my place in history is cemented.
"The thing is I have an idea about how these songs should sound. I always thought New Order's reliance on electronics was a bit too much. I would have preferred more of the group.  New Order was always like a wonky table where you had to put a beer mat under one leg to get it right and no matter what you did it was never totally balanced right from the start. And with The Light, we don't have that, 'cause the musicians that we have are shit hot. So we are different. I think if anything we're more faithful."
The Tour comes on the heels of Hooky's third set of stories, Substance, recounting his time with New Order. He'd mentioned previously that it was the hardest one yet to write, but I wondered if it had also been a cathartic experience.
"Yeah, after Bernard's book it was cathartic! After out of 100 pages on his life in New Order he devoted over 60 of them to calling me a bastard!" he laughs uproariously. "Although I should take that as a compliment really, shouldn't I? There were a lot of myths about New Order that I was a little bit loathe to dispel but it was made all the easier by them reforming as disgracefully as they did.
"It was cathartic in different ways. I've been fighting a battle against them now for royalties for six years and when you're going through an acrimonious divorce everything feels like shit… and to be honest, I had a very jaundiced view of everything New Order had done. But when I started doing the book and went back in time to relive the wonderful, glorious moments, and the fantastic achievements that we really carved from the ashes of Joy Division? It cheered me up a lot actually – we did fantastically.
"It was very important for me to get it right and I had to be very hands on with this one, and if I needed any more inspiration to write a great book it was cos Barney's was such a shit book!"
The shows will see Hooky returning to Joy Division material after the 2015 35th anniversary of Ian Curtis' death where the band strapped in to power through the bands entire catalogue, surely a herculean task and a deeply emotional undertaking.
"Yeah!" he laughs. "The weird bit about it is that you have to pace yourself like a marathon, so you couldn't just burn through the set and go mental, you really did have to hold back. 48 songs! But it was great and I'm sort of madly looking forward to the 40th anniversary so we can do it all again.
"It was good to do it for Ian's charity, to do it in the church that Ian used to go to when he was a kid was even better. It was very emotional actually, even going down to his grave that morning just to say hello. It was quite odd."
The day I spoke with Hooky was in fact the 35th anniversary of New Order's celebrated 'Blue Monday' single, and the change and evolution from the demise of Joy Division to that track, within a mere two years, is staggering.
"Well the interesting thing about the change was that the technology available in 1982 was light years ahead of what was available in 1980. The DMX, Prophet sequencers and Prophet 5 synths that we were using were fantastic machines.
"You had two great operators in Stephen Morris and Bernard Sumner who really took them to the extreme and Blue Monday was the culmination of the talent of those two and the wonderful innovation in the machines.  So it was ready. The thing is, if Ian hadn't died, god rest his soul, he would have been singing on Blue Monday, which I would give anything to hear.
"It is weird though to think that 35 years have passed. Jesus Christ! Where did those years go? Oh my God!"
Peel away the years at the following dates.
Peter Hook & The Light 2017 Australian Tour
Pre-sale 9am Wednesday March 15 – 5pm Thursday March 16, general sale 12pm Friday March 17.

Saturday, 7th October – Metro Theatre, Sydney
Sunday, 8th October – The Tivoli, Brisbane
Tuesday, 10th October – The Gov, Adelaide
Friday, 13th October – Corner Hotel, Melbourne
Monday, 16th October – Astor Theatre, Perth
Get your tickets to Peter Hook & The Light performing the albums 'Substance' by Joy Division & New Order from Metropolis Touring: http://www.metropolistouring.com/peterhookandthelight/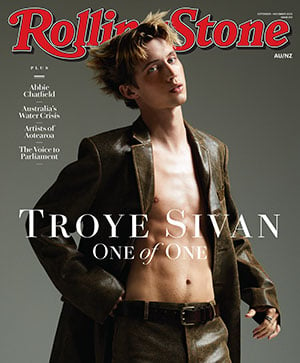 Get unlimited access to the coverage that shapes our culture.
Subscribe
to
Rolling Stone magazine
Subscribe
to
Rolling Stone magazine