Alternative-rock stalwarts the Pixies are set to release a new box set later this year, which will celebrate the 30th anniversaries of their debut releases.
Back in January of 2016, we passed the 30th anniversary of the formation of the Pixies. Back when Joey Santiago and Charles Thompson (better known to many as Black Francis or Frank Black) lived next door to each other as college students in 1986, the pair decided to form a band based around their shared love of music. At the time, there was no way to have known what impact these two humble musicians would have on the face of rock music.
In just over a year, the group had expanded to a four-piece and recorded their first demo, which became known to many fans as The Purple Tape. The success of this demo led to the head of 4AD records releasing a mini-LP in September of 1987, which was compiled from eight of the band's demo tracks. Titled Come On Pilgrim, the record saw the group a large amount of press, success, and gave them the push they needed to head into the studio to record their debut album.
Six months later, the group would release Surfer Rosa, which would be considered not only one of the most critically-acclaimed rock albums of all time, but would go on to influence musicians such as The Smashing Pumpkins' Billy Corgan, Dinosaur Jr.'s J Mascis, Nirvana's Kurt Cobain, and even WWE superstar John Cena for some reason.
Now, three decades later, the Pixies are set to release a new box set honouring the legacy of these two gigantic releases.
Titled Come On Pilgrim…It's Surfer Rosa, the new box set will contain the group's debut releases, as well as a live recording, Live From The Fallout Shelter. Recorded in late 1986 live to radio, this live set is one of the earliest recordings of the group, and showcases a hungry young band on the cusp of world-beating success.
There's also set to be a limited deluxe edition of the box set released as well, which will see the recordings presented on clear vinyl, packaged in a "clothbound hardbook", and will feature lyrics and additional art. Basically, if you're an obsessive Pixies fan, you might want to break open your piggy bank now.
Come On Pilgrim…It's Surfer Rosa will be released on September 28th, but pre-orders are available from 4AD now.
Check out the Pixies' 'Debaser':
Come On Pilgrim…It's Surfer Rosa Tracklist
Come On Pilgrim
CD/LP
1 / A1 Caribou
2 / A2 Vamos (pilgrim)
3 / A3 Isla De Encanta
4 / A4 Ed Is Dead
5 / B1 The Holiday Song
6 / B2 Nimrod's Son
7 / B3 I've Been Tired
8 / B4 Levitate Me
Surfer Rosa
CD/LP
1 / A1 Bone Machine
2 / A2 Break My Body
3 / A3 Something Against You
4 / A4 Broken Face
5 / A5 Gigantic
6 / A6 River Euphrates
7 / B1 Where Is My Mind?
8 / B2 Cactus
9 / B3 Tony's Theme
10 / B4 Oh My Golly!
11 / B5 Vamos (Surfer Rosa)
12 / B6 I'm Amazed
13 / B7 Brick Is Red
Live From The Fallout Shelter
CD/LP
1 / A1 Holiday Song
2 / A2 I'm Amazed
3 / A3 Rock A My Soul
4 / A4 Isla De Encanta
5 / A5 Caribou
6 / A6 Broken Face
7 / A7 Subbacultcha
8 / A8 Build High
9 / B1 Ed Is Dead
10 / B2 Nimrod's Son
11 / B3 Down To The Well
12 / B4 I've Been Tired
13 / B5 Boom Chicka Boom
14 / B6 Vamos
15 / B7 In Heaven
16 / x Pixies Interview (CD only)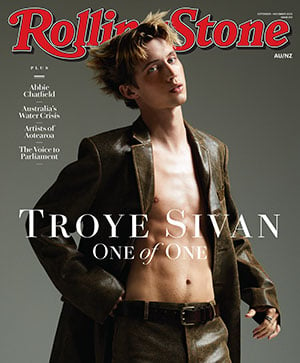 Get unlimited access to the coverage that shapes our culture.
Subscribe
to
Rolling Stone magazine
Subscribe
to
Rolling Stone magazine