In an encouraging result for Australian recoding artists and record labels, the Phonographic Performance Company of Australia LTD (PPCA), the non-profit organisation that provides licenses to Australian businesses to play recorded music and handles the relevant distribution of royalties, has released the latest figures of last year's results.
The PPCA have announced that 2012 has been a record year, distributing $29 million to registered Australian artists and record labels for the financial year of 2011/12, which marks a 13% increase on the $25.6M that was distributed in December 2011.
The latest figures show a growing trend in the distribution pool annually since the PPCA's formation in 1969 to help protect the copyright and licensing of recordings, a figure which has also increased. Over 1,200 licensors have contributed their repertoire and catalogues, drawn from thousands of labels, as of December 2012.
"It is fantastic to see the distribution to our artists and record labels continue to increase year on year," said PPCA and ARIA CEO Dan Rosen. "It's also a wonderful reflection on our team here at PPCA, who work hard to ensure that our licensors are being rewarded for their creative work when it is used to help drive Australian businesses," said Rosen, who added his encouragement for more artists and labels to sign with the industry body.
The PPCA currently licenses approximately 55,000 businesses across Australia for the public performance of sound recordings, including licenses for radio and television broadcasters as well as internet services, to allow them the legal use of recorded music with the artists being properly compensated for their creative work."It is fantastic to see the distribution to our artists and record labels continue to increase year on year." – Dan Rosen, PPCA CEO
The PPCA distribution results echo similarly positive results from APRA | AMCOS, who's own year-end figures demonstrated that a significant increase in distributions paid to members of the national music copyright organisation, announcing it had distributed 14% more royalties to members year-on-year, which was labelled as "exceptional" by Chief Executive Brett Cottle.
"The real story has been the significant increase in distributions paid to members and to affiliated societies," said Cottle at the time. "Total royalty distributions grew by $28.9 million across the two societies, to $236.9 million – an increase of 13.9% on the preceding year."
Revenue for the group, which represents songwriters, composers, and music publishers, grew by 7.2% overall, to $257.4 million. APRA revenue – representing music royalties for public performances, broadcasts and online communications – grew by 1.5% to $185.7 million, while AMCOS revenue – representing royalties from physical sales, digital downloads and other reproductions of music – grew by more than 25% to $71.7 million.
The figures also demonstrated that the sale of digital music and legal downloads has become an increasingly important source of revenue for Australian artists, outside of licensing, which could come to reflect the state of international markets, where global financial impacts and buying trends have meant a significant dip in physical sales, most notably in the recent announcement that UK music retail giant HMV would be going into administration.
In fact, Australia is soon set to follow in the footsteps of UK and US markets, with new figures showing that it won't be long before digital sales overtake physical sales entirely, which along with the healthy growth in revenue from licensing and royalties, could stabilise what's been perceived by record labels as a disastrous drop in purchasing power from the record-buying public.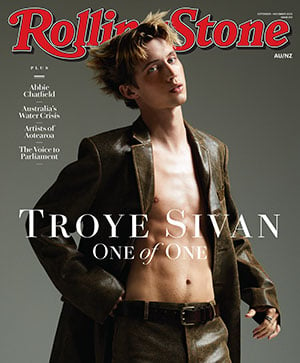 Get unlimited access to the coverage that shapes our culture.
Subscribe
to
Rolling Stone magazine
Subscribe
to
Rolling Stone magazine