With much of the world in lockdown or self-isolation, Melbourne punk icons Bodyjar have shared a special version of new single 'Big Shot', recorded live for the Staycation Sessions.
Over the last few weeks, the world has been in crisis mode. While shops, pubs, and borders close, no one has been feeling the crunch more than the music world. With countless shows and tours unceremoniously axed, artists have been turning to different methods in order to get their music to the people.
Just last week, Melbourne's Bodyjar released their latest single, 'Big Shot'. Produced by the band and Sam Johnson, the track is their first piece of new music since 2017's Terra Firma EP, and precedes the release of the band's next full-length album, due later this year.
"This song is about the lack of leadership on either side of politics and the major corporations that control them," explained guitarist Tom Read. "Constantly filling their pockets at the expense of planet earth!"
Check out Bodyjar's 'Big Shot':
Of course, while the song's release was highly lauded by fans and critics alike, its release coincided with a near shutdown of the entire music industry.
To combat this this, a brand new initiative has been launched to occupy this gap, with Bodyjar leading the charge.
Dubbed The Staycation Sessions, it's a collaborative effort between a handful of Melbourne-based musicians and creatives, who aim to fill the current void in the local music scene by bringing their music to the digital world instead.
Love Classic Rock?
Get the latest Classic Rock news, features, updates and giveaways straight to your inbox Learn more
Created with the goal of keeping bands and music-related businesses afloat during this period of social distancing, it also helps to keep fans engaged during this time.
To kick things off, Bodyjar entered the studio on Wednesday, March 18th to record the first edition of this live series, and are today releasing their Staycation Sessions version of 'Big Shot'.
"Given we currently don't have a chance to play this live in front of a crowd as planned, we thought this was the next best thing," the group explained.
"With what is happening around the world we wanted to do anything we could to give our fans or even the casual passerby something to smile about until we can get back on the road. We are planning to do so as soon as it's safe and have a great line up ready to go.
"Until then stay the fuck inside people!"
Keep an eye out for more instalments in the Staycation Sessions series, but until then, check out Bodyjar doing what they do best with their cracking version of 'Big Shot' below.
Check out Bodyjar performing 'Big Shot' for the Staycation Sessions: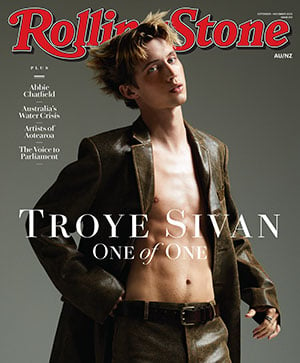 Get unlimited access to the coverage that shapes our culture.
Subscribe
to
Rolling Stone magazine
Subscribe
to
Rolling Stone magazine