Formed by musician, programmer, and computer science dropout Charlie Gleason, Brightly is an indie pop/ folk/ electronica three piece based in Melbourne.
Accompanied in 2012 by Nicholas Lam as guitarist, and Joshua Barber as the band's drummer, the band have two previous releases under their belt – Beginnings & Endings (a solo effort by Gleason) and The Greylings EP.
Their latest effort the stunning 8 track LP Oh Infinity was produced between Gleason's new home London and Melbourne, the band have been building on their distinct sound while trading a hundred thousand samples by email. To celebrate the upcoming release,Gleason has given us a track by track run down of Oh Infinity – the band's most impressive work yet.
True
"I initially wrote 'True' during the sessions for Beginnings & Endings, and it was the only song from that time that stuck around. It's about wrestling with who you are, be it your sexuality or some secret part of yourself, and trying to find solace in isolation.
Lyrically and musically it was absolutely the inspiration for the whole record, and it's a theme that runs through all eight songs. Coming to terms with who you are, living with a secret, finding yourself. They're the core of Oh, Infinity, the concept that drives it all.
We had so much fun recording this. When I showed them, Nic and Josh just went totally ballistic in the chorus, and it was done. I'm so thrilled we were able to capture that passion in the recording—I can't count the number of strings I've broken playing this live."
I Can't Change Now
"There's a really great song, Ballgame, by Kevin Devine, and it has the lyric "When you realise it's a pattern and not a phase, it's what you've become and it's what you will stay".
I'm nearly 30, and I'm still coming to terms with the little bits of my history that are kind of stuck with me now. Too much has happened for me, for my friends, to have a clean slate anymore. Ultimately you have to die to your past, to your mistakes, and live in the moment. You can't change them.
I love the piano in this one. It feels so full and warm, and it was one of those times where we did a single take and it just worked. I was bouncing around the control room, just losing it. I was doing that for most of these sessions though, to be fair."
Sister
"This is about as close as I've ever gotten to writing a banging dance track, which probably says a lot about my ability to write banging dance tracks. I went to a gay bar in Melbourne once, and I was kind of playing dress up.
I wore a pair of high heels and this oversized dangling earring, like a wannabe new romantic, and a guy walked up to me and whispered "No one is going to fuck you when you look like that." It broke my heart, because I thought the gay community would take care of its own. I mean, there are enough people shitting on us, we don't need to help them.
So I guess Sister is a song for all the drag queens, all the kids that don't really fit a mould. Be angry, be proud. Don't let anyone else tell you how to feel."
Oh, Infinity
"Carl Sagan said "Some part of our being knows this is where we came from. We long to return. And we can. Because the cosmos is also within us. We're made of star-stuff. We are a way for the cosmos to know itself." I adore him, and his way of describing our relationship with the wider universe has always really stuck with me. Every time I think about mortality, or I get anxious, I look out the window and think about that quote and it all seems okay again.
I initially wrote this using Teenage Engineering's OP-1, which is my absolute favourite piece of kit. It was one of the first ones we wrote for the record, and it's definitely indicative of how strong Nic and Josh are musically. They 100% make me sound better than I really am."
Keep Me Close
"This is probably the closest thing I have written to a love song, and it's about my boyfriend, who is a really rad guy. I kept reading these horrific stories about homophobic attacks around the world, and it always scared me a bit, deep down. Like the sword of Damocles, hanging above our heads. The more I thought about it, though, the more I realised that our relationship is the best possible way to fight back. That together we're invincible.
The lyric "I could hold my breath forever if you held my hand" is probably the most honest thing I've ever written. Because of that, out of all the songs on the record, I'm proudest of this one.
Simon Lam, of Klo and I'lls, came into the studio to record the harmonies, and he's just the best guy. He's funny, and really irreverent, and owns some of the most incredible sweaters I've ever seen. He's a champion."
It's Too Late I'm Awake Already
"I had really terrible writers block after we released The Greylings, the EP we made after Beginnings & Endings. I'd moved to London, and I was feeling really disconnected, a bit lost. I started cutting up Jack R Reilly's "It's Too Late I'm Awake Already" in our tiny, tiny apartment in London Bridge. I was wandering around this new city because my boyfriend got a job there, and I hadn't really planned any of it, and something about the lyric "I'm still tied to you" really struck me. Once this came together, the writers block fell away and the rest of the record came together pretty quickly.
Josh just slays on the drums in this, too. His ability to hear something once and just nail it is legendary. He's a really passionate guy, and we had a blast making this record. Beginnings & Endings was super produced, and we kept re-recording every single note until we, and Andrei, our producer, were totally exhausted. Making Oh, Infinity was so natural and relaxed, comparatively. Just beers and friends."
I Dreamt We Fell Asleep At The Piano
"We recorded the bulk of the record at Smooch Records, Josh Delaney's incredible new studio in Brunswick. He's just brought in all this equipment and we were like kids in a candy store. The piano we used was apparently on a bunch of Paul Kelly records, and late one night the three of us sat down and improvised this in two takes. Nic played the bottom third, I was in the middle, and Josh played the top third.
Andrei walked out after this take and said "That's it." In a lot of ways it's the spiritual successor to Beginning & Endings' Soundtrack. Actually, I think it was called Soundtrack 2 throughout mixing, which is pretty fitting."
At The Bottom Of The Lake
"Tom Lanyon, of Ceres, is hands down one of the best guys in music. We met at a gig a couple of years back and things just clicked. From memory I was going to sing on 'I Don't Want To Be Anywhere', but things didn't work out timing wise, and I was so chuffed he agreed to sing on this. It totally makes the song. Ceres are absolutely one of my favourite bands, and they deserve every bit of recognition they get.
'At The Bottom Of The Lake' is essentially about the fear of coming out. I guess I wrote it from my perspective as a gay dude, but ultimately that feeling can apply to anyone. It's anxiety, the things you're scared to tell anyone, the stuff that keeps you up at night and swallows you whole.
I wanted to finish the record with it because it's redemptive. It's a step into the unknown, doing something that terrifies you but being willing to live with the consequences of that, whatever they are. I guess at its heart all eight songs loosely make up a concept record about embracing your true self, about embracing your infinity."
For more info on Brightly, visit www.wearebrightly.com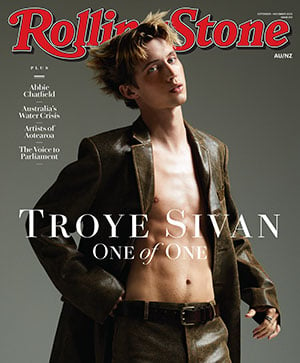 Get unlimited access to the coverage that shapes our culture.
Subscribe
to
Rolling Stone magazine
Subscribe
to
Rolling Stone magazine