Queens Of The Stone Age are currently on tour around the US in support of their latest album Like Clockwork, and frontman Josh Homme seems more fired up than usual.
Just days after ejecting a "fucking douchebag" stage invader at a concert in Florida, Homme had more fighting words for his QOTSA fans, but this time directing his fury towards Grammy-winning pop-rock group Imagine Dragons, as Rolling Stone reports.
Queens Of The Stone Age's 'My God Is The Sun' was nominated alongside Jack White, David Bowie, Alabama Shakes, and Led Zeppelin for the 2014 Grammy Award for Best Rock Performance, but all lost out to 'Radioactive' the radio-storming hit from Imagine Dragons at the LA-based awards ceremony more than a fortnight ago. A victory that's clearly been nagging away at Homme, who voiced his displeasure at a recent concert.
"This next song is by Imagine Dragons," joked the tall, dark and ginger frontman ahead of performing Like Clockwork cut 'I Appear Missing' at the tail-end of QOTSA's show at the Bayou Music Center in Houston.
Drawing boos from the crowd, Homme responded, "just fucking kidding, man," as seen in the fan footage below. But spurred on by the mixed response, Homme continued to vent at the Las Vegas five-piece.
"You gotta admit, you're all imagining dragons right now," he teases before drawling, "you know, fuck everything, fuck the man, fuck Imagine Dragons, fuck the Grammys, fuck all this shit."
Going on to add: "we're supposed to be here with you, we ain't supposed to be, like with some, like the band's dick in our hands," jokingly adding, "although there ain't nothing wrong with it."
Homme is likely also bitter about the Grammys telecast cutting the award ceremony's supergroup finale short.
The show-closing performance featured Queens Of The Stone Age and Nine Inch Nails with Dave Grohl and Fleetwood Mac's Lindsey Buckinhgam, but was cut short by producers who ran shout-outs for sponsors over the top of the performance.
Homme's "fuck the Grammys" slight echoes his musical pal (and forthcoming Australian tourmate) Trent Reznor, the NIN ringleader offering a "heartfelt fuck you" to the Grammys for disrespecting their mega-medley with commercial interruptions.
The Imagine Dragons verbal attack follows a far more physical incident last week in which the QOTSA frontman threw a fan offstage at show in St. Petersburg, Florida after they rushed onstage for an embrace. After chucking the stage invader off, Homme went on a tirade, "I don't care if you love me… you're lucky I didn't fuck you up bro. I'm here to play for you, not jerk you off, you fucking douchebag."
Queens Of The Stone Age warp up their current North American tour in Imagine Dragons' hometown tonight, at the Joint in Las Vegas, before they jet Down Under for their massive co-headline tour with Nine Inch Nails, with support from Homme's wife Brody Dalle.
If you're planning on attending the NIN/QOTSA Aussie tour, and don't want to get on the wrong side of their respective frontmen, simply follow these simple rules: don't rush the stage, cut them short, or win a Grammy – and you'll be fine.
Nine Inch Nails And Queens Of The Stone Age Co-Headline Australian Tour 2014
With Special Guest Brody Dalle

Thu 6 Mar – Sydney | Qantas Credit Union Arena

Fri 7 Mar – Sydney | Qantas Credit Union Arena

Sat 8 Mar – Newcastle | Entertainment Centre

Tue 11 Mar – Perth | Arena

Thu 13 Mar – Adelaide | AEC Arena
Fri 14 Mar – Melbourne | Rod Laver Arena
Fri 15 Mar – Melbourne | Rod Laver Arena
Mon 17 Mar – Brisbane | Entertainment Centre

Tickets: www.ticketek.com.au or Ph: 132 849 
Further infot at www.frontiertouring.com/ninqotsa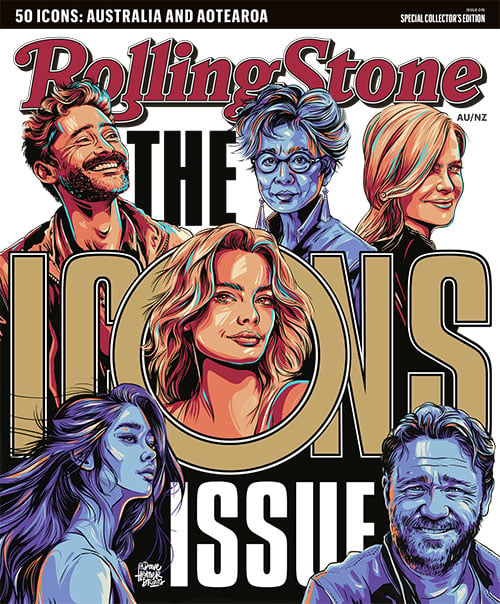 Get unlimited access to the coverage that shapes our culture.
Subscribe
to
Rolling Stone magazine
Subscribe
to
Rolling Stone magazine