Its safe to say that 90s nostalgia is sweeping Australia as a swathe of the decades best (and worst) chart a course for down-under. From the good (Harvest Festival bringing alt-heroes Cake and Ben Folds Five), the bad (Reef cancelling their Australian tour) to the ugly (S Club 3′s atrocious performance), you'd be right for worrying that the influx of 90s groups touring was going to get worse before it got better. (Wheatus and Eiffel 65 for Fat As Butter anyone?)
But now one of Australia's most beloved acts is getting in on the act and capitalising on the era that broke them. Ready to get excited?
FasterLouder reports that Regurgitator are embarking on a tour that'll see them play their 1996 debut Tu-Plang and sophomore re-invention 1997's Unit in full.
A message from the band's Facebook confirms the upcoming tour, dubbed Retrotech 2012:
"In an era beset by an abcess of competition, an influenza of celebrity, a continental flux of technology… and the gasping breath of Regurgitator's nineteenth year as the twilight of its teen years bears down on the double decades. Without looking back for the sake of cutting back… they take a knife to the face of nostalgia and sculpt it a new nose with the highly unexpected – playing TU PLANG and UNIT back to back."
It's not the first time they've attempted such a feat, earlier this year – the 'Gurg played Unit in full at The Falls Festival. A decision proposed to the band "off the still sweaty back of Public Enemy playing Fear Of A Black Planet" in the band's own words, that "the guys do a similar thing with Unit."
Of the Falls 2011 shows, the band write,  "the response was much better than anticipated and in the process the album found itself lodged in the upper branches of the Triple J Top 100 album thing." At the upper echelons of the user-voted poll in fact, at #10, while Tu-Plang peaked at #44 on the same list.
Joining the band on their  "retrotech makeover of these seminal albums" will be Indonesian two-piece Senyawa. Who Regurgitator themselves big up as "having performed at Melbourne Jazz festival, MoNA FoMA and Adelaide Festivals, Rully and Wukir return with their homemade bamboo instrument and perform 'their traditional Javanese heritage filtered through a framework of contemporary experimental music practices' as special invited guests of Regurgitator.
So clear your September/October schedules, break out your best Polyester Girl/Blubber Boy cosplay and get ready to immerse yourself in some real nostalgia.
REGURGITATOR play UNIT & TU PLANG  //RETROTECH TOUR 2012 DATES
w/ SPECIAL GUESTS SENYAWA
All tix available at regurgitator.oztix.com.au or as indicated.
WED 26 SEPT – Byron Bay GREAT NORTHERN
Tickets from The Northern ph 02 6685 6454, www.thenorthern.com.au & www.oztix.com.au
FRI 28 SEPT – Brisbane THE HIFI
Tickets from www.thehifi.com.au or 1300THEHIFI, Butterbeats, Uni Co-op Bookshop Sunshine Coast
SAT 29 SEPT – Sydney THE HIFI
Tickets from www.thehifi.com.au or 1300THEHIFI, Red Eye Records, Utopia Records & outlets
SUN 30 SEPT – Newcastle CAMBRIDGE HOTEL
Tickets from Moshtix.com.au, Bigtix.com.au, the venue, Moshtix outlets
THUR 4 OCT – Canberra UNI OF CANBERRA ZIERHOLZ
Tickets from campus outlets, oztix.com.au, www.ticketek.com.au
FRI 5 OCT – Wollongong UNIBAR
Tickets from venue, Shops on campus, Redback Music, bigtix.com.au, oztix.com.au
SAT 6 OCT – Adelaide THE GOV
Tickets from venue, Moshtix www.moshtix.com.au Venuetix wwwvenuetix.com.au, www.thegov.com.au
SUN 7 OCT – Perth THE ASTOR
Tickets from www.BOCSticketing.com.au and associated BOCS outlets
FRI 12 OCT – Melbourne THE HIFI
Tickets from www.thehifi.com.au or 1300THEHIFI, Polyester Records – CBD & Fitzroy, Sight n Sound – Northcote & Boronia
SAT 13 OCT – Hobart BRISBANE HOTEL
SUN 14 OCT – Hobart BRISBANE HOTEL
Tickets from venue, Ruffcut Records, Tommygun
Regurgitator also performing:
SAT 1 SEPT – RED DEER FESTIVAL, Mt Samson, Qld
www.reddeerfest.com.au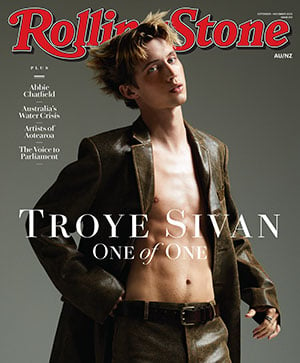 Get unlimited access to the coverage that shapes our culture.
Subscribe
to
Rolling Stone magazine
Subscribe
to
Rolling Stone magazine