Review: The Mark Of Cain perform Battlesick at The Corner Hotel, Melbourne, October 26th, 2019
As most fans of Australian music would know, some of the greatest bands are often overlooked by the masses. Often, these acts receive plenty of acclaim from their local scene, but rarely any from outside their home state, let alone the country as a whole.
For Adelaide outfit The Mark Of Cain, this was exactly the case 30 years ago when they unleashed their debut album, Battlesick.
Co-produced by Stuart Sheldon, the record didn't hit the charts, and went relatively unheard outside of the local scene, but before long, its impact was being felt around the world.
In fact, the group's sound became so influential that even punk icons like Black Flag's Henry Rollins became a fan of the group, eventually teaming up with The Mark Of Cain to produce 1995's Ill At Ease.
"I heard the song 'Wake Up' and I was like 'whooah', I woke up!" Rollins explains of the band. "And then I heard the song 'Battlesick' and it was all over for me, that's just an amazing song.
"For me, just as a songwriter, that's the song for which you wish you wrote the lyrics. Like 'damn man, he wrote 'Battlesick', that fucker. Let me write that. I mean the imagery in the song is amazing and 'Dead Man's Mail', that's just incredible."
Love Classic Rock?
Get the latest Classic Rock news, features, updates and giveaways straight to your inbox Learn more
Earlier this year, The Mark Of Cain emerged from their lengthy slumber to reveal that they would be heading out on tour for the first time since 2015.
Teaming up with The Messthetics for their first tour of the country, the Adelaide outfit brought their legendary Battlesick record around the country, hitting up Melbourne's Corner Hotel for the penultimate show of their tour last night.
Check out 'Wake Up' by The Mark Of Cain:
As fans found themselves piling into the iconic Richmond venue on a Saturday evening, it was clear that this was not going to be a subdued night out. With black t-shirts as far as the eyes could see, and a palpable feeling of excitement to finally see these Aussie music legends live, the vibe was something otherworldly.
From the second that Melbourne's Civic took the stage, fans knew that they were in for an intense set. Kicking things off with a blast of guitar riffs and kick drums, Civic dished out a solid helping of post-punk with sheer fury and dedication, sounding something akin to Aussie icons like The Saints, albeit updated for the modern age.
With rice members crowded together on the stage, frontman Jim McCullough paced around the stage between songs, only to lean into the mic to let loose like a man possessed.
As these songs progressed – with many serving as brief spirits of energy that they seemed over before even beginning – McCullough almost appeared to be channeling a Black Flag-era Henry Rollins (years before he teamed up with The Mark Of Cain), almost making us think we were about to hear a cover of 'My War' in no time.
Wrapping up their set with nought but the fiery riffs and breakneck drumming we'd come to know, it was clear that Civic would be a hard act to follow for those to come.
Check out 'Call The Doctor' by Civic:
As Civic left the stage, the attention in the room soon turned to the impending arrival of The Messthetics. A relatively new addition to the scene, the group's legacy far precedes them, with bassist Joe Lally and drummer Brendan Canty making their first appearance on Aussie shores since Fugazi last visited in 1997.
Teaming up with guitarist Anthony Pirog, the trio have made a handful of records over the last few years, inspiring fans the world over with what has been described as a "jazz punk jam".
As the lights again faded and this enigmatic three-piece took the stage, Lally set the mood with a brief speech about Donald Trump, showing us that, like Fugazi, politics are not too far away from the modus operandi of this exceptional outfit.'
Kicking things off with a raucous cacophony of noise, the mesmerising mix of frenzied drumming, deep bass, and furious guitar left fans wondering just what they were about to witness, with Pirog answering this question with a rash of wild strumming.
With their songs sounding just as they did on record, fans who had done their homework were clearly enthralled by the presence of the outfit, while those who were expecting something like Fugazi 2.0 were left somewhat bored by a lack of vocals.
However, this boredom couldn't last long, with many naysayers converted into fans by the end of it, blown away by drum beats of critical intensity, and bass so deep you can feel your chest cavity rattling.
Undoubtedly, Pirog's guitarwork was the star of the show though, showcasing a profound professionalism for his instrument that would make most musicians blush. With a style of playing that is equal parts excitable and emotive, he contradicted passages that left fans feeling riled up and eager for more with sections that stirred up emotions long left dormant.
Truly, Pirog is a legend of the instrument, with fans truly privileged to see both he and The Messthetics performing their debut Melbourne show as they dipped between genres of punk, metal, jazz, and the soaring, grandiose style one would expect to find on a post-apocalyptic movie soundtrack.
Check out 'Quantum Path' by The Messthetics:
As the evening rolled on, it was clear that fans were getting eager for The Mark Of Cain to take the stage. Dishing out war stories of seeing them live in the past, amidst tales of waiting five years to finally catch them again, fans were getting more excited by the minute to witness what was about to come.
As the lights dimmed and the trio of John Scott, Kim Scott, and Eli Green took the stage, fans were given a quick run-down of what the evening would entail, including a run-through of their debut album, before an encore set full of classics.
Before we had time to even let these instructions sink in, the trio were in full swing, belting out the lyrics to opener 'Wake Up', and showing us within seconds that what we had waited years for was far better than we could have hoped.
As Green amazed everyone in attendance with his intense drumming, John Scott's furious vocals and guitarwork kept us hooked, while Kim Scott's bass was so deep and dirty that you'd think an earthquake alert was about to be issued for the CBD.
As the band dipped into classics like 'The Hammer' and 'Dead Man's Mail', it was clear to everyone just how vital Battlesick is to the Australian music history books, with their performance of the record so tight and fresh that the album might as well have been recorded just last week.
With riffs coming at us from every angle, and John Scott's almost inhuman yell keeping us all in check, it was clear that if you weren't feeling the fury yet, you soon would be as tracks like 'Call In Anger' and 'The Setback' rang throughout the venue.
Check out The Mark Of Cain's 'Call In Anger':
Following performances of other album classics like 'You Are Alone' (complete with that haunting intro sample) and 'Attrition', The Mark Of Cain tended towards the end of the record, setting down their instruments and walking offstage to the sound of rapturous applause.
After a brief intermission which fans used to truly take in what they had seen, the band were back onstage, ready to kick things off once again with a litany of classics.
As the opening notes of 'Interloper' filled the air, a massive cheer rose from the crowd, with audible cries of "fuck yes" being heard from almost all areas of the audience.
Of course, the hits didn't stop there, with classics like 'The Contender', 'First Time', '(R) Retaliate', and 'Familiar Territory' coming at us thick and fast. Even 'Heart Of Stone', a track from "our latest album" (2012's Songs Of The Third And Fifth), left fans feeling completely spent as they quietly pondered whether new music may one day be on the cards for the group.
However, all good things must come to an end, and with a powerful one-two punch of 'LMA' and 'Point Man' from 1995's Ill At Ease, fans had clearly gotten their money's worth, with the furious cheers, chanting of lyrics, and moshing proving that not only do The Mark Of Cain provide an outlet for pent-up energy with their music, but an emotional catharsis unmatched by most other acts.
As we undoubtedly worried this might be the last time we see them for another five years, John Scott promised that with Ill At Ease's 25th anniversary coming up next year, the band would indeed be back sooner rather than later.
While most fans might have been left somewhat disappointed this latest tour from the band wasn't in support of new music, there's no denying the extreme privilege that it was to witness The Mark Of Cain showcase one of the greatest Aussie records of the late '80s.
Truly, no other band is quite like The Mark Of Cain in terms of what they do and the respect that they command, and likely, no other band will ever match them in the future. Those who were lucky enough to be in attendance truly witnessed greatness on stage, while those who missed out will undoubtedly be first in line for the band's eventual return.
Check out The Mark Of Cain's 'Interloper':
The Mark Of Cain @ Corner Hotel, Melbourne 26/10/19 Setlist
Battlesick:
'Wake Up'
'The Hammer'
'Dead Man's Mail'
'Call In Anger'
'The Setback'
'Battlesick'
'You Are Alone'
'Attrition'
'The Last Judgement'
'Supression'
'Visions Of Love'
'Summertime'
Encore:
'Interloper'
'The Contender'
'First Time'
'Sleep'
'(R) Retaliate'
'Familiar Territory'
'Heart Of Stone'
'LMA'
'Point Man'
The Mark of Cain Battlesick 30th Anniversary Tour
With special guests The Messthetics (ex-Fugazi)
Remaining Date:
Wednesday, October 30th
The Gov, Adelaide, SA
Tickets on sale now through Feel Presents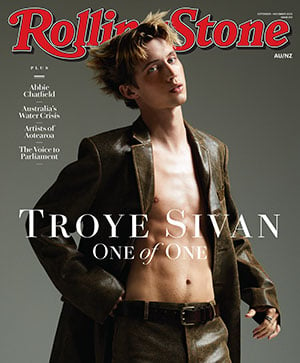 Get unlimited access to the coverage that shapes our culture.
Subscribe
to
Rolling Stone magazine
Subscribe
to
Rolling Stone magazine