Disturb The Norm: to be so bold in naming your EP takes serious guts, but the music that Riovaz makes feels genuinely new.
On his challengingly eclectic new record, released last week, the New Jersey artist unveils a revelatory sound, a sound that would be equally at home on a darkened Berlin dancefloor or a packed Los Angeles rooftop.
Subtly melancholic, endearingly enigmatic, and alluringly sultry, personality comes bursting forth from every song on Disturb The Norm. And it's all compulsively genre-bending, touching on everything from eurodance to house, indie pop to emo rock.
And Riovaz, incredibly, is just 18-years-old. Disturb The Norm sounds like the work of a preternatural talent unafraid to see where he can take music, rather than waiting to jump aboard a trend. After seeming destined for the stratosphere after the viral success of his incredibly catchy 2020 hit 'Prom Night', this new EP has brought him closer to the stars than ever before.
"This project is a self-reflection on my artistry and shows the arc of what I am and have created as a musician," he says. "The correct way to listen to Disturb The Norm is in order or else you won't understand what the future holds for us."
To celebrate the release of Disturb The Norm, we caught up with the defiantly original Riovaz as part of our Get To Know series to find out more about his life and music.
Riovaz's Disturb The Norm is out now via Darkroom/Geffen Records.
Love Indie?
Get the latest Indie news, features, updates and giveaways straight to your inbox Learn more
How did your artist name come about?
My name came from my old artist name $avior so I literally just reversed it and switched the i and the o and the s to a z and it spelt out Riovaz.
How would you describe your music to your grandma?
I would tell my grandma my music will make your ears bleed.
Tell us about a few of your tracks; their titles and what they're about?
I have this song called my 'Youth' and it's just about that point in life where your youth becomes a nostalgic part of your life.
What do you love about your hometown?
There's this park called Lincoln Park like 1 minute away from my house and dat shit goes so hard.
Career highlight so far?
Sold out my first LA show. Life definitely felt real during that show.
Fave non-music hobby?
 I like editing videos A LOT.
What's on your dream rider?
Ecuadorian food.
Dream music collaboration?
Probably Vic Fuentes.
Where do you see yourself in 10 years?
In the woods.
What's your go-to karaoke song?
"Please, Please, Please, Let Me Get What I Want" by The Smiths.
What's the best advice you've ever received?
my friend trendy talked me into not quitting music. He literally just said whatever you do "DONT QUIT. YOU'RE TOO DIFFERENT TO QUIT."
What's one obsession you have that no one would guess after listening to your music?
I am obsessed with hearing people scream over really heavy-hitting instrumentals.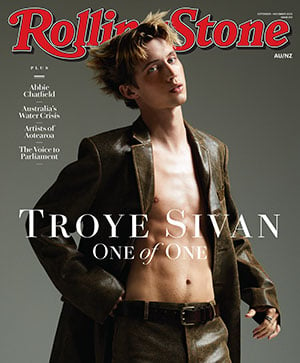 Get unlimited access to the coverage that shapes our culture.
Subscribe
to
Rolling Stone magazine
Subscribe
to
Rolling Stone magazine