After establishing herself as one of Melbourne's best singer-songwriters of the last few years, Romanie has finally shared her debut album, Are We There Yet?.
Over 12 tracks, Romanie reflects thoughtfully and maturely on life, her place in the world, and her relationship with others, recalling the quiet contemplation of Big Thief's Adrianne Lenker.
One of the album's highlights, "Cannot Have It All", came with a beautiful music video, and Romanie shared some behind the scenes photos and thoughts with Tone Deaf about the creative process behind the clip.
Romanie's Are We There Yet? is out now. She will be touring in support of the album from November onwards (more information here).
Last year, my dear friend Marcus and I pinned a day in our calendars to drive along the coast and try to shoot the cover photo for my album. It was still quite cold outside but I'd been hounding Marcus all day in the car that I really wanted to try to be in the ocean with a guitar. We both agreed it would look cool (pun definitely intended). 
I had found an acoustic guitar at the op shop and was committed to go in. During that time we'd also just finished recording Cannot Have It All and I showed Marcus the song in the car. We soon agreed we might as well try to shoot a video too if we're on our way to beautiful landscapes, because we're optimistic workaholics like that.
Love Indie?
Get the latest Indie news, features, updates and giveaways straight to your inbox Learn more
Our first pit stop was at Black Rock, the stunning rock formation on the beach East Side of Melbourne aka the place where every Melbourne indie musician has their press photos taken (we later realised). Luckily for me, Marcus is such an amazing photographer and my awkwardness in front of a camera soon faded, so two of the press shots on the Black Rock beach turned out to be right on the money and made it onto the album artwork. Very special to be working with your talented friends – I'm sure I'll look back to my debut album in a few years time and remember that funny, cold day on the beach with Marcus when I see the cover photo.
We ate fish and chips at the Cerberus Beach House – this is not a paid ad I promise – but I swear it's the best fish and chips in Melbourne. Our day was already made but we decided to move a little further towards the Peninsula. Around 3pm we stranded at this stunning location on the beach, again a rock formation, but this time it had these big patches of moss. Marcus had the idea to just perform the song several times in front of the camera from different viewpoints of the rock, to then in the end shoot from within the ocean. 
The first takes went smoothly, apart from slippery moss patches and pointy rocks so we were happy to move on. I remember stepping one foot into the water and turning around to Marcus saying 'Nah, I think I'm good.' We decided to not go in all the way but in the video you can see I at least made it knee deep into the ocean. 
I love the concept to bring nature into the music video, as the song feels so raw and came to me so naturally.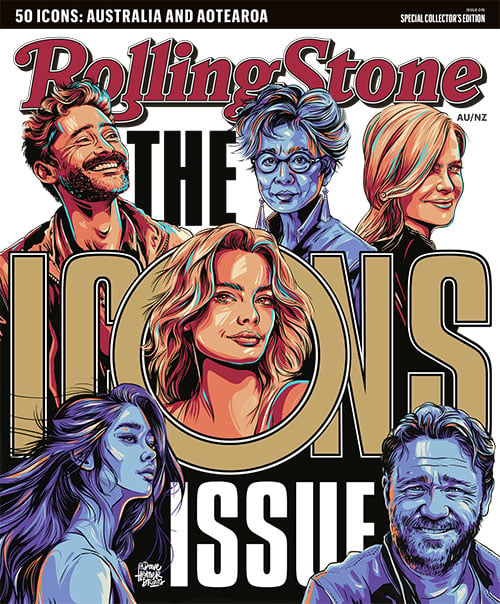 Get unlimited access to the coverage that shapes our culture.
Subscribe
to
Rolling Stone magazine
Subscribe
to
Rolling Stone magazine