It's been almost seven years since the self-titled debut album from Royal Blood propelled them to stardom and a lot has changed.
Back in 2014, a band hadn't been as hyped in the U.K. since, perhaps, the Arctic Monkeys. Royal Blood were cast as the great saviours of rock, certainly a reactionary move in the wake of Poptimism and the overly-saccharine sounds of artists such as Ed Sheeran and Mumford & Sons. Number one album spots and even a Mercury Prize nomination followed.
The difficult second album, How Did We Get So Dark?, came three years later, and while it could never be deemed a failure by any measures, there was a sense of the Brighton two-piece – Mike Kerr on vocals and bass, Ben Thatcher on drums – playing things safe, a move which nobody would begrudge them given their previous successes.
Then in 2019, the sheer excess of drinking while touring brought Mike to sobriety. It's why their third album, Typhoons, is the sound of Royal Blood renewed and refreshed, reflecting Kerr's personal reinvention.  They sound freer and fuller, more focused on what they want to achieve.
And with U.K. rock music enjoying its healthiest standing in many years – Dry Cleaning, Architects, Mogwai, Pale Waves, and Shame have all achieved a Top 10 album in just the first four months of 2021 – Royal Blood are no longer carrying the torch themselves. While it's undoubtedly unrelated, that Typhoons debuts a dancefloor-indebted style more reminiscent of Daft Punk or Depeche Mode feels notable, further proof of the shackles being relinquished.
Just before the album's release last week, I spoke with Mike about their third album, his newfound sobriety, and their new dance-rock sound.
Typhoons is out now via Warner Records. 
Love Classic Rock?
Get the latest Classic Rock news, features, updates and giveaways straight to your inbox Learn more
Check out 'Oblivion':
Tone Deaf: How did the pandemic affect the recording of the album?
Mike Kerr: We were two weeks into tracking our new record, which was all pinned out on the board, we felt good about it. We were probably about two weeks from the finish line and then had to drop tools and walk out. At the time that felt really frustrating because there had been a lot leading up to that moment. It was pretty frustrating but looking back now, it was the best thing that could have ever happened to us.
I went home for about a week, got really bored really quickly (laughs), and decided to keep writing songs. It felt like I was writing songs for no reason other than to get myself through the monotony of lockdown.
I think there were just such pressure-free conditions that I felt unleashed. It was songwriting in a way I've never done before. As a result, most of the best songs on the record – 'Limbo', 'Typhoon', 'Mad Visions', 'Oblivion' – were all written during that time so the idea of those tracks not actually being on the record is crazy. 
TD: I was curious where the name 'Typhoons' came from.
MK: It's just something I started singing over that riff. I had this kind of question-and-response thing using that word because it sounded cool. From that point onwards, I realised what I was singing about and the subject matter of that song became a subconscious throughline for the rest of the album. This idea of being in your own thought patterns and how dark and scary your own mind can be.
So this idea of it being a typhoon or a storm it just felt like I'd finally hit the nail on the head for what I'd been trying to say for the previous nine songs. 
TD: Did you worry when you got sober in 2019 that your creativity would disappear? Was that ever a fear?
MK: Yeah, it was a worry. Looking back though, that notion is absolutely bullshit! These are some of the best songs I've ever written. I just got used to always having alcohol in my life, it was my reliance that was the problem. 
TD: And it does seem like your songwriting has changed. It sounds more vulnerable, more open. Do you think that's because you're sober now?
MK: It must be. I feel like I know myself a lot better now. A huge part of drinking and taking drugs is numbing things. So with nothing there to numb the feelings anymore, I feel like I'm able to access them more. And that's really important as a creative person, particularly a songwriter. It's about being vulnerable so I think I just had the courage to be extra vulnerable on this record. 
Check out 'Typhoons':
TD: Your sound has changed on this album too. What kind of stuff were you listening to that influenced this dance-rock fusion? I heard some of Depeche Mode, INXS in it.
MK: We hadn't discovered anything new that we didn't already love, to be honest. It was more just that making this record we just allowed all of our influences to make their way into the songs. It just felt like our reference points were vaster. You can probably hear lots of different artists and types of music injected into these songs, around our usual Royal Blood sound.
TD: Did you ever worry that this new sound might deter older fans?
MK: A wise man once told me 'if you don't lose 15% along the way with every album, then you're getting worse'! So if we're losing 15% then it means we're getting better.
TD: Does the more euphoric, upbeat sound reflect a clearer headspace after sobriety
MK: Definitely. There was a strange dichotomy going on because I felt very alive and like I'd sort of come to. So that was a really positive and energetic space to be in. Yet the only thing I really wanted to write about was where I'd just come from so there was this weird blend of all the lyrics being pretty dark and the music being upbeat. I think they complement each other nicely though. As soon as 'Trouble's Coming' was written, I knew it was ok for these two worlds to collide and exist with each other.
TD: It's kind of ironic that you made your party record after going sober.
MK: I know! You couldn't write it.
TD: How was it for Ben adapting to this new sound?
MK: Before Royal Blood started, only a few moons ago, Ben came from a session world. He was playing in so many different types of bands and funnily enough, some of those bands were playing this (Typhoons) type of music every night. Disco songs and upbeat songs. And actually when he first joined Royal Blood, he hadn't played rock in a long time. So for him, it's just revisiting a style that had already been a massive part of his life. 
Check out 'Trouble's Coming':
TD: You've been in Australia on tour before – what were your experiences like over here?
MK: I love it, we both do. It's always so much fun and it always feels like a second home to us, honestly. I feel like we have such an affiliation and understanding with the fans there.
TD: I also wanted to ask you about the current state of U.K. rock music. Obviously the likes of Mogwai have achieved number one albums recently. It's such a change from when you first emerged back in 2014. 
MK: It's pretty healthy! It's nice to see more metal bands and big dirty rock bands doing well, it's looking pretty good. 
TD: Did you feel that the pressure was off with this album in a way? Because you rose as a band so quickly commercially and critically, that second album was intensely pressured. Did some of that wear off with this third effort?
MK: Yeah I do, actually. There was still some pressure of course but once the pandemic hit, it was nowhere to be seen. It just felt like free time. I think the motive for writing on this album had changed as well – it was solely music for our own ears. Just writing from that perspective helped me free myself from what anyone else might think because I didn't make it for that reason.
TD: That's interesting because do you feel this is the most comfortable you've been on an album? 
MK: 100%. I just feel like I know myself a lot better and it feels like genuine confidence and not fabricated in any way. 
TD: And what's the plans for the rest of the year? Get back to touring?
MK: Hopefully. It's looking like July will be our first show, which will be a festival over here in the U.K. (Victorious). Unfortunately there's no plans to leave the U.K. as of yet but we can't wait for when that is possible. We just want to get this thing on the road. 
Check out 'Boilermaker':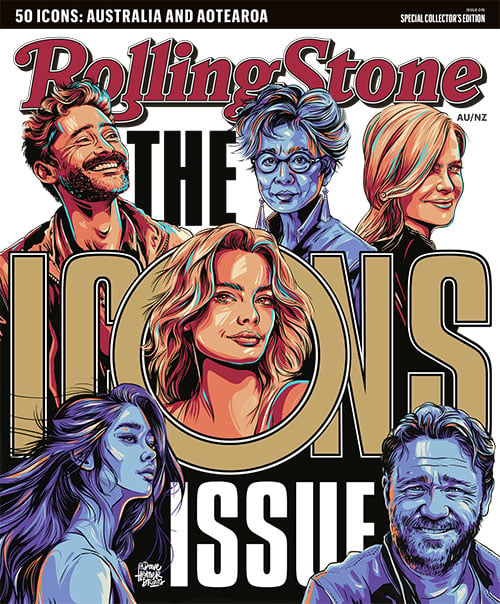 Get unlimited access to the coverage that shapes our culture.
Subscribe
to
Rolling Stone magazine
Subscribe
to
Rolling Stone magazine