Lita Ford, metal queen and former member of The Runaways, has already made clear her desires to reform the all-girl rock pioneers, backing up her claims by calling her latest return-to-form album Living Like A Runaway; and recently stating "I would love to do the Runaways again, maybe next year, 2013 would be a good time."
Despite officially settling the differences that split the band, following beef between guitarist Ford and co-vocalist/keys player Cherie Curie at a photoshoot back in 1977, with the latter offering a teary Facebook post explaining they'd put aside their differences – Ford expressed that a Runaways reformation was as much down to bandleader Joan Jett than anyone else.
Rolling Stone reports that Ford has further buried the hatched with her former bandmates over a series of dinner dates that put an end to years of feuding and legal action between the line-up. "I hadn't talked to Joan in so long – 1980 was the last time, when the Runaways broke up," Ford told Rolling Stone, "I asked my manager Bobby Colin if he'd put in a call to Kenny Laguna, Joan's manager, and try to arrange a dinner for us."
The arranged meet-up, in New York City, found Ford meeting up with Jett and her manager to simply catch up, "we had a nice dinner. It was real friendly, like seeing your sister," says Ford. "We talked about old times and Joan gave me Cherie's contact information. When I was on the west coast I had dinner with Cherie."
Ford also brought up the possibility of a musical reunion, but said Jett wasn't responsive, "I don't know how Joan feels about it… I couldn't really get a solid answer from her."
Ford has already added fuel to the reunion fire in a recent interview she conducted with Metal Underground, in which she mentioned it would be difficult to get the co-operation of Joan Jett, since the passing of original drummer Sandy West in 2006. "She was such a huge part of the band," says Ford, "I don't know if Joan Jett would do the band without Sandy. I would, I love Sandy and nobody will ever take her place, but there's still me and Joan and Cherie [Curie]."
This June will see the release of Lita Ford's first new album in six years, Living Like A Runaway, the title of her eighth studio record being a clear nod to her former band. Ford also told Rolling Stone in her dinner with Joan Jett that, "I just wanted her to know that I'm here, and if she decides she wants to put together the Runaways again, I'd be in 100 percent."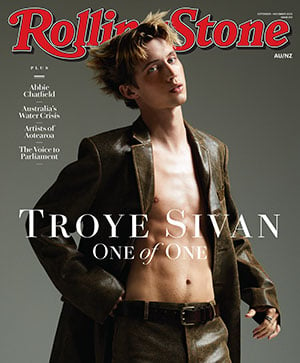 Get unlimited access to the coverage that shapes our culture.
Subscribe
to
Rolling Stone magazine
Subscribe
to
Rolling Stone magazine