Review: Slow Fades at The Thornbury Theatre, Melbourne, November 25th, 2018
15 years ago, one of Melbourne's most intriguing and overlooked indie-rock acts – Klinger – called it quits after approximately seven years together.
While its members would go on to play in an array of other groups over the years (both together and separately), fans had definitely been hanging out for new music from the folks behind this beloved rock group.
Early last month, the debut EP from a relatively new group named Slow Fades was announced. Comprising of Ben Birchall, Dave Rogers, Darren Vlah, and Glenn Arnup, this project was described as "the widescreen sound of four musicians who know each other inside and out", and featured a sound that was unassumingly fresh, yet still undeniably familiar.
Now, with their new songs out in the world, Slow Fades took to Melbourne's Thornbury Theatre on Sunday to celebrate the release of their debut EP, Canyon Songs.
Kicking things off for the matinee show was the delightful duo of Georgia Fields with John Palmer (Second Prize), who eased the audience into the afternoon's events with eclectic musicianship and accomplished songwriting.
Featuring the sparse instrumentation of two guitars, the duo showcased a series of bright, indie-pop tracks, and saw the pair switch between vocalists throughout their all-too brief set.
Love Indie?
Get the latest Indie news, features, updates and giveaways straight to your inbox Learn more
Lightening the mood by cracking jokes between songs, and showing off a lo-fi vibe to their music at times, Fields and Palmer undoubtedly won the audience over with their final tune, which saw them encouraging those in attendance to join in a gorgeous singalong.
Departing the stage to rapturous applause, it was clear that everyone in the audience was left wishing Georgia Fields with John Palmer would team up for more shows in the future.
Following a brief intermission, Melbourne quartet Amarillo took to the stage to continue the afternoon's entertainment.
Armed with two guitars, a double bass, and a viola, Amarillo's sound was unlike nothing fans could have expected, with their gorgeous, acoustic folk sound stunning everyone in the crowd.
With beautifully-written songs and mesmerising instrumentation, the band's performance was frequently interrupted by the ambient sounds of the audience, though their luscious sounds shone through and definitely put a smile on a few faces.
Following the delivery of tracks like 'All I Can See', 'Life Is A Song', and 'Lemonade', the group took their leave from the stage, having stunned the audience for the afternoon with their sweet, poetic tracks full of raw emotion.
After another brief intermission, the stage was again darkened by the familiar faces of Slow Fades. While the name might be different, the sound was undoubtedly familiar, with the group soon bursting into 'Leave The Canyon', the opening track from their debut EP.
Backed by Amy Bennet on keyboards, the group powered through their set with enthusiasm, showing off cuts from their new release, as well as a handful of new tracks, including the Dylanesque 'Only Losers Choose Sides', and the sombre 'This City's Sinking'.
While the name on the marquee might be different to what diehard fans would have been used, Slow Fades music undeniably feels very much like a continuation of Klinger, and shows a matured and evolved band that couple literate lyrics with some very impressive musicianship.
Following a few jokes between Ben Birchall and Dave Rogers while tuning, the audience was treated to the exciting news that Slow Fades are already planning to enter the studio to record a follow-up next year.
Considering the response that the new tracks received on the day, it's safe to say that this release is already highly-anticipated.
After announcing that they'd play a song that we're familiar with, Birchall ignored a joking request for 'Horses', and instead dove into a brilliant rendition of Klinger's 'Laundromatic', from their breakthrough Grimshaw St. EP.
Following a performance of EP closer 'Vikings, Ben Birchall introduced another cover for the set, explaining that they wanted to pay tribute to their idols by performing a track that helped influence them as musicians.
After describing the next track as being by "the Stone Temple Pilots of the '70s", the group burst into a note-perfect rendition of America's pop classic, 'Sister Golden Hair'.
Wrapping things up a performance of 'Fall, Fall, Fall', the afternoon's audience were clearly enraptured by the gorgeous set put on by this amazing band. With promise of a new record on the way, fans were undoubtedly left wanting more, and hoping that the future will bring many more shows by the folks behind Slow Fades.
Slow Fades' Canyon Songs is out now, with vinyl orders available through Bandcamp.
Check out Slow Fades' Canyon Songs:
Slow Fades @ Thornbury Theatre, Melbourne 25/11/18 Setlist
Leave The Canyon
Eucalyptus
Only Losers Choose Sides
Take Your Time
Sensibles
My Damn Life
This City's Sinking
Hard On Love
10,000 Hours
Knocking
Laundromatic (Klinger song)
Vikings
Sister Golden Hair (America cover)
Fall, Fall, Fall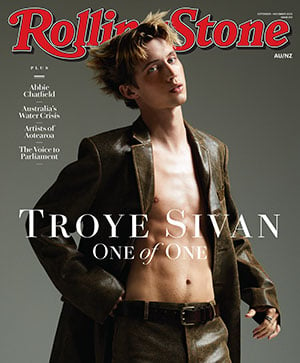 Get unlimited access to the coverage that shapes our culture.
Subscribe
to
Rolling Stone magazine
Subscribe
to
Rolling Stone magazine