Going on sale last Thursday, tickets for 2013's Splendour In The Grass festival sold out within hours, causing joy in those who managed to beat the queues and disappointment in those who didn't manage to score entry to the three-day winter festival.
Taking place in Byron Bay from July 26th – 28th, music lovers will be descending from all over to enjoy the festival, and this morning's list of sideshow announcements – from the likes of Haim, James Blake, Everything Everything, Jake Bugg and more – should sate some fans who've missed out, but the mad scramble for tickets has meant that demand has remained at a peak high.
As a result, Splendour organisers have issued an official warning against going to auction websites, in particular Gumtree, to buy resale tickets.
The official warning issued on the Splendour In the Grass website has a message over the sheer number of ticket sellers that have appeared online that's clear and simple: "DO NOT BUY THESE TICKETS!!" Organisers have made it clear there is no way for the names on tickets to be transferred between punters. The information on tickets, such as full name and birth date, are checked against identification on entry to the festival and there is no facility to change that information.
In previous years, there has been a 'Reissue' option that allowed ticket holders to sell on unused tickets directly to other prospective festival-goers, but that has been abandoned this year due to the number of people trying to profit from selling on their Splendour passes.
Splendour organisers write that "it is apparent that many people intended to abuse any Reissue (aka ticket transfer) option we may have provided this year, we have decided NOT TO OFFER SUCH A REISSUE FACILITY for 2013." It's a case of the poor behaviour of a few ruining a well-meaning system for the larger group, a system was ultimately designed to help people who could no longer attend gain back the money for the ticket and allow someone else to take their place.
Organisers note how last year the reissue facility was abused and "unfortunately opened a window for scalpers to on-sell a number of 2012 Splendour tickets at a premium." Splendour organisers have also said:
While we have always been anti-scalping, we felt that this downside was outweighed by providing a service to those who legitimately wanted to transfer their ticket to someone else. Unfortunately now it appears that the number of people intending to use this option to scalp tickets has increased to the point where it outweighs the positives provided to our patrons."
Thankfully they are offering an alternative. There will instead be a 'pool' of unwanted tickets that will be coordinated through Moshitix itself, so that tickets can still be transferred, but there is no direct transaction between punters, to hopefully ensure that less people are ripped off. Be warned though, "Please note this is not a direct refund system for unwanted tickets. The original holder of the ticket gets their money (less fees) back only when a third party purchases their ticket."
The drama is the latest in the growing trend of ticket scalping, with the sole purpose of selling them on at a profit. In response to this, organisers have said that "Splendour in the Grass wants you to pay the correct advertised price for your ticket/s and not be exploited by those looking to capitalise on fans of the festival who may have missed out on getting a ticket."
Fraudulent "tickets" that were advertised for Splendour which last year were bought by unsuspecting victims who never saw the ticket or their money ever again. Organisers said they "advised those caught out this way to contact Police. As the tickets were not bought through the official Moshtix system (as advised by Splendour), there was nothing else [they] could do to help them." "While we have always been anti-scalping, we felt that this downside was outweighed by providing a service to those who legitimately wanted to transfer their ticket to someone else." – Splendour In The Grass
The whole point is, better safe than sorry. Only buy tickets through official ticket-selling platforms, and don't be the person who only cares about making a profit on tickets. The pool for reissued Splendour in the Grass tickets opens up on 5 June, through Moshtix.
This kind of swindle is not localised in Australia. Ticketmaster, a branch of Live Nation Entertainment in the US, is taking legal action against 21 people accused of using automated systems to buy up tickets so they can be sold on for profit.
As the New York Times reported last week, the lawsuits were filed with accusations of "fraud and breach of copyright in circumventing the company's online security system to try to buy huge numbers of tickets."
Joseph Shalom, a producer of live events in New York, is the main defendant, who is believed to be the "central figure in a coordinated series of attempts over the last two years to obtain large numbers of tickets and resell them at a profit."
The method of profiteering from online ticket sales is carried out by 'bots' – computer programs that bypass online security features, for example 'Captchas', which get you to type in the generated words or characters to prove you're not a robot. Once past the security, these programs buy up tickets, often to the most popular shows, which are then resold at inflated prices.
Ticketmaster has said this lawsuit is about "protecting fans and the integrity of our business. We are doing exactly what we have repeatedly said we do: stand up for the fans who use our site in the proper manner."
As The New York Times points out, the Last time a situation like this went to court, the accused were given probation rather than prison time. Perhaps that wasn't enough of a deterrent.
But it is nice to see companies, such as Ticketmaster and Splendour, trying to protect the consumer by ensuring live music fans actually get the ticket for the price it is actually worth.

Splendour In The Grass 2013 Lineup By Day
FRIDAY, JULY 26
Mumford & Sons (Exclusive to Splendour)
TV On The Radio (Exclusive to Splendour)
Klaxons
Babyshambles
Architecture In Helsinki
Matt Corby
Flight Facilities
Boy & Bear
Darwin Deez
You Am I (performing Sound As Ever and Hi-Fi Way)
Haim
Clairy Browne & The Bangin' Rackettes
Portugal. The Man
Daughter
Wavves
Robert Delong
Unknown Mortal Orchestra
Deap Vally
Dune Rats
Cub Scouts
Mitzi
Songs
Dcup
Yolanda Be Cool
Xaphoon Jones (aka Noah Chiddy Bang)
SATURDAY, JULY 27
The National (Exclusive to Splendour)
Empire Of The Sun
Bernard Fanning
Flume
Birds Of Tokyo
Drapht
Polyphonic Spree (performing the Rocky Horror Picture Show)
Fat Freddy's Drop
Cold War Kids
Sarah Blasko
Ms Mr
Cloud Control
Something For Kate
Chet Faker
Whitley
Jake Bugg
Palma Violets
Vance Joy
Jagwar Ma
Villagers
Violent Soho
Art Of Sleeping
Twinsy
Alice in Wonderland DJ set
Otologic
Bad Ezzy
SUNDAY, JULY 28
Frank Ocean
Of Monsters & Men
The Presets
Passion Pit
James Blake
Laura Marling
Mystery Band
The Rubens
Hermitude
Airbourne
The Drones
Gurrumul
Everything Everything
Snakadaktal
Fidlar
The Bamboos
Surfer Blood
Alpine
Little Green Cars
PVT
The Jungle Giants
The Growl
The Chemist
What So Not
Peking Duk
Tyler Touche
Splendour In The Grass 2013 Dates & Tickets
Friday 26, Saturday 27 and Sunday 28 July
North Byron Parklands, Yelgun
info at splendourinthegrass.com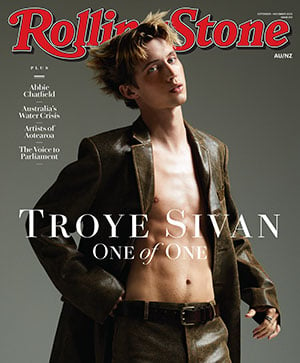 Get unlimited access to the coverage that shapes our culture.
Subscribe
to
Rolling Stone magazine
Subscribe
to
Rolling Stone magazine