It seems that bringing out Bruce Springsteen and the E Street Band for another Australian Tour just 10 months after his first visit in over a decade last Easter was a sound decision by Frontier Touring company, if the demand over tickets is anything to go by.
Pre-sale tickets for The Boss' dates in Perth, Melbourne, Sydney, and the Hunter Valley for next Febraury went on sale for Frontier Touring members yesterday, sending the ticketing company's website into meltdown. The online crashes and delays saw both Frontier's and Ticketek's Facebook and Twitter accounts flooded with complaints from angry punters unable to secure the limited number of early allocated tickets, as the Sydney Morning Herald reports.
Buyers attempting to purchase tickets to the Bruce Springsteen and the E Street band's February Tour, with prices ranging from $98 to $230, vented on social media about issues with passwords, servers crashing, and missing out on tickets after long waits and hours-long delays.
One user summarised the backlash and described many's issues with the Ticketek and Frontier presale, writing "You know, you can do everything right … register with Frontier, get your pre-sale code, organise to have lunch at 1.00pm, have your browser(s) open ready to go, enter your code and then wait, wait, wait… then try again, and again, and again… timeout … WTF?!"
The box office rush for tickets has also forced Frontier Touring to make the "unprecedented decision" to reschedule its pre-sales for the remaining tour dates in Brisbane and Adelaide. Issuing the following statement on their Facebook page this morning:
Due to the overwhelming demand for Bruce Springsteen & the E Street Band tickets and extreme traffic on the Ticketek Australia website, Frontier has made the unprecedented decision to delay the Brisbane and Adelaide pre-sales from 2pm local for Brisbane and 1.30pm local for Adelaide to new times of 4pm local for Brisbane and 3.30pm local for Adelaide.

While we appreciate this delay may cause some inconvenience to fans we would prefer that the Ticketek website be stabilised so all users have equal opportunity to purchase for these markets.
Further angering fans is the sight of tickets supposedly acquired through the Frontier presale already turning up on online auction websites. Tickets have surfaced on eBay, with one buyer touting General Admission tickets to the Perth Arena show for $600, while over on Gumtree, even more suspect offers have turned up, such as this user advertising two tickets for $400.
Meanwhile, the Swiss-based viagogo has reportedly nabbed a slice of pre-sale tickets for the Boss' return Australian tour, with tickets going for as much as $800 in some instances. Viagogo was one of the high-profile sites that was the focus of a crackdown on scalping sites through aggressive NSW law reforms to be implemented by Premier Barry O'Farrell, based on legislative measures first proposed by State Sports Minister Graham Annesley and the Fair Trading Minister in February.
Frontier Touring has its own anti-scalping measures in place, but without formal legislation it is difficult to track ticket sales effectively through third-party websites and on-sellers, in some cases, scalpers using ticketing bots software to 'jump the queue' are simply pushed to the back of the line rather than booted, which is the way Live Nation's Ticketek handled their sales until a promised $100 million upgrade.
Scalpers always turn up when there's an opportunity to be made from fan demand, and demand for Bruce Springsteen & The E Street Band's live show, voted by Rolling Stone as the best in the world, is arguably greater for their return in February, especially in Perth and Adelaide, which missed out for Springsteen's April visit, one of the biggest Australian tours of the year, raking in grosses of $25 million.
Bruce Springsteen Australian Tour 2014
Frontier Members pre-sale via www.frontiertouring.com/brucespringsteen
(Pre-sale times are staggered per show.  Visit the website for more details).
General public on sale from Monday 26 August (see times below)
Fri 7 Feb – Perth | Perth Arena – (All Ages)
Ticketek.com.au
Tue 11 Feb – Adelaide | Entertainment Centre – (All Ages)
Ticketek.com.au | Ph: 132 849 [on sale at 3.30pm local time]
Sat 15 Feb – Melbourne | AAMI Park (All Ages)
with special guests Hunters & Collectors and Dan Sultan
Ticketek.com.au
Wed 19 Feb – Sydney | Allphones Arena (All Ages)
Ticketek.com.au
Sat 22 Feb – Hunter Valley | Hope Estate (All Ages)
with special guests The Rubens and Dan Sultan
Ticketmaster.com.au
Wed 26 Feb – Brisbane | Entertainment Centre (All Ages)
Ticketek.com.au | Ph: 132 849 [on sale at 4pm local time]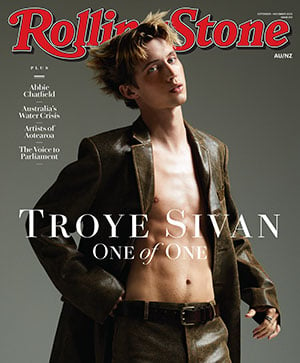 Get unlimited access to the coverage that shapes our culture.
Subscribe
to
Rolling Stone magazine
Subscribe
to
Rolling Stone magazine