If you're a die-hard System Of A Down fan, you've undoubtedly been waiting for album number six ever since the band put out Hypnotize in 2005. However twelve years later, and after numerous bouts of false hope, it seems like the chances of a new album are becoming slimmer, with vocalist Serj Tankian admitting he's sick of writing music with vocals.
In a recent interview with Expert Magazine, Serj Tankian admitted he wants to work on the composition of instrumental music these days, stating "Screw vocals. I'm tired of it."
"During a conversation with a friend yesterday I came up with an idea," Tankian began. "Before we started making music, I was mainly known as a poet and vocalist. I wrote poetry every day. It was what I did constantly, what made me release two poetry books. In fact, I came to music from words. I wrote so many lyrics that it stopped to be interesting."
"Not because there is nothing I want to talk or sing about. Sure there are topics I don't want to write lyrics to but at least I can pull out some new emotions out of it. Poetry is always something that opens yourself up and supports self-determination. I just did it for too long. Now I am more interested in writing instrumental pieces of music."
Whether or not this means that a new album from System Of A Down is ruled out entirely isn't clear, but it certainly doesn't bode well for the band.
Following System Of A Down's hiatus in 2006, Serj Tankian embarked upon a solo career that resulted in a number of well-received records. Since the band's reunion in 2010, Tankian has continued his solo work, though his new records have been more instrumental in nature and suited more towards his soundtrack work, indicating that he may indeed be done with writing lyrics and laying down vocals – a damn shame, considering Tankian has often been considered one of metal's greatest vocalists.
Of course, this isn't happy news for fans, but it does seem to put to rest some of the back and forth that has been occurring over the last few years. After drummer John Dolmayan all but confirmed a new album for this year, he admitted earlier this year that he's not sure why the band still haven't released a new record. Then in July, bassist Shavo Odadjian seemed to put to rest all these rumours by playing down rumours of new material, saying that it's "not happening".
Whatever the case is, and while we wait for any official statements from the band, we just hope that System Of A Down find it within themselves to maybe tour Australia once more before they fully decide to not make any more music.
Check out System Of A Down's 'Toxicity':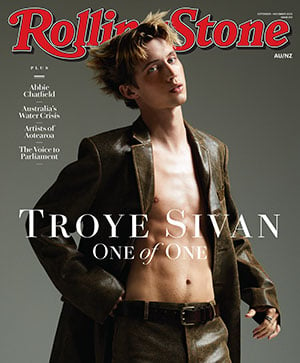 Get unlimited access to the coverage that shapes our culture.
Subscribe
to
Rolling Stone magazine
Subscribe
to
Rolling Stone magazine