Tash Sultana is gearing up to embark upon a new musical adventure, revealing that the solo career we've come to know and love will come to an end in the next few months.
Having spent the last couple of years as one of the most notable and successful Australian musicians, Tash Sultana is one artist that we just can't get enough of. However, we've also been well aware that things were open to change at any given moment.
In fact, back in 2017, Tash revealed that constant touring had been taking a bit of a toll, revealing plans to "disappear for a bit" following a then-upcoming tour.
"I've learnt this lesson myself in the last couple of months because I've been really sick and just had to cancel heaps of shows and tours and go home and get better, spend some time in a health lodge because I've pretty much just started losing grip on reality," Tash said.
"I don't know I'm 22 so I want to do a lot with my life, I'm obviously always going to do music but I also just want to disappear for a bit at some point too."
While we since received an amazing debut album by way of Flow State, we've also seen Tash continue to play amazing shows all over the world. Now it seems as though this era of Tash's career is set to come to an end within the coming months.
An Instagram post yesterday revealed that the upcoming tour dates are set to serve as the last time that fans will be able to witness Tash Sultana performing as a solo performer, with some big plans on the horizon.
"I am wrapping up my career as a solo performer in the next coming months," Tash explained.
"My final Australian and New Zealand shows are coming up and are on sale now, one Melbourne show left to go and then I'll be closing this wonderful chapter.
"We've spent the last two years designing our own custom loop station and for the first time I can finally use it back on home soil."
Speaking to Tash's management, triple j noted that the future will indeed be a little different for fans of of the musician, explaining that the live show will feature a shake up, though we'll still be experiencing the same Tash Sultana we've come to know and love when it comes to the music.
"No one knows exactly what it's going to look like, but we do know it won't be 100 per cent solo performer on stage anymore," Tash's management explained.
While fans might be speculating about what might be on offer considering Tash won't be performing solo in the future, there's a chance we might have already found ourselves a glimpse in 'Talk It Out', the mesmerising collaborative single released with Matt Corby.
Whatever the case, Tash's website does list one date in the future, with an appearance at Germany's Reeperbahn Festival scheduled for September of 2020. Who knows, this might be one of the first chances we get to witness new music from the fresh new project that's on the cards.
Check out 'Talk It Out' by Tash Sultana and Matt Corby:
Tash Sultana Australian Tour 2019
Tuesday, November 26th
Forum Theatre, Melbourne, VIC
Wednesday, November 27th (Sold Out)
Forum Theatre, Melbourne, VIC
Thursday, November 28th (Sold Out)
Forum Theatre, Melbourne, VIC
Sunday, December 8th
Glenelg Beach, Adelaide, SA
Friday, December 13th (Sold Out)
Enmore Theatre, Sydney, NSW
Saturday, December 14th
Enmore Theatre, Sydney, NSW
Saturday, December 21st
Cottesloe Beach, Cottesloe, WA
Tickets available now from Tash Sultana's website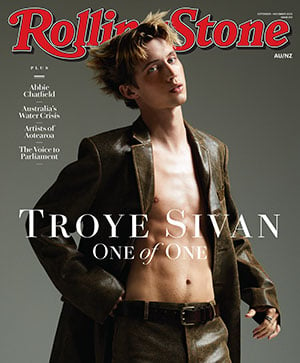 Get unlimited access to the coverage that shapes our culture.
Subscribe
to
Rolling Stone magazine
Subscribe
to
Rolling Stone magazine