Taylor Hawkins is set to get a bit rowdy next month, teaming up with a bunch of all-star rock icons for the latest album from his side-project, The Coattail Riders.
Back in the mid-'00s, Taylor Hawkins was living a pretty good life as the highly energetic drummer for the Foo Fighters. However, like his bandmate Dave Grohl, Hawkins found himself making a few songs in his spare time and keeping them back for when the opportunity presented itself.
Soon enough, he had launched a brand new group, with Taylor Hawkins & The Coattail Riders releasing their self-titled debut in 2006. Well-received, Hawkins found time between Foo Fighters releases to ready a collection of new tracks, eventually sharing Red Light Fever in 2010.
Since then, Hawkins has been kept pretty busy by his Foo Fighters commitments, the release of a solo EP in 2016, and his tendency to pop up in other supergroups from time to time. Now, he and his band are back with a brand new record, and a litany of guest contributors.
Titled Get The Money, the third album from Taylor Hawkins & The Coattail Riders is set to be released on November 8th, almost three years to the day after releasing his solo EP titled KOTA.
Produced by John Lousteau and Taylor Hawkins himself, the eight-track release sees Hawkins teaming up with some rare big names, including his Foo Fighters bandmates Dave Grohl and Pat Smear.
But it doesn't end there though, with the likes of Roger Taylor (Queen), Joe Walsh (the Eagles), Duff McKagan (Guns N' Roses), Nancy Wilson (Heart), Chrissie Hynde (The Pretenders), Perry Farrell (Jane's Addiction), and LeAnn Rimes all performing on the sprawling epic.
To celebrate the forthcoming record, the group have also shared the record's first single, with Dave Grohl and Jon Davison helping to bring the monstrous 'Crossed The Line' to life.
Get The Money is out on November 8th, check out the full tracklist and list of guest contributors below.
Check out 'Crossed The Line' by Taylor Hawkins & The Coattail Riders:
Taylor Hawkins & The Coattail Riders' Get The Money tracklist:

1. 'Crossed the Line' (feat. Dave Grohl, Jon Davison)
2. 'Don't Look At Me That Way' (feat. Duff McKagan, Nancy Wilson)
3. 'You're No Good at Life No More' (feat. Dave Grohl)
4. 'I Really Blew It' (feat. Dave Grohl, Perry Farrell)
5. 'Queen Of The Clowns ' (feat. Mark King)
6. 'Get the Money' (feat. Joe Walsh, Chrissie Hynde, Duff McKagan)
7. 'C U In Hell' (feat. LeAnn Rimes)
8. 'Middle Child' (feat. Dave Grohl)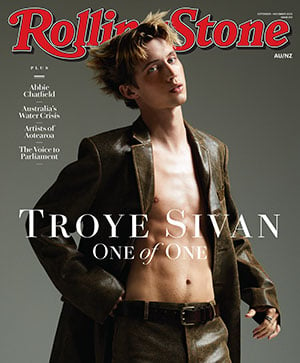 Get unlimited access to the coverage that shapes our culture.
Subscribe
to
Rolling Stone magazine
Subscribe
to
Rolling Stone magazine