Fresh off the tails of celebrating the 30th anniversary of their landmark record Disintegration with a slew of mammoth shows, Robert Smith has revealed that The Cure has three new albums in the oven — one which we may receive before the year is up.
"Actually I have prepared three albums, two of them more advanced. The first will be the one that we will release very soon. I think that the first single, or the whole album, will come out this Christmas, or a little earlier. It has the title of 'Live From the Moon' and it will surely change its name," Smith revealed in a new interview with Zocalo (as transcribed by NME). 
Smith has previously revealed that this forthcoming record is "very much on the darker side of the spectrum." Written after the loss of his mother, father and brother, "It's not relentlessly doom and gloom.
"It has soundscapes on it, like 'Disintegration', I suppose. I was trying to create a big palette, a big wash of sound."
It's been an eleven-year wait for fans since The Cure dropped their last record, 4:13 dream. Thankfully, it looks as though we won't be destined to the same fate following this release. Smith has detailed that the band are making serious headway with the second record.
"The second album, which I already have more advanced, refers to much freer pieces and with a more pronounced, stronger sound, and that to record them has to be live, yes, with that experience of putting together a concept based on the interpretation of the moment," Smith shared.
If that doesn't satiate your desire from luscious, glum soundscapes, Smith promises that a third album, more experimental album, is on the way.
"The third, which is crazy, is a noise disc, with different aspects and environments.
All based on experiences on a stage or on my paths, in situations where noise is present and to which we are so accustomed that we don't pay attention."
The Cure are set to continue celebrating their 40th anniversary with the release of a limited edition box set later this month. 40 Live Curaetion 25 + Anniversary, documents two iconic live performances from the band.
Curaetion-25: From There To Here | From Here To There, documents the tenth night of 2018's Robert Smith-curated Meltdown Festival. Whilst Anniversary: 1978-2018 Live In Hyde Park London, captures the band's 40th-anniversary concert at London's Hyde Park last summer.
You can watch their performance at Meltdown Festival below.
Watch: The Cure – 'Disintegration' 40 Live Curaetion 25 + Anniversary,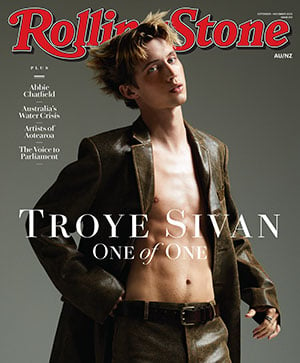 Get unlimited access to the coverage that shapes our culture.
Subscribe
to
Rolling Stone magazine
Subscribe
to
Rolling Stone magazine