You'd have to have genuinely avoided western contemporary music to not notice that the last four years have been awash with material from Melbourne Psych/folk/garage/jazz/rock outfit King Gizzard & The Lizard Wizard.
Having kicked off 2017 with 8 albums in six years under their belt, the collective, led by eclectic front-man Stu Mackenzie, have produced a head-spinning four albums this year alone. Kicking off with the challenging Flying Microtonal Banana, an ode to Turkish microtone-based folk music, centred around a 16-note octave played on custom-built guitars, the group have gone on to cut a collection of metal epics (Murder Of The Universe), a jazz concept record (Sketches of Brunswick East), the sci-fi themed synth experimentation of Polygondwanaland, and capping it off with the artful pop joyride of Gumboot Soup. 2017 was five seasons in one year for the group, and they rode into this year with a now enormous body of work to show to the world.
Conquer they did, playing sold-out tours to packed rooms throughout Europe and the US, including some of the most iconic live spaces the world has to offer.
 Gizz conquering Russia on their recent European run
Add this to a back catalogue that includes songs on the Frontier Wars between American Indians and cowboys (Eyes Like the Sky), a four-song album of which each makes up exactly a quarter of the disc (Quarters!), hippie folk (Paper Mache Dream Balloon), and finally, bruising psychedelic garage rock (Nonagon Infinity), and you have at least a year's worth of bingable material before you even scratch the surface of their newer stuff.
This is cool and all, but why should we give a shit about it all in 2018? When we have streaming services available at our fingertips, including access millions of songs and genres at once, what significance does the King Gizz movement hold?
The answer is that from the anticipation of a new album release to the coveted vinyl additions, to prioritising supporting original live music, King Gizzard have carved for themselves a crevice in the time-space continuum that allows both them and their fans to enjoy an immersion in a culture that is foreign to most millennial's.
A defining characteristic of the Gizz cult following is the hysteria whipped up by their fans upon the release of new material. A simple browse on the comment section of their recently released Polygondawanaland, their 4th offering for 2017 (you can never tire of this statistic, friends), only brushes the surface of the unified adoration heaped upon the group. From fans passionately thanking the powers that be that they were alive for such events, to punters dropping 4+ figures to produce their own vinyl copies of the record, the stems of which were given out for free, the response was akin to the Nirvana, Michael Jackson and Arcade Fire fandom of past eras. Everything released has been consumed with greed and fervor, and the numbers prove it.
                                                   The 'Gizz effect takes no prisoners
When the band released their metallic tinderbox Nonagon Infinity in 2016, their 1,500 available vinyl pre-orders sold out in a mere two hours.  This year, the re-pressings of their old material caused their website Flightless Records to completely crash, akin to the phenomena seen when a festival like Splendour In The Grass goes on-sale.
Their subsequent releases all saw limited edition pressings fly out of the warehouse and land on eBay with some healthily hiked price tags. A limited pink pressing of their 2014 psych-rock opus I'm In Your Mind, Fuzz can be found sitting around the $2,000-mark, while a red-speckled edition of their debut 12 Bar Bruise will fetch the seller upwards of a handy $4,200. Chart performance wise, their efforts are nothing to scoff at either. The release of the challenging Flying Microtonal Banana snatched up #1 in the US, a major coup for an Aussie band, while all albums since I'm In Your Mind Fuzz have charted across Asia, Europe, America and, of course, Oceana.
 The band's debut 12 Bar Bruise remains a coveted vinyl edition
While this may be the norm for the likes of Paul Kelly, Tame Impala or Bob Dylan, we need to remember that when it comes to 'Gizz, we are talking about a strictly DIY band with a still largely underground fan base. While they may sell out tours on both home and international soil, we're talking about an act that is by no means festival headline material, and are only making the transition from clubs to theatres now, over 10 albums into their career. Such fierce dedication and willingness to allow the band to experiment with different concepts, sounds and even an annual touring festival are simply not found in the acts born in the modern era.
The following of King Gizzard can well and truly be described as one that attains a 'cult' status, but it remains to be seen what triggers such unabashed devotion in the hearts of so many across the planet for an experimental collective that records albums through iPhone speakers placed around a garage (see; 12 Bar Bruise).  What is it that attracts even the likes of Triple J and BBC 1 to a sound, image and visual aesthetic that is so far removed from the public conscience and market?
 'Gizz shows have fast become world-renowned for the energy of both fans and the crowd
Some type of an answer can perhaps be found looking back at some of the classic success stories from the last thirty years musical history. A common factor with Metallica's Kill 'Em All, Dream Theater's Images & Words & U2's Boy was that if one was predicting what was going to be 'big', there was no reason any of them should have broken out of the swirling haze of the market and exploded into the public eye.
Coming out of the 70's, none could have predicted that a bunch of Irish lads paying ode to Bruce Springsteen could fill stadiums within 24 months of signing a deal, or that the San Francisco bay-area subculture of thrash metal would come to dominate the public image of western music culture for the better part of 10 years. And don't even get us started on how any progressive metal album managed to crack the MTV market, let alone in the era where grunge ruled the world. T
These stories originate from bands following their musical hopes and dreams, creating art for themselves and the perceived minority who would appreciate it. Sub-cultures don't just spring to life in the open; they are garnered to the minority, appreciated by those who seek them out like hidden treasure, the odd diamond occasionally catching the fickle public eye and bringing something special into the spotlight.
While it would be amiss to suggest that King Gizzard is a subculture in and of itself, the band are doing one hell of a job representing the art of art for art's sake. No screenwriting, years spent pouring over 11 songs, countless meetings, image changes and market research analysis on what's going to pull in the numbers going on here.
 The band at the final show of their recent sold-out US tour
Most importantly, the band haven't altered their operation to better shine in the spotlight they have suddenly found themselves blinded by. Five full-length releases of various experimental styles in a year proves this point, especially when they serve as follow-ups to their biggest commercial success of 2016's Nonagon Infinity.
'Gizz have refused to dumb down or make themselves marketable, and it's worked in a way that every band in their circle can take note of. People have fallen in love with this band because, in an age where there is a greater chance to be fickle and hit next than ever before, they've constructed a kingdom of experimentation and artistic liberty that is both innovative, but also recalling the traditions of some of the greats.
Prince was renowned for both his prolific album output, in addition to his constant touring and three-hour post-gig jams, while in the jazz world the likes of Miles Davis, Herbie Hancock, Charlie Parker and Bill Withers would produce records on an almost quarterly basis. While it may seem strange to recall the works of acid pop and jazz artists in this context, the similarities between 'Gizz and the aforementioned legends are worthy of comparison; constant experimentation, refusal to conform to 'accessibility' and boundary-pushing live performances are common factors and while the sounds being produced by these artists was leagues away from what was 'in' at the time, such dedication resulted in some invaluable musical legacies.
                                     Frontman Stu Mackenzie in action
It may be early to assign the 'legacy' tag to King Gizz. While their output is indeed prolific, one must remember that the members are only just pushing into their third decade of life, while the band itself has only been in existence for eight years.
'Gizz are a band that are showing that it's perfectly OK to not follow the crowd. The dedication shown by their fans is proof that such a way of operating is working if the product is up to standard. While they may polarize people if an artist isn't evoking any kind of reaction, are they really creating anything that significant?
Speaking of significance, here is how we rate their plethora of a back catalogue. Clear that Spotify memory.
13- Float Along-Fill Your Lungs
The third record by the group is probably the least themed or uniquely styled of all their work. While opening cut Head On/ Pill is 15 minutes of psychedelic colour and shape, the rest of the record seems to feed off the content offered by the opening fanfare, without really developing on the foundations. The Sitars work, and there are moments here that would make George Harrison proud, but overall this is the least challenging of the group's records.
12- Eyes Like the Sky
Only 2 albums in, Gizz wasn't content playing it safe, opting instead to take the listener on a Wild West themed adventure. The garage rock/ folk jams of the record tell the story of American Indians fighting against outlaws, murderous cowboys and the general problem that is white people. "I love Western films", said frontman Stu Mackenzie of the album. "I love bad guys and I love Red Dead Redemption." A unique idea that feels more of an audio-book than a record, but a great listen nonetheless.
Check out the trailer for Eyes Like The Sky
11- Murder of The Universe
The sequel to Nonagon Infinity, Murder Of The Universe is arguably the band's most conceptually driven record. Split into 4 chapters, with the first three narrated by Leah Senior and the final chapter by Natural Readers "UK Charles" (Siri didn't pass the audition process), the bulk of the record is made up of the furiously heavy AlterMe/ Altered Beast suit. While it may feel a bit 'samey' given the constant variation on the same two tunes, this'd be one hell of a record to put on in the practice room for any budding muso.
10- Oddments
Another often overlooked addition to the band's back catalogue, Oddments serves as a more balanced version of the aforementioned Float Along, Fill Your Lungs. With 12 tracks clocking in at just over 30 minutes, Oddments is a tight record but a well-rounded showcase of the garage/psych rock side of the band. A mixtape of sorts with the song lengths, Vegemite, Sleepwalker and set staple Hot Wax are some of the group's most mature compositions.
9- 12 Bar Bruise
Where it all began for the group, 12 Bar Bruise is the epitome of the DIY spirit of indie music. Recorded in a garage via iPhone microphones, Bruise is the fun spirit at the heart of 'Gizz; a collection of mates smashing out some good tunes. The sound effects and concept ideas are still there, notably in the western hoedown of Sam Cherry's Last Shot, as well as an ode to the band's Melbourne origins on Footy Footy. A true Victorian dose of garage rock.
Where it all began for the band
8- Quarters!
This is the moment for all you OCD readers to rejoice. The group's second outing for 2015 was small on paper, containing only four songs, but delightful in detail, with each song clocking exactly 10:10, making a quarter of the record. The music is sweet as well. The River and God Is In The Rhythm serves as standouts, dynamically moving over driving grooves without getting bogged down in the case of 10 minutes. A successful foray into a more progressive sound.
7- I'm In Your Mind Fuzz
While it may be controversial to some that we put the band's breakout record this low on the list, it's worth noting that as far as pure originality and creativity goes, 'Gizz played it safe here. IIYMF is the perfect mixture of groovy post-punk jams doused with psychedelia. The title track itself is a standout, with its furious riffage and triumphant melody a perfect mosh starter on festival grounds, while Cellophane is a staple in any set. If you need a good entry album for 'Gizz, this is it.
6- Paper Mache Dream Balloon
The follow-up to I'm In Your Mind Fuzz saw the band take a complete left turn away from the upbeat jams that had characterised them, instead choosing to retreat to a barn and producing a masterclass of English folk and 60's dream pop. Replacing the electric guitars with flutes and synths with banjos and harmonicas, this record initially caught many fans by surprise but also cemented 'Gizz's totally artistic courage and willingness to experiment. Trapdoor is also the children's show theme song that really should have happened.
5- Polygondwanaland
Dropping in the back half of 2017, this record sees the band take a more synth driven, and in many ways progressive route. While still being digested by fans, this record displays some of  'Gizz's most sophisticated writing, with standout tracks Searching… and 11-minute opus Crumbling Castle presenting themselves as instant classics. It could be both an 80's sci-fi film r video game soundtrack, and it works an absolute treat.
4- Gumboot Soup
The cherry on top of a mammoth body of work for 2017, Gumboot Soup took yet another turn for the band, mixing in sophisticated acid pop with experimental jams awash with synths, saxophones and vocoders, creating a wondrous kaleidoscope of endless sounds. Overflowing with slick guitars, groovy shuffles and playful lyrics, it reminds one of the likes of a Pond or Jethro Tull record with it's well crafted, yet darkly mysterious song-writing. By no means a filler to finish off an ambitious year for the band.
3- Flying Microtonal Banana
Arguably their most musically in-depth and challenging work, this record saw the band custom building their instruments to allow for microtones, normally heard in traditional eastern music. Fuse this with psych rock and you have a record that is a truly original work of art unlike anything else in their scene. The unfamiliar harmonic phrases present themselves particularly clearly in Open Water, Nuclear Fusion and the title track, which features a Zurna. The commitment to learning, building and studying new instruments shown by the band here is remarkable, and the product itself more so.
Listen to 'Gizz get middle eastern below
2 Sketches Of Brunswick East
This offering see's the band team up with fusion-rock friends Mild High Club to produce a jazz-tinged record of beauty and wonder. Awash with swing, bossa and samba, the record is an exploration into the unknown of jazz improv for Gizz, and they pull it off with aplomb, scoring a nomination for an ARIA in the Jazz category in the process. Still digestible and clear as ever structurally, Sketches of Brunswick East is a wonderful achievement for any group. The band did a string of dates in Europe and the US supporting the record with Mild High Club in tow, and one can only imagine how the likes of Countdown, Tezeta and Rolling Stoned would have come to life in the live space.
1- Nonagon Infinity
The record that polarized the metal community when it picked up the ARIA for "Best Metal/ Hard Rock Album" at 2016's ARIA Awards, the "never ending" (it loops the last track back to the first track) ode to Motorhead and Overkill is a tinderbox of explosive psychedelia and outrageous experimentation. From the occult fury of Gamma Knife to the metal assault of People Vultures, all the way to the stoner doom funk of Wah Wah, this is the definitive, must have 'Gizz record and a valued addition to any heavy music fan's collection. The perfect musical trip, a collection of mosh anthems or stage dive soundtracks, this is Gizzard firing with a god almighty fury, and it's overwhelming.
Reward yourself for making it this far by watching the full record performed live in Sydney
King Gizzard and the Lizard Wizard Australian Tour, 2019
Friday, November 23rd
Enmore Theatre, Sydney, NSW
TICKETS 
Saturday, November 24th
The Gov, Adelaide, SA
*SOLD OUT*
Thursday, November 29th
The Tivoli, Brisbane, QLD
*SOLD OUT*
Saturday, December 1st
Gizzfest, Melbourne Showgrounds, Vic
TICKETS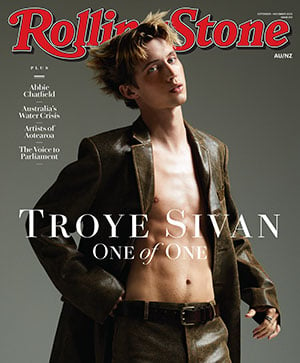 Get unlimited access to the coverage that shapes our culture.
Subscribe
to
Rolling Stone magazine
Subscribe
to
Rolling Stone magazine