On April 29th, The Long Sunset will return to Queensland for its second year armed with a great lineup of Aussie talent. 
The festival, which is part of Queensland Music Trails, will see the likes of Lime Cordiale, Winston Surfshirt, and Sycco descend on Canungra for the day.
And the headliners didn't need much persuading to perform at The Long Sunset. "It doesn't take much convincing to get us up to that beautiful part of the world!" they said when this year's lineup was announced. "We might have to extend the trip and stay for a week, so we'll probably bump into you at the Op Ship."
Two other artists on the bill, Tia Gostelow and bella amor, are also heading into the festival in very confident mood.
Queensland local Gostelow started the year in style with the release of her new single, 'Spring to Life', the singer-songwriter's relatable ode to navigating the complex feelings of finding yourself fresh out of a relationship. With a gloriously upbeat tempo, including swooning saxophone solos, the track was the ideal way to bring her sound into 2023.
bella amor, meanwhile, just released her own first single of the year, 'sentimental', and it wonderfully builds on her impressive last few months. The rising star sounds supremely confident and charismatic on the bubbly pop cut, quickly earning praise and plays from triple j and more.
Ahead of their appearance at The Long Sunset next month, Tia and bella interviewed each other for Tone Deaf, also expressing mutual admiration for their respective new music, which you can read below.
Love Live Music?
Get the latest Live Music news, features, updates and giveaways straight to your inbox Learn more
You can also check out the full festival lineup below. More information about Queensland Music Trails and The Long Sunset is available via the official website.
For more on this topic, follow the Live Music Observer.
The Long Sunset 2023
Saturday, April 29th
Elysian Fields, Canungra, QLD
Lime Cordiale
Winston Surfshirt
Hatchie
Sycco
Tia Gostelow
Peach Fur
bella amor
Baby Cool
Luke Brazier
Part 1 – Tia Gostelow interviews bella amor
Tia: Who has been one person in your life that really inspires you musically or personally?
bella: Sonically, Matt Corby is the first person that comes to mind. He is a big inspiration to me and what I want to achieve in this industry, creating a safe space for musicians to come together. He has created a cute community, and cares about what I do and enjoys what I do on top of that. I admire his work and lyrical mind, he is quite special in all of this music biz. He was made for it and it's great to see how he uses it. It makes me want to be the same.
What has been your favourite show that you've played to date?
To date, my show at Miami Marketta. I was absolutely out of my mind nervous but the feedback from it was incredible. The sound was bloody brilliant and the crew was just amazing. Also the energy on stage was unmatched, it was fucking incredible. Great venue, PLS HAVE ME BACK MIAMI.
If you could have dinner with one of your musical idols, who would it be and why?
I would love to have dinner with Adele. Her speaking voice is so bloody soothing and I just want to hear about her life. What she's done, how she's felt doing it. Stepping in and out of the light and how she got to do what she's doing now. I just really love her accent and her humour. She reminds me of my best mate and I feel like she'd be a blast to kick on with.
You just released your new song 'sentimental' and the music video alongside it, obsessed with it! What was the process behind writing this song and what was it like filming the music video?
I kinda laid down a situation that was going on in my life at the time with Forest Claudette and Nova Blue, and we just ran with it. Forest picked up the bass and came up with a dope ass bassline and the words just started flowing from there. The energy that was in that room was incredible and I feel it definitely came through in the song, which is why it's one of my faves to date.
Filming the clip was awesome as usual. I really love filming videos because, to me, it's essentially performing to the camera and I loveeee putting on a show. I love strutting my stuff behind the cam, and the crew who was filming it were just so cool and vibey. They really bought the energy, as did Bryn Chapman Parish who is bloody lovely.
If there was any advice you'd give to your younger self, what would it be? 
That everything is okay and that it's going to work out. To let things go and ebb with the flow. That's the biggest thing I wish younger me understood. I'm still trying to grasp it, but I wish she'd figured it out a lot sooner. It was such a hard time for me a few years ago and I just wanna give myself the biggest hug and a kiss.
Part 2 – bella amor interviews Tia Gostelow
bella: As a woman coming up in the music industry, I want to know what it's been like for you – the good, the bad and the ugly.
Tia: I started out in this career when I was 15 and have always been working in situations where everyone has been older than me and predominately male, whether that be band, crew, producers etc. I've been fortunate that the people I've been working with have been great and super supportive.
I'm 23 now and about to release my third studio album which I'm super proud of, but I feel like I've got this invisible timeline hanging over my head telling me I need to 'make it' by a certain age, and I know that this is a common feeling amongst women in this industry.
I've got a song on my new album that kind of addresses this and the feelings I've been going through – feeling like I'm not relevant anymore or that because I don't wanna bare my whole soul on social media I'm not gonna get anywhere. I think there's a lot of internal pressure I've been putting on myself, and I think as long as I remain true to who I am and what I believe in, I think that's all that matters.
You just released 'Spring to Life' and it's a banger. What is your process in writing a new song?
Thank you! It really depends on the situation – most times when I'm in a co-writing setting with a producer I like to get the chords and a basic track laid down and then a verse melody and then chorus etc. When I'm on my own its entirely different – sometimes I have the lyrics first and write chords to that or just start with the melody. I think it depends on what is flowing the best for me on that day :)
What consists of a great performance to you?
A great performance to me is when my band and I are really locked in together, we put all of our cards on the table, and really connect with the audience. I've found over the years that when we play live shows, if I let my anxiety and stress get to me on stage that's when things start to fall apart. You really have to trust the people you're on that stage with, and just remember that the people in the crowd are there to connect with you and the music.
What has been the highlight of your career so far?
Hmmm, this is a tough one. It would either be getting my first gold record for my song 'Strangers' or winning Album of The Year at the Queensland Music Awards for my first album Thick Skin. I think these both mean so much to me because I'm an independent artist and to have songs recognised like that from my first album at 18-years-old, I think it's pretty special. I look back at those moments when I'm doubting myself and it reminds me that I can keep on doing this :)
What is your most sentimental memory of music you have?
I would have to say remembering how much my parents did for me and my music when I was younger. They did everything they possibly could to help me get to where I wanted to be. I played in cover gigs in pubs almost every weekend from the age of 12 to 17, and if I wasn't doing that they would be driving me for hours to go and compete in singing competitions all around Queensland and New South Wales.
In usual teenage form, I didn't really understand or appreciate how much they were doing for me at the time, but they were always the ones telling me to keep going and that I didn't need a normal job if this is what I love.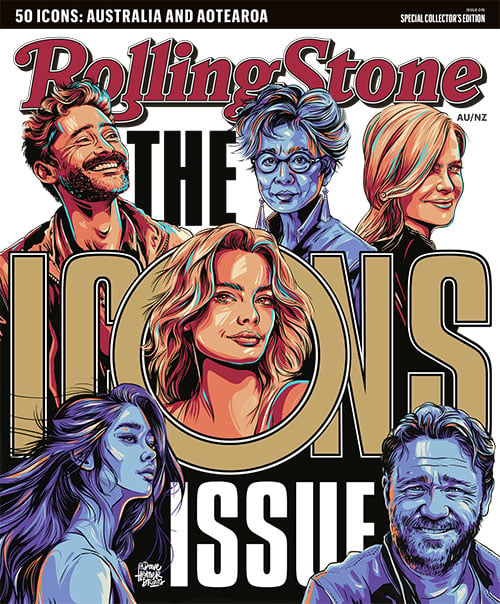 Get unlimited access to the coverage that shapes our culture.
Subscribe
to
Rolling Stone magazine
Subscribe
to
Rolling Stone magazine