Do you remember End Of Fashion? The Perth pop rock group that gave us 'O Yeah', the 2005 single that charted in the Top 10 of Triple J's Hottest 100 of the same year?
If you don't, you're not alone, the Aussie band's career hasn't been so rosy since the halcyon mid-oughties. And If you were wondering what brought about the seeming end of End Of Fashion? Blame Triple J. The band's frontman does.
Guitarist and songwriter Justin Burford has 'pulled a Whitley', blasting the national youth broadcaster in a lengthy Facebook post in which he specifically blames the lack of ongoing support from Triple J for not only the band's death, but for hammering the final nail in the coffin.
The timely post, arriving the week following Triple J's Hottest 100, sees Burford writing: "Without mincing words, and I will probably get a load of shit for saying this BUT, with many more music industry parties finally coming out and saying their piece about Triple J, I feel comfortable enough to say; Triple J ended the career path of End Of Fashion, no question."
Burford does acknowledge that the radio station "fully supported" the band in their early days. Indeed, End Of Fashion singles 'Anything Goes' and 'Rough Diamonds' were added to high rotation in the opening weeks of their debut 2004 EP's release before self-titled 2005 debut album landed 'O Yeah' at #8 on the Hottest 100.
Three years on however, when it came to sophomore effort Book Of Lies, Burford complains they were "dropped like a sack of hot potatoes" by Triple J. "I feel comfortable enough to say; Triple J ended the career path of End Of Fashion, no question."
"Our lead single, 'Fussy' was even openly derided on air by Richard Kingsmill as 'just another pop release'," writes the frontman. "Apparently this was before pop was declared no longer a dirty word on the j's. This, I might add was the ONLY time that song was ever played on this station."
As well implying that Triple J contributed to the the lukewarm reception that their second LP received, Burford bitterly recounts how the station's derision continued into their career.
"Our little known third album, Holiday Trip Of A Lifetime was completely independently produced and released, all on our own dime and time," explains Burford. "The single 'Sleepaway' was played once on [Triple J show] Goodnights. Once. An album that took us a year to write and all the money we had culminated in that one spin, with the added derision of Mariani [sic] asking her listeners to tell her if this band was 'relevant' any more."
Burford – who has been playing solo shows and moving towards a career in acting – signs off by writing, "No J play? No career. And for people that ask me often… THAT is why End Of Fashion are no more. Rant over."
Addressing the mixed responses from various Facebook comments to his public criticism, Burford writes "I no longer have anything to lose in regards to keeping quiet. It's liberating. And Im finally expressing a frustration I have felt for years," he says. "Our lead single, 'Fussy' was even openly derided on air by Richard Kingsmill as 'just another pop release',"
"Triple J was (like many acts) our bull horn. Sure we got a few spins on other stations but our fan base was built almost exclusively on our J's listeners. Upon their rejection, it seemed our [management] and record company ran out of promotion ideas. Without that spring board we were fucked."
Burford also echoes Whitley's similar social media slam of Triple J as failing as a "tax-payer funded radio station," as well as the burgeoning 'make or break' influence that Triple J has on Aussie bands.
"The station and Kingsmill himself have positioned themselves as taste makers. Thereby a very small group of people will preside over whether an Aussie act will have a chance or not," writes Burford.
Burford's comments potentially re-stoke the public debate that was sparked ahead of this year's Hottest 100 countdown, putting scrutiny on Triple J following a Fairfax article that investigated claims that bands were altering their sound to secure airplay.
In response, Triple J Station Manager Chris Scaddan refuted claims that the station held a particular bias towards particular kinds of music or 'Triple J sound', or that artists needed to curry favour with the station to gain support.
The discussion intensified as music figures from all corners began weighing in on the topic, including attacks against Triple J (from Whitley and a scathing opinion piece from Cherry Bar's James Young) and those in defence of the station, such as Oliver Tank saying "people just need to relax" or Helen Razer's enlightening piece for Crikey criticised the idea of a commodified 'Triple J sound', arguing that – if anything – the station's eclectic play-listing is too diverse.
An issue that most artists have skirted around in their criticism of the station however hasn't addressed a central factor that has nothing to do with their music's radio appeal: it's quality. Or as Triple J's Scaddan put it (in nicer terms) "basically we're looking for good music."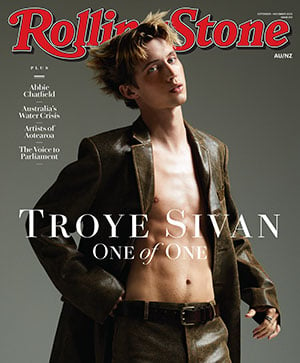 Get unlimited access to the coverage that shapes our culture.
Subscribe
to
Rolling Stone magazine
Subscribe
to
Rolling Stone magazine