Today's the day, music lovers. It's time for triple j's Hottest 100 for 2018.
As is tradition, we've already learnt a few facts about the countdown in advance, with triple j revealing that this year is set to be the biggest on record. Of course, we're pretty eager to see who is going to come out on top of this year's poll.
While we've spent a while looking back at the songs that never made the countdowns over the years, and the tracks that bookies reckon might perform well, today is the day we find out for sure.
Will Childish Gambino hit the top with 'This Is America', or will we see a tight race for #1 between artists like Ocean Alley, Ruby Fields, and FISHER?
Well, now is the time to find out! So stick with us today as we give you a live update of the songs that are being played throughout the day, along with a few facts that we learn as the countdown continues.
triple j's Hottest 100 for 2018
100. 'Happy Sad' – Ocean Alley
99. 'Polygraph Eyes' – Yungblud
98. 'Ghost Town' – Kanye West
97. 'Do I Need You Now?' – DMA'S
96. 'Take It To The Heart' – Odette
95. 'Four Out Of Five' – Arctic Monkeys
94. 'Ivy (Doomsday)' – The Amity Affliction
93. 'You Can Count On Me' – Trophy Eyes
92. 'Everybody But You' – Thundamentals
91. 'Sundress' – A$AP Rocky
90. 'Psycho (feat. Ty Dolla $ign)' – Post Malone
89. 'Dazed & Confused' – Ruel
88. 'Labrador' – WAAX
87. 'Younger' – Ruel
86. 'Dirt Cheap' – Lime Cordiale
85. 'Bubblin' – Anderson .Paak
84. 'Cigarettes' – Tash Sultana
83. '1999 WILDFIRE' – BROCKHAMPTON
82. 'Hunger' – Florence + The Machine
81. 'Ballroom' – Jack River
Love Ruby Fields?
Get the latest Ruby Fields news, features, updates and giveaways straight to your inbox Learn more
80. 'Nothing Breaks Like A Heart (feat. Miley Cyrus)' – Mark Ronson
79. 'Clumsy Love' – Thelma Plum
78. 'Better Together' – Hayden James & Running Touch
77. 'Miracle' – CHVRCHES
76. 'Clarity' – Polish Club
75. 'Molotov' – Kira Puru
74. 'Pussy Is God' – King Princess
73. 'Sweet Release' – Hockey Dad
72. 'What Can I Do If The Fire Goes Out?' – Nothing But Thieves
71. 'Smogged Out' – Skegss
70. 'UFO (feat. Allday)' – Mallrat
69. 'Cheetah Tongue' – The Wombats
68. 'Eastside (With Halsey & Khalid)' – benny blanco
67. 'Tints (feat. Kendrick Lamar)' – Anderson .Paak
66. 'Need You (feat. NÏKA)' – Flight Facilities
65. 'Scream Whole' – Methyl Ethel
64. 'Mistake' – Middle Kids
63. 'BOOGIE' – BROCKHAMPTON
62. 'Killing My Time' – G Flip
61. 'I Wanna Be Everybody' – Hockey Dad
60. 'The End' – DMA'S
59. 'Give Me My Name Back' – Meg Mac
58. 'Soaked' – Bene
57. 'Martini' – The Presets
56. 'Without Me' – Halsey
55. 'Wasted' – Peking Duk
54. 'Saturday Sun' – Vance Joy
53. 'We're Going Home' – Vance Joy
52: 'Better' – Khalid
51: 'Mr La Di Da Di' – Baker Boy
50. 'No Place' – RÜFÜS DU SOL
49. 'Missing Me' – Angie McMahon
48. 'When I Dream' – San Cisco
47. 'Like People' – DZ Deathrays
46. 'you should see me in a crown' – Billie Eilish
45. 'MANTRA' – Bring Me The Horizon
44. 'Clark Griswold (feat. Adrian Eagle)' – Hilltop Hoods
43. 'God's Plan' – Drake
42. 'Laps Around The Sun' – Ziggy Alberts
41. 'In The Air' – DMA'S
40. 'Nice For What' – Drake
39. 'The Perfect Life Does Not Exist' – Ball Park Music
38. 'About You' – G Flip
37. 'Love Me Now' – Ziggy Alberts
36. 'All Loved Up' – Amy Shark
35. 'Ladders' – Mac Miller
34. '1950' – King Princess
33. 'Better Now' – Post Malone
32. 'God Forgot' – The Rubens
31. 'Church' – Alison Wonderland
30. 'Sometimes' – Cub Sport
29. 'Fire' – Peking Duk
28. 'All The Stars (With SZA)' – Kendrick Lamar
27. 'Sunflower (Spider-Man: Into The Spider-Verse)' – Post Malone & Swae Lee
26. 'All The Pretty Girls' – Vera Blue
25. 'I Miss You' – Thundamentals
24. 'Leave Me Lonely' – Hilltop Hoods
23. 'Treat You Better' – RÜFÜS DU SOL
22. 'Underwater' – RÜFÜS DU SOL
21. 'Never Ever (feat. Sarah)' – The Rubens
20. 'Waiting' – KIAN
19. 'Peach' – Broods
18. 'Join The Club' – Hockey Dad
17. 'lovely (With Khalid)' – Billie Eilish
16. 'Baby Come Back' – Ocean Alley
15. 'Just Friends (feat. Boy Matthews)' – Hayden James
14. 'I'm Good' – Wafia
13. 'Praise The Lord (Da Shine) (feat. Skepta)' – A$AP Rocky
12. 'Turn' – The Wombats
11. 'Up In The Clouds' – Skegss
10. 'Knees' – Ocean Alley
9. 'Dinosaurs' – Ruby Fields
8. 'when the party's over' – Billie Eilish
7. 'Groceries' – Mallrat
6. 'Be Alright' – Dean Lewis
5. 'I Said Hi' – Amy Shark
4. 'This Is America' – Childish Gambino
3. 'SICKO MODE' – Travis Scott
2. 'Losing It' – FISHER
1. 'Confidence' – Ocean Alley
Final Facts
The 2018 countdown saw a record-breaking 2,758,584 votes counted this year, a 15% increase from 2017.
The poll featured 100 songs from 6 countries, including 65 from Australia, 22 from the USA, 8 from England, 2 from Canada, 2 New Zealand, and 1 from Scotland. America's 22 tracks is their highest since 2013, while Australia's 65 is the same as 2017, and one short of the record set back in 2016.
This year featured a rather low two cover versions, with both coming from the 2018 Like A Version sessions. While Ocean Alley's cover of Player's 'Baby Come Back' hit #16, Nothing But Thieves' cover of Gang Of Youths' 'What Can I Do If The Fire Goes Out?' hit #72, one year after the original hit #10.
Ocean Alley's top spot makes them the first band since Powderfinger back in 1999 to bookend the entire countdown, but also the first band to ever bookend the top ten.
This countdown also saw Mac Miller appear with 'Ladders' at #35, four months after is untimely death. Tis makes Miller the first feature artist to appear posthumously in a countdown since Charles Haddon of Ou Est Le Swimming Pool? in 2010.
With The Wombats' 'Turn' appearing at #12, their song actually features a lyric that makes a reference to Drake, who appeared twice as a solo artist in the countdown, and another time as part of Travis Scott's 'SICKO MODE'.
The countdown also saw a gender make-up of 67 songs from male artists, 22 from female artists, eight tracks from acts with male and female artists, with three tracks were from acts who identify as non-binary or genderqueer.
Four tracks in the top were by female acts, the largest representation in the top ten since 2010, though the 2016 countdown featured seven female artists either as a main or feature artist.
Ocean Alley managed to become the best-performing band of the countdown, with a massive four tracks. Meanwhile, Billie Eilish, DMA's, Hockey Dad, Post Malone, and RÜFÜS DU SOL all scored three tracks. Khalid and Drake also appeared three times thanks to a mixture of solo and collaborative efforts. A further 20 other artists also appeared twice throughout the countdown.
Also, if you're interested in some of the more specific facts, the shortest track was Skegss' 'Up In The Clouds' at 2:30, while the longest was RÜFÜS DU SOL's 'Underwater' at 5:49.
Now, as is tradition, let's celebrate the Hottest 100 by listening to the #1 song once again…
Check out Ocean Alley's 'Confidence':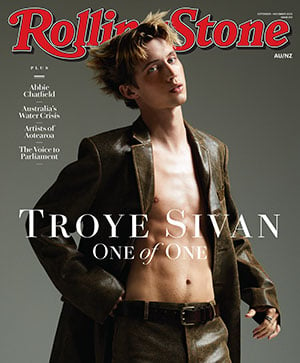 Get unlimited access to the coverage that shapes our culture.
Subscribe
to
Rolling Stone magazine
Subscribe
to
Rolling Stone magazine