The dust is beginning to settle on the fury surrounding offensive comments made by one half of Aussie hip hop group Bliss N Eso earlier this week, but it may take some time for the wounds to heal.
In case you've been living under a rock, on Monday, Max MacKinnon, better known as MC Eso in the ARIA-topping Aussie hip hop trio Bliss N Eso, posted snaps of his recent visit to the Madame Tussauds in Hollywood Boulevard to his more than 40,000 followers on Instagram.
The rapper uploaded several images of himself posing with various waxworks celebrities in a variety of 'comical' situations, including an image of him physically threatening RnB star Rihanna in reference to the terrible 2009 incident in which the singer was assaulted by then-boyfriend Chris Brown.
Not only that, but to remove any sense of ambiguity, MacKinnon added the captions: "Where did ya throw those fuckin car keys woman!?!" and "#smackmybitch #shelovesthewayithurts".
[include_post id="418084″]
The backlash against the comments has been intense, with fellow MC Chance Waters penning a heartfelt open letter condemning the comments and hoping the incident serve as a lightning rod moment for what he termed a "systemic issue with misogyny in the hip hop scene in Australia".
Members of the public have also been pressuring national broadcaster triple j to boycott the popular band. The last song they've played from the band was "Can't Get Rid Of This Feeling (feat. Daniel Merriweather)" on the 30th August.
"We'll wait on the audience sentiment before playing the band again."
Resisting an outright ban on the group, triple j have now released an official statement in response to the calls for a boycott. "We haven't played any Bliss N Eso on triple j since Monday when this incident happened," said the station "We appreciate that Eso has apologised and believe his sincerity. We'll wait on the audience sentiment before playing the band again."
Although apologising on Tuesday, MC Eso has again apologised last night with the release of a video that was posted on the band's official Facebook page.
"While I immediately realised the photos I posted were offensive and expressed my regret for posting them, it has only been through reading people's comments over the past few days that I've come to appreciate just how hurtful and damaging these are to women," Eso says in the video.
"Violence against women is unacceptable and something that should never be joked about. While I appreciate the support from my loyal fans, what I did cannot be excused."
You can watch the full apology below.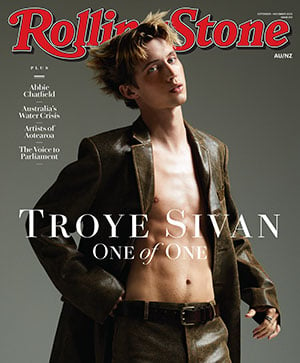 Get unlimited access to the coverage that shapes our culture.
Subscribe
to
Rolling Stone magazine
Subscribe
to
Rolling Stone magazine