Tone Deaf and Amrap are continuing in 2023 to ask music directors or presenters at some of the finest community stations around Australia to share their best Australian music finds discovered on amrap.org.au.
If you haven't got your music on Amrap, what are you waiting for? Community radio uses Amrap to source Australian music for airplay.
Anyone can discover all the great Australian music championed by community radio on the Community Radio Plus App, featuring the diverse range of community radio stations nationwide in one handy spot.
This week, RTRFM Music Director Matt Perrett contributes a list of local music from community radio you should be listening to right now.
Claudie Joy & the Joy Boys – 'Dragonfly'
It's been three years since we last got music from Claudie Joy & the Joy Boys — the band has been dedicating time to establishing a solid presence in the Fremantle/Wayalup music scene, exploring and consolidating their sound and artistic intent along the way.
Love Indie?
Get the latest Indie news, features, updates and giveaways straight to your inbox Learn more
Their latest single, 'Dragonfly', released in tandem with 'Day by Day (Sad Bedroom Song)' is a shimmery indie-folk cut penned by Claudie "sitting in [her] Dad's shed with a guitar, trying mutedly to scramble around writer's block.:
Her gentle probing of a pair of jeweled dragonfly wings spotted in the shed unfolds into a heartfelt track driven by Claudie's reminiscing, and complimented by the loose and cosy folk soundscape her band provides, sitting perfectly in the pocket.
Perth/Boorloo-based KLAUDE has been on a bit of a hot streak lately — they were recently announced as the support act for Angel Olsen's Perth Festival shows and have released a string of singles that have been eaten up by the local music scene.
The latest of these tracks is 'YOUR TALK', a muscly psych-pop cut that serves "you up a slice of hot girl summer" with a slinky 80s synth pop bassline and catchy indie pop riffs for days. 
The push and pull of a fiery relationship laden with sexual tension plays out in front of listeners, with vocalist Codie Sundstrom encouraging everyone to throw caution ot the wind and live a little more dangerously.
'Coventry' is the lead single from GOES BUST, the final EP in a series of four that Booroo/Perth artist Great Statue released weekly during January — a feat to be commended.
Released via local label Rockton Records, the contemporary track takes on 80s-inspired outsider dance-pop, fusing brusque hooks, vintage drum machine grooves, and weirdo dance breaks.
Great Statue creates their own world on 'Coventry', playing the role of a cashed-up suburbanite playing the part of Icarus and flying as high as they can over yelped vocals and analogue drum patterns from an alternative timeline.
Spice World – 'Mountain Pony 20'
Originally formed for a one-night-only performance in early 2021 before their drummer Julia had to rush back across the Nullarbor, Fremantle/Wayalup based wündergroup Spice World make endearingly scrappy, DIY, ad-hoc pop music that is sometimes sad and sometimes silly, but always offered in earnest.
Taken off their debut album There's No I In Spice World, 'Mountain Pony 20' draws listeners into the Spice World lounge room, stripping away much of their usual jangly kitchen clatter, with just guitar, vocals, and a slight patter of drums driving this lo-fi guitar pop lament of lost love.
Echo Omen – 'Moojar' (ft. Mathas & Koondarm)
Matthew Bracknell, creating music as Echo Omen, is an artist based in Denmark, Western Australia. He creates soulful, atmospheric, and beat-driven music, as showcased in his brilliant single 'Moojar'. 
Incorporating field recordings gathered by Bracknell along with kalimba and warm synth lines, Echo Omen pays homage to the titular Moojar tree he's admired since his youth.
The track features collaborations with long-time favorite Boorloo-based MC Mathas and local Noongar language choir Koondarm, resulting in an enchanting piece of spiritual hip hop music that delves into our connection to the land we live on.
Teen Angst dives headlong into the dark world of doom-scrolling obsession on this jangly indie rock cut from their debut full-length release Barn Sour. 
No strangers to drawing inspiration from the mundane qualities of everyday life and turning them into sparkling guitar pop vignettes, the Teen Angst crew create an endless haze of layered, jangly guitars, and low end melodies on Stan, moving into slightly darker territory than their usual Australiana-twee-pop stylings.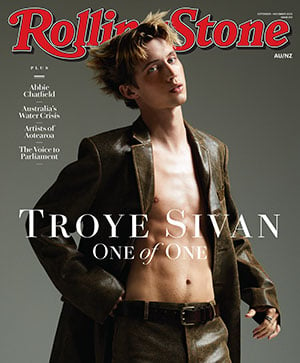 Get unlimited access to the coverage that shapes our culture.
Subscribe
to
Rolling Stone magazine
Subscribe
to
Rolling Stone magazine