Twelve Foot Ninja have taken to Facebook to clear up some of the misconceptions surrounding their reaction to King Gizzard & The Lizard Wizard's controversial ARIA win for Best Hard Rock/Metal Album. As Tone Deaf has reported, many in the local heavy music community have criticised the ARIAs for bestowing the accolade upon a group that is not a traditional heavy band.
"I want to clear something up that's been irking me a bit," guitarist Steve "Stevic" MacKay writes on Facebook. "I've seen some syndicated articles about King Gizzard taking out the Best Hard Rock/Metal Album ARIA and each time a little bit of context is omitted to amplify controversy and I feel it's misrepresenting Twelve Foot Ninja."
MacKay had previously told Music Feeds, "I'd be lying if I said I wasn't irritated by the only band who shouldn't have been in the category actually winning. If any other band in the category had won, it would have made sense."
"King Gizzard and the Lizard Wizard had a great year but they are not a hard rock/metal band so it feels like the category was discredited somewhat by the outcome. My question is: who decides whether an application to a category is valid in the first place?"
As MacKay clarifies in his post, "I was asked to provide a comment about the result before any articles were published. I explained I found it irritating that the only band who didn't fit into the category won it… and that any other band would have made more sense. This appears to be the consensus from fans and bands alike. It's not a jab at King Gizzard."
"The fact that Twelve Foot Ninja were nominated was amazing! We actually thought Amity would win because it was their 4th nomination or maybe Hellions because their album got a great response. We honestly never thought King Gizzard would win for the simple reason that they're a psych-rock band… no other reason."
"These comments are not code for, 'Twelve Foot Ninja should have won' . . . Or 'Gizz are a s**t band'. We actually never expected to win and we were absolutely honoured to be even included! We hold no ill feelings toward King Gizzard (Damon's actually mates with the singer – says he's a top bloke!) or ARIA for that matter. They put on an awesome spread!"
MacKay goes on to explicitly state his desire to distance himself from Amity Affliction bassist Ahren Stringer, who did not mince words when taking to Twitter to criticise King Gizzard's win. However, Stringer made a point of insisting he did not feel Amity should have won, explaining that Hellions had one of the best heavy albums of 2016.
Check out MacKay's full statement via Facebook.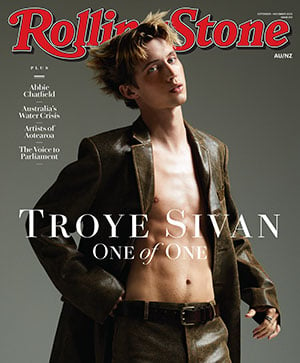 Get unlimited access to the coverage that shapes our culture.
Subscribe
to
Rolling Stone magazine
Subscribe
to
Rolling Stone magazine