In the internet age, there is seldom a solitary moment where we can appreciate the true art of mystery, especially in regard to (awesome new) music. Everything is accessible, right at our fingertips, ready to collide with our ears immediately. But, Brisbane based outfit Confidence Man, is the exception.
Made up of an eclectic mix of talent hailing from the likes of The Belligerents, Moses Gunn Collective and the Jungle Giants, their debut single 'Boyfriend (Repeat)', was added to regular rotation on Triple J almost immediately after its release. The catchy, dance driven jam managed to capture the attention of the masses, prompting listeners to scour every corner of the internet to find out more.
Revealed using only their stage pseudonyms – Reggie Goodchild, Clarence McGuffie, Janet Planet and Sugar Bones, who are Confidence Man? Why all the mystery? Ahead of their set at Sydney music festival The Plot on November 19, we caught up with Janet Planet in an attempt get some questions answered.
For those who are yet to feast their ears on the single, 'Boyfriend (repeat)' is an addictive, beat driven track guaranteed to make you want to "get down". But it's really the way the sarcastic yet perfectly timed nonchalance of Janet Planet's vocals contrast with the lighthearted, groove driven, electro pop sound that really makes this track stand out from the rest, leaving listeners wanting more. So why all the mystery? Because for Confidence Man, the focus is solely on the music they are creating, with Janet really pressing this point.
"All of us are in other bands and what we really wanted to do was create a new entity that was just Confidence Man. Something that was more about the vibe as opposed to the people in it. For us, the band is kind of this new and exciting thing where the whole point is about dancing and getting down. I suppose we just wanted to create something new, that didn't have anything to do with anything else". It seems these particular identities are fairly ingrained in the band and presented an opportunity for a fresh creative outlet, with Janet adding, "I kind of like the idea of playing different characters, they are who the band is".
The success of course has been overwhelming, with over 81,000 plays on Spotify in the past four weeks, but initially Confidence Man as a collective took a gamble. "We weren't really sure what to expect when the single was released, we all thought it really could have gone either way, we really weren't sure of the way it would come across, but it did well and I'm really happy with it".
Confidence Man was born from a process of true creative collaboration, as, at one point or another, all members of the band both recorded and lived together under one roof. "It really started about a year ago, we were all living in the same house, and one of us sat down at the computer and started giving us a tune. We all started yelling over the top of one another trying to steal the microphone". On sharing so much space, band or otherwise, the proximity and community collective revealed to be a completely positive experience, with Janet adding, "It was really awesome and definitely the best way to do it".
On the back of a massive performance at Bigsound, Confidence Man have just been added to an already stacked line up for The Plot in Sydney on Saturday the 19th of November. Like their music, Janet says, a Confidence Man live show is apparently in no way a passive experience. "I am kind of a little bit aggressive towards the crowd, in a very nice way of course!" with Janet further elaborating on this point, "I definitely don't dance as hard in real life the way I do with this project… I just like to think I teach the crowd a lesson on how to get down".
Janet is so confident in this expression that the perception and anticipation of an impressive live performance is really hard to ignore. Crazy outfits and personas are also a key part of their set involving beekeeper hats, lots of black, crazy makeup and synchronised dance moves, with of course, lots of audience interaction. Fans will get to experience this apparent extravaganza when Confidence Man head out on the road for a run of shows for the Boyfriend (repeat) tour, beginning on the 20th of November at the Corner Hotel in Melbourne as well as supporting Chairlift for a bunch of dates in early December.
As mysterious as they may be, if you're still not convinced, the philosophy behind Confidence Man is enough to win over any unsuspecting punter, with Janet Planet proudly stating, "it's about making this really awesome dance music that doesn't take itself too seriously because really, that's exactly what the four of us are all about".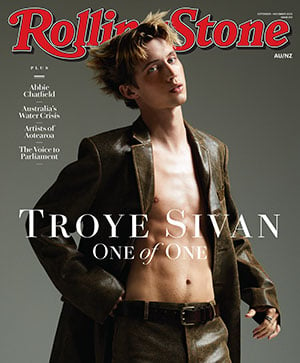 Get unlimited access to the coverage that shapes our culture.
Subscribe
to
Rolling Stone magazine
Subscribe
to
Rolling Stone magazine