Unify Gathering seemed to be the helping hand that the broader Aussie festival circuit needed four years ago.
Throwback to 2014. Soundwave and Big Day Out, two heavyweights of the Aussie summer, had both gone under together. It seemed that leaving the cricket playing on TV to tough it out in a rough, sweaty mosh pit under the January sun was going to be a thing of the past.
Gone were the summer sets of Queens of the Stoneage, Bring Me The Horizon & Paramore. It seemed the excitement surrounding the rumor mills that would start up in Autumn and run through to September no longer existed within the heavy music community.
Then, on September 17th 2014, a new festival called UNIFY Gathering unveiled the lineup for its pilot event.
Set to be held at Tarwin Meadows in the Gippsland region of Victoria, UNIFY #1 boasted an entirely Aussie lineup, headlined by The Amity Affliction and Northlane. There was some nostalgia in the mix, with Break Even & Hand Of Mercy both making appearances, while scene stalwarts Hellions & Endless Heights appeared further down the bill.
                                                             The first lineup of UNIFY Gathering, held in 2015
Limited to 3,000 tickets it was a small, comfortable gathering that provided a wonderful outlet for those craving the holiday throw down. The event itself received high praise for its clever structure and easy feel, as well as the quality of bands it attracted. Things were up and running.
From there, the festival grew at a rapid rate in terms of the popularity and artist pull. 2016 saw the festival host its first international acts, with Stray From The Path (USA), State Champs (USA) & Neck Deep (UK) appearing on a bill led by Parkway Drive.
Last year saw things expand again, with a stacked lineup boasting international heavyweights Every Time I Die & Alexisonfire, appearing alongside local staples Violent Soho, Thy Art Is Murder and The Getaway Plan. That year saw Thy Art reunite with vocalist CJ McMahon onstage, while new arrivals Justice For The Damned and Polaris established themselves as ones to watch.
Check out Justice For The Damned slay UNIFY Gathering in 2017
Fast forward to this year and the 2018 edition, whilst having to compete with the freshly established Download Festival, had easily its most successful year to date.
From Parkway Drive playing their masterpiece Horizons in its entirety, to a spattering of international visitors including big guns Architects (UK), Four Year Strong (USA) & Knocked Loose (USA), as well a solid representation of pop punk with huge sets from Tonight Alive, Knuckle Puck (US) and ROAM (UK), this year saw UNIFY double capacity and cement itself as a must for the Aussie hardcore faithful.
The 2019 line-up, while scoring duel international headliners has shaken things up slightly in an attempt to expand on the usual UNIFY flavour and avoid repeating itself; after all, Australian hardcore is still establishing itself as a global brand (Parkway only cracked overseas 12 years ago).
Perhaps surprisingly, Karnivool & Taking Back Sunday will mix it with Underoath, In Hearts Wake, Ocean Grove, Clowns & Endless Heights at the 2019 event, whilst Hand Of Mercy will perform a nostalgic set for those missing the two-step jams of 2012.
It promises to be huge, and will no doubt spurn excitement for the 2020 edition.
                                                                                 The lineup for the 2019 event
With this 'Warped Tour-esque' festival now standing on its own two feet it's worth asking the question; has the UNIFY Gathering saved the hardcore festival in Australia? While Download Festival seems to be taking the place of Soundwave, mixing all the sub-genres of the heavy world into a big melting pot, what contribution has the UNIFY Gathering made to pulling both home-grown and international hardcore/punk back into the limelight for Australia?
Truth be told, it seems that it's helped turn the volume up on an already bursting scene, made all the more powerful due to the explosion of boutique festivals in the past five years.
All around Australia there is a developing circuit of smaller (yet by no means lesser in quality) festivals which allow bands to cut their teeth and get in front of bigger audiences, in turn growing the hardcore/punk brand around the country.
Melbourne's Invasion Fest (which isn't running this year) is one such event, having hosted the likes of Kublai Kahn (USA), The Acacia Strain, Alpha Wolf and Vices (RIP) in the past, becoming one of the premier events of the hardcore calendar.
Dead of Winter Festival in Brisbane has constantly pushed the boundaries since it's inception in 2010, this year putting together a huge bill that boasted the likes of Frenzal Rhomb, Polaris, Clowns and Pangaea (just to name an absolute limited few), selling out completely and giving infinitely valuable exposure to local and domestic acts.
Newcastle hosted Thrashville earlier this year, the heavier companion to their Dashville Skyline event, with Voiid, Paper Thin and Batpiss slinging it out next to Gay Paris and King Parrot to the delight of hundreds.
Events such as Meltdown Festival, the charmingly named Kill All Your Friends Fest and the occasional resurrection of the sacred Sydney venue Blacktown Masonic Hall for day-fests pull hundreds when they occur, drawing together a community that is tight-knit and supportive, based around a heavily ingrained DIY ethic.
Watch: Vices keep it short and fast at the 2015 Invasion Fest
While UNIFY Gathering has presented a huge opportunity for local bands play alongside the world's best, rather than creating something out of nothing it has capitalised on an already strong alternative music community that boasts the fan dedication and support at the local level, where it matters most.
The quality of the bands down to the bottom of the bill proves this point.
Acts like Gravemind, Drown This City & Ocean Sleeper are on the lower tier of their respective days for the 2019 UNIFY edition, but all produce music that is undeniably world class. With such a strong local scene you have to earn your stripes to stand out, and the up-and-comers on the UNIFY bills are a testament to that.
Gravemind will make their UNIFY debut in 2019
UNIFY Gathering is certainly a gem on the Aussie music calendar, but it by no means exists in isolation. Rather, it shines a light on an incredibly special and unique local scene, backed by smaller festivals that help our local acts look and sound at home on the stage alongside Underoath and In Hearts Wake.
There's been something special happening in the Aussie heavy scene for quite some time now. All the hard work has birthed festivals like the UNIFY Gathering; a premier event that at its heart is run by the kids, for the kids.
2019 UNIFY Gathering Lineup
Friday 11th January
UNDERØATH
[Exclusive Australian Performance]
KARNIVOOL
[First East Coast Show since 2016]
IN HEARTS WAKE
HELLIONS
[Very special return set]
OCEAN GROVE
WHILE SHE SLEEPS
[Exclusive Australian Performance]
CROSSFAITH
[Exclusive Australian Performance]
DREAM ON DREAMER
THE PLOT IN YOU
[Exclusive Australian Performance]
HAND OF MERCY
[Exclusive Reunion Show]
DREAM STATE
[Exclusive Australian Performance]
DROWN THIS CITY
OCEAN SLEEPER
BETTER HALF
Saturday 12th January
TAKING BACK SUNDAY
[Playing Tell All Your Friends in full]
EVERY TIME I DIE
[Exclusive Australian Performance]
TROPHY EYES
STATE CHAMPS
[Exclusive Australian Performance]
TURNSTILE
CITIZEN
WAAX
CLOWNS
ENDLESS HEIGHTS
HARMS WAY
SAVIOUR
STAND ATLANTIC
THORNHILL
PAGAN
GRAVEMIND
AFTER TOUCH
FALCIFER
YOURS TRULY
Friday, January 11th – Monday, January 13th, 2019
Tarwin Meadows, Gippsland, VIC
Tickets: UNIFY Gathering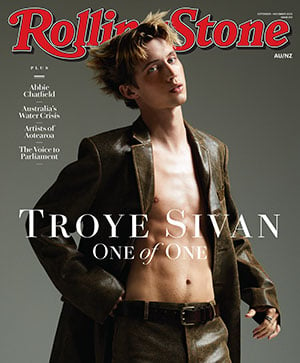 Get unlimited access to the coverage that shapes our culture.
Subscribe
to
Rolling Stone magazine
Subscribe
to
Rolling Stone magazine