When he's not busy filling up his mantle with multiple awards, collaborating with fellow Aussie artists, and inspiring festival lineups, 22-year-old Sydney-sider Harley Streten can be found listening to as much music as he produces as Flume.
If you've ever wondered exactly what kind of tunes a young globe-trotting prodigy likes to fill his iPod with, then you're in luck, as Flume has recently put together a mixtape of some of his favourite ear-worms for the folks at Red Bull Music Academy, as inthemix reports.
Part of Red Bull's 'Headphone Highlights' series, where top-tier producers and musicians are asked to share their inspirations and what they've got on high rotation, Flume's 17-track selection cherry-picks a selection of sophisticated, laidback cuts that sit pretty well alongside his own brand of ARIA-storming music-making.
Each track also comes with a short personalised introduction from Streten, explaining his recent obsession with Four Tet (whose remix of Nigel Godrich's band Ultraísta fronts the mixtape), a "massive inspiration": the Australia-bound Flying Lotus, digging Clams Casino while playing GTA V, and love for UK duo Disclosure (whom Flume has just finished opening for on a UK November tour).
Flume also takes the time to plug a selection of Aussie contemporaries (and Future Classic labelmates), including Hayden James and Wave Racer – artists he's previously used his international status to publicly applaud as repping the "Australian sound" – as well as the latest single from Sydney dwelling electronic act, Seekae. "The second I heard this song I was really, really into it," says Flume of 'Another'.
There's also room to include some of his own music in the mix, including Flume's team-up with Wu-Tang MC Ghostface Killah and Laneway act Autre Ne Veut (taken from the deluxe edition of his self-titled debut album), as well as a plug for his side-project with Emoh Instead, What So Not (who have just dropped their newest release, 'Jaguar'; it's massive).
In related news, Flume recently released the much-anticipated Lockjaw EP with Chet Faker, while teasing the all-star pair could be working on a full-length follow-up release in future.
Before then, Flume will return to Australia for a tour with January's Big Day Out, his first live dates back home (bar his ARIAs performance) since scooping his many trophies for his debut LP, including multiple ARIA and AIR gongs, and Triple J's Album of the Year accolade: the 2013 J Award, after which Streten enthused, "Australian music is seriously killing it right now."
Writing in a Facebook post, he continued: "It really is, I'm not just saying that because it's a Triple J award, Australian music is freaking killing it right now. Whether I'm in Europe, UK or the US, I keep getting asked about 'this Australian thing' and 'Whats going on?'. Super proud to be a part of the Australian takeover."
Stream Flume's 'Headphone Highlights' below.
Tracklist:
INTRO: Flume – Intro feat. Stalley (Future Classic)
Ultraísta – Small Talk (Four Tet Remix) (Ghostly International)
Lxury – J.A.W.S (Method Records)
Seekae – Another (Future Classic)
Lone – Airglow Fires (R&S Records)
Clams Casino – Crystals (Self-Released)
Flying Lotus – Zodiac Shit (Warp Records)
Flume – Space Cadet (Ft. Ghostface Killah & Autre Ne Veut) (Future Classic)
Toro Y Moi – Talamak (Carpark Records)
EPROM – Hurricane (Rwina Records)
Ryan Hemsworth – Against A Wall (Ft. Lofty305) (Last Gang Records)
Disclosure – You & Me (Flume Remix) (Future Classic)
Hayden James – Beginnings (Future Classic)
What So Not – Touched (Sweat It Out!)
Ben Khan – Eden (Self-Released)
Flume – Intro (Ft. Stalley) (Future Classic)
Panama – Always (Wave Racer Remix) (Future Classic)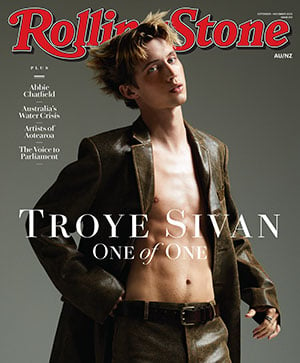 Get unlimited access to the coverage that shapes our culture.
Subscribe
to
Rolling Stone magazine
Subscribe
to
Rolling Stone magazine