As you've probably read if you've been anywhere near a computer in the last 48 hours, Lily Allen has made her official comeback to the music scene after what feels like a very long four years.
And no, we're not talking about the cheesy Christmas commercial for which the cheeky British pop singer got all sentimental, recording a cheesy cover of Keane's 'Somewhere Only We Know'.
What that slightly churlish animated ad did prove however, is that Ms. Allen's absence did indeed make the collective pop-loving heart grow fonder, as the British public stormed iTunes to download the Christmas cover in enough numbers to initally peg Allen for a coveted Christmas #1 single.
All of which acted for a mightily propellent springboard for Lily Allen's real comeback single: the characteristically whip-smart, tongue firmly-planted-in-cheek 'Hard Out Here', in which it seemed like the newly christened mother of two forgot to play nice once again, delivering the titular hook of "it's hard out here for a bitch" with all the relish you'd expect of someone returning to the spotlight, and loving it.
But better still than the comforting return of Allen's barbed cockney tones, the same that delivered those everyday anachronisms that shot her to fame on the suburban tales of 2006 debut Alright, Still and its 2009 follow-up It's Not Me, It's You, was that Allen had turned her sassy, critical eye away from despondent boyfriends and bigots towards a new enemy to be torn down by her wolf in sheep's clothing brand of pop music – pop music itself.
It's likely the impact of 'Hard Out Here' wouldn't be as thud-like if it wasn't for the song's accompanying video. Opening with the singer under operation as surgeons comically lament her state of disrepair, by the song's chorus Allen is flaunting her lean, new post-motherhood body with a caveat of scantily-clad, twerking dancers – the majority of them, for anyone that cared to look closely, being non-white/'black'/African American/races of people who aren't Lily Allen.
'Oh, oh. Here comes the controversy train!'

It didn't take long before a few cultural gate-keepers, their feathers already ruffled by an over-saturation of sexually explicit images in recent videos and pop star iconography, took Lily Allen to task for her new song and video.
An opinion editorial from Flavorwire's Michelle Dean questioned the music video for having a racist undertone, stating: "Obviously no one involved in making this video was really thinking too hard about the racial politics of it all." Adding that: "A little bit of [Allen's] trademark sarcasm applied to the way her business uses women of colour could do us all more than a little good."
It's pretty clear that the 28-year-old hit-maker's version of a sexed-up pop clip is parodying sexed-up pop clips.
It's pretty obvious to the discerning viewer from 30 seconds in that 'Hard Out Here' is a clear (and might I add, brilliant) satire of the trend of music video cliches that sexually objectify women and pop stars, regardless of their skin colour; parodying the parade of sexually charged imagery that the internet-savvy music consumer has been inundated with in recent months from mainstream pop stars.
From a nude Miley Cyrus' hammer-felatting antics in the 'Wrecking Ball' video to a fully-suited Robin Thicke toying with birthday-suited models for the 'Blurred Lines' clip, never mind the two joining forces for their infamous VMA performance earlier this year that single-handedly catapulted 'twerk' into the mainstream cultural conscious quicker than you can say 'foam fingering'.
It doesn't take a cultural analyst to see the links between those music videos, that have British parents and even government up in arms, and Lily Allen's 'Hard Out Here'. (As a side note, it's rather telling that Allen's clip comes with a Parental Advisory warning at a time when those same aforementioned British establishments are calling for the introduction of a ratings classification system on music videos).
But it's pretty clear that the 28-year-old hit-maker's version of a sexed-up pop clip is parodying sexed-up pop clips by mimicking them. But the concern of Flavorwire, and similar detractors, is that it does it so accurately and closely, that the line between Allen and Robin Thicke's borderline misogynistic imagery becomes, if you'll forgive the pun, blurred.

Confusing the distinction between Allen and the pop stars she's lampooning is precisely the axe that feminist blog Jezebel is grinding, labelling Allen's comeback clip a "a classic case of ironic racism, where she claims to be progressive and sarcastically challenging the norms, but she doesn't do anything more than present them." Worse still, to a younger audience who might not have the sly wit of Lily Allen, let alone her 28 years of experience, that they won't spot the difference.
This line of thinking however strips the viewing audience of all intelligence as to be dim-witted. Can your average music fan really not pick the rather unsubtle imagery of 'Hard Out Here', including a moment where a dithery old fella in a dapper suite encourages Allen to consume her banana in a rather sexual manner.
A think-piece published in The Guardian does worry that they can't; while it states that the singer is right to parody music industry males who are "dictating how women should present themselves and their bodies in order to achieve some kind of validation" as the "source of the problem" of stripping down the female pop star, or women like them, as nothing more than eye candy with a pretty voice – it also says the video is "problematic." But the key line, which those slagging off Allen should really heed is "And if you can't detect the sarcasm, you're misunderstood."
"To twerk or not to twerk may be the zeitgeist question, but whatever answer you come up with, you're still telling women how they should present their own bodies," notes The Guardian writer, before again drawing the 'race' card.
But what these feminist and race critiques are focussing too heavily on is the visuals, which are only telling half of Allen's story. They ignore, consciously or otherwise, the element that's always been the driving force of Lily Allen's charm, her subversive lyrics – and the words of 'Hard Out Here' aren't instructing all women to act a particular way, but recounting how this particular bitch – re: Lily Allen – has been told to act in order to 'make it' after four years.
Allen's lyrical skill has always been in dressing up bigger picture issues as everyday grievances, then tying it all off in a neat bow presented in the sing-a-long rhetoric of a pop song.
Whether singing about being hard done by, forced to sleep "in the wet patch/in the middle of the bed" after spending "ages giving head," on 'Not Fair', or how "it's sad but true how society says" the life of the female protagonist of '22' is told "is already over."
'Hard Out Here' simply strides the boards of a stage Allen's already well-versed in, and if anything, far more adroitly, which is probably why she's been made an even bigger target of the feminist cause.
"I suppose I should tell you what this bitch is thinking/ You'll find me in the studio and not in the kitchen," the song opens, before pointing out the huge divide between men and women in the pop landscape. "If I told you about my sex life, you'd call me a slut/ When boys be talking about their bitches, no one's making a fuss."
But the key line, which those slagging off Allen should really heed is "And if you can't detect the sarcasm, you're misunderstood." The critics at The Guardian, Jezabel, and Flavorwire will argue they have picked up on the song's sarcasm, but they've still misunderstood it by not focussing on the words with the same furrowed, analytic brow as they have the music video.
In response to the backlash, Lily Allen actually took to twitter (which is where all pop star defences spring from these days) to face her critics with a six-point rebuttal; "I'm not going to apologise because I think that would imply that I'm guilty of something," she writes.
"I do strive to provoke thought and conversation. The video is meant to be a lighthearted satirical video that deals with objectification of women within modern pop culture. It has nothing to do with race, at all."
It might not be as sophisticated and striking as Lorde's anti-sexism editorial or as eloquently poignant as Chvrches singer Lauren Mayberry's piece tackling misogyny, but Lily Allen's critique of the music industry's gender divide is not her written word, but the combination of image and lyric in the 'Hard Out Here' video, which is arguably far more accessible than an essay on the matter (and certainly more melodic, humorous, and visually catching).
Ultimately it's an argument that's in the eye of the beholder, but it's one that's far less fun without the ear, one that's listening to Lily Allen's pointed, catchy lyrics. And you might debate whether having young girls absently singing 'it's hard out here for a bitch' is better or worse than catching them twerk in the mirror, but in any case, it's likely that the heated public discussion highlights one thing we can all agree on.
It's good to have our Lily back.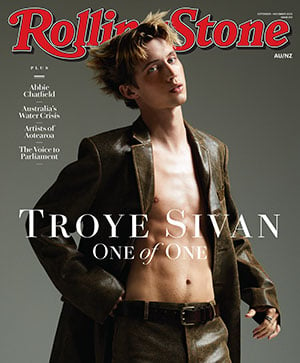 Get unlimited access to the coverage that shapes our culture.
Subscribe
to
Rolling Stone magazine
Subscribe
to
Rolling Stone magazine