After being forced to cancel the first two shows of his Australian tour of Built On Glass, you'd wonder if Chet Faker (aka Nick Murphy) would be able to physically perform at his best while recovering from "lingering laryngitis." With only a cup of tea at his side, all signs of his illness were unnoticeable as he kept fans on their toes all night with his enthusiasm and amazing live voice. This offered an electric start to the tour.
Although his debut album received a mixed bag of reviews, his live performance proved to be the appropriate setting to really show off why Built On Glass is truly remarkable.
The album itself offers a whole new side of Chet Faker's musical talents through a more vast use of instrumentation, and elements of jazz and blues seamlessly blended in with his signature electronic beats. However, the album is played much better live, as its passive nature allows for the artist to really make it something new when performing to a crowd. This is what he did.
As he danced, all of the emotion from each song and the pride he has for his music was taken out on a keyboard, synth and mixer, allowing the audience to see the work that goes into creating the his amazing tracks.
Then he began to sing.
His voice proved just as captivating. It makes any thoughts of him having laryngitis seem completely ludicrous.
This was demonstrated at its best during his very bluesy and soulful rendition of Jeff Buckley's 'I Want Someone Badly', as he left his barrier of equipment to stand at the very front of the stage with his microphone in hand. The familiar electronic beats that tend to hide the rawness in his vocals disappeared, allowing for his voice to shine through. The audience cheered in amazement each time he belted out the chorus.
Along with several covers such as this one, Murphy also performed a healthy number of tracks from both Built On Glass and his EP Thinking In Textures. However, he managed to slot in a section where he could simply have fun with his music on stage. He preceded this with a message: "I couldn't give you anything if it's safe, so, I like to have a section in my set where I can fuck up. Please enjoy my fuck ups."
And that, we did.
I don't know why he called it a "fuck up" section, because he certainly didn't fuck up. The section definitely depicted a casual experimental jam session where he looped different beats together to create some amazing sounds. Everyone was moving!
For nearly half of the show, Murphy was accompanied by a bassist and a drummer, offering the instrumental range we were promised from listening to the album. This brought the show to another level.
The band entered and exited the stage twice each, allowing for the different sounds of Murphy's new album and his electronic identity to be equally distributed throughout the show.
The band offered a very dynamic and surprisingly intimate experience to the show. Normally, when a band leaves the stage and the artist is left by themselves, the audience has a more personal experience with them. However, it proved to be the opposite during this show, as the band handled the instrumental portion of the songs they performed, allowing Murphy to really take full control of the stage, and thus, the crowd. Without him being occupied by creating the music himself with his equipment, he was able to really focus on his vocals and connect with the audience.
This isn't to take away from his solo performances, as '1998' had the crowd singing every word, and 'Cigarettes and Chocolate' left everyone dancing to every beat that was dropped. If hands weren't in the air, they were on someone else. A lot of sexual tension was brought about by these performances.
However, he surprised everyone by pulling out an electric guitar before playing 'Dead Body', creating elements of blues and rich soul. As he sang, he firmly gripped the microphone brushing his beard against it. The sexual tension rose.
Murphy offered the perfect setting for people to experience Built On Glass. Through his visible passion, illness-defying vocals and vast musical range, he had the crowd going all night. For those who may not have been too impressed with the album, quickly hustle to get some tickets to one of his remaining shows of his national tour. You will experience it in a whole new way.
Setlist:
Archangel (Burial cover)
I'm Into You
Terms & Conditions
Blush
1998
'Fuck Up Section'
Cigarettes and Chocolate
Release Your Problems
I Want Someone Badly (Jeff Buckley cover)
Jeans and Wallet
Love and Feeling
No Diggity (Blackstreet cover)
Drop The Game (Flume)
To Me
Dead Body
Talk Is Cheap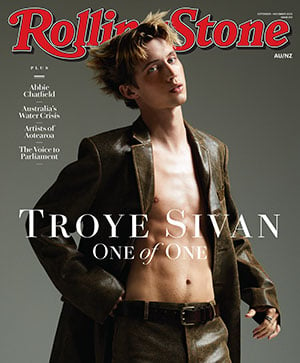 Get unlimited access to the coverage that shapes our culture.
Subscribe
to
Rolling Stone magazine
Subscribe
to
Rolling Stone magazine