So, Queens of the Stone Age gave us all a bit of a shock when they announced they'd be heading to Darwin as part of their upcoming Splendour in the Grass tour, with plenty of fans wondering why they'd head to the remote spot over, well, any of the other capital city that isn't called 'Sydney' or 'Melbourne'.
But maybe, just maybe, Darwin is more of a musical hot-spot than everyone gives it credit for. To find out what it's like for a band who actually live it all year round, we've chatted with At The Dakota, a local indie band who're about to launch into a big national tour for their second EP that dropped over the weekend, the appropriately-titled Melt – "a tribute to fun times, hard times and times when you melt inside your own head."
Recorded in Darwin in a local recording studio, the tropical vibe stems from the warm, optimistic vibes the band attribute to their hometown, and maybe that's what's drawn QOTSA to the remote capital. Having supported bands like The Bennies and Ball Park Music and won a swag of local accolades, At The Dakota are the ideal candidates to give us an idea of what sort of treats the Darwin music scene serves up.
Give Melt a listen, and if you like what you hear, be sure to check 'em out when they head to your town later this month (dates below) – or maybe fly up to Darwin for QOTSA in July and kill two birds with one stone.
Darwin life with At The Dakota
What are some of the best live music experiences you've had in Darwin?

Straight out of the gates are The Bennies and The Rubens. The Bennies really know how to put on a show, and we'll never forget seeing them open for NOFX and Frenzal Rhomb, hearing Anty calling people to the front with "Come down to front please c*nts". The combo of the c-bomb and 'please' is still hilarious to this day.
And The Rubens were super nice dudes and packed out our dance club Discovery with 1000 people, and rocked the shit. We're looking forward to seeing them at Bass this year.
How is the Darwin scene different from the other cities?

Most gigs are just like houseparties with all your mates. Because Darwin is so small everyone knows everyone and we all get along (for the most part). No one's competing, we all support each other and have plenty of mix-bill lineups.
There's only a handful of venues that support local music, so it's a different approach for us when it comes to booking gigs, as less is more, but the scene has some rad love from our local radio stations and press. It's pretty awesome to hear your mates songs on the radio.
What's the biggest challenge of being a Darwin band?

Touring is expensive AF. Getting out there to get your music heard is tricky when the only way out is one long ass road or jumping on a plane. And that ain't cheap when it's 800kms to get anywhere. Luckily for us, for the same reasons it means bottle-os purchase beer in bulk.

Is it really that hot? And how do you manage to keep cool?

The ice bucket challenge was just a Thursday for us. And there is no 'summer', it's just 'all the time' season. All our thermometers are manufactured here, they indicate to readings: 'hot' or 'hotter'. When it's 'hot' everyone brings a jumper.
We don't have lunch breaks, we have 'swim breaks'. When there's a fire alarm, we wait for the sprinklers to start spraying inside because we're already dying from the heat.
Finally, do we really need to worry about crocs up there?

Zac met a girl in Perth who kicked dirt into a nearby creek, and Zac took off down the road thinking a crocodile was cruising up the banks to eat him. He said the fear was real. We have a 'Cage of Death' where you can literally swim with a crocodile, and they feed it while you're in there and deliberately pull the meat towards the cage to make this huge crocodile snap it's jaw right next to you. Freaky shit.
Thanks guys, stay cool.
At The Dakota 'Melt' Tour
Friday April 8 – Railway Club, Darwin
with David Garnham and the Reasons to Live and Acid City
Friday April 21 – Exeter Hotel, Adelaide
with Royal Gala and Elli Belle
Saturday April 22 – Milk Factory, Brisbane
with Mary Handsome and Electric Suede
Saturday April 29 – Captain Cook Hotel, Sydney
with Lume Etiquette and The Zilzies
Friday May 5 – Golden Vine Hotel, Bendigo
with Jack and the Kids + special friends
Sunday May 7 -Workers Club, Melbourne
with Jack and the Kids + special friends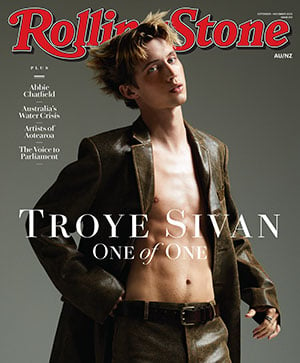 Get unlimited access to the coverage that shapes our culture.
Subscribe
to
Rolling Stone magazine
Subscribe
to
Rolling Stone magazine