When you think of Wheatus, chances are you think of the 2000 single 'Teenage Dirtbag' -and not much else. Twelve years and forty-three songs later, lead singer Brendan B. Brown is the only original member left, and 'Teenage Dirtbag' is still their most enduring, well-known song.
However, Brown doesn't regret having that one big hit, commenting that "there is no downside to having that song."
"It's allowed us to do so many things and go so many places," he continues. Having returned to the UK charts twice in the past two years, its clear that something in the song makes it timeless.
Brown speculates on the possible reasons for its continued success, recalling his father's words: "Every teenager has to go through that 'being an outsider' thing, at least a little bit. So that story is still the same for people, even if it's thirty years after I went through it."
Brown is no teenager anymore, but he has clearly rehashed the story behind the song for many a journalist, telling it with practiced ease. "It came from the summer of 1984 on Long Island, when I was 10 years old. That summer in the woods behind my house, there was a Satanic, drug-induced ritual teen homicide that went down; and the kid who did it was called Ricky Kasso, and he was arrested wearing an AC/DC t-shirt," begins Brown.
"That made all the papers, and the television, obviously; and here I was, 10 years old, walking around with a case full of AC/DC and Iron Maiden and Metallica – and all the parents and the teachers and the cops thought I was some kind of Satan worshipper. So that's the backdrop for that song."
He says the sing-a-long chorus, remains an act of defiance: "so when I sing: 'I'm just a teenage dirtbag', I'm effectively saying: 'Yeah, fuck you if you don't like it. Just because I like AC/DC doesn't mean I'm a devil worshipper, and you're an idiot. That's where it comes from."
The original Wheatus lineup was, by Brown's own admission, not quite ready for a worldwide hit. "We didn't know what we were getting into. We were all outsiders to the industry, we didn't know anyone who worked in the industry. So we were as green as it got. We made a lot of mistakes, and I think we paid a price for it."
"The lineup changes have all been amicable though. I still talk to everyone from the bands before." Brown has always been the sole creative force behind Wheatus, and he started the band alone. "For three years, I just wrote songs and recorded them on a four-track. It was a solitary process in the beginning, and some part of it continues that way."
Adding that "because I write songs by myself, I don't collaborate with the guys and they all respect that, they've all thrown in." But he considers this lineup the best it's ever been, "just because we've been playing together the longest."
Wheatus' history with labels and managers has not been pleasant, which is one of the reasons they operate on a pay-what-you-want scheme.
In essence, fans can download songs direct from Wheatus' website, paying as much or as little as they want. "It's the key to our survival, really. The fact that people can donate for our music directly to the source is what's keeping us alive. And I think people who receive that kind of access tend to be more loyal, and want to see you continue, and I think that's why it's working out."
It's not an entirely alien concept in the music world. One obvious example of a musician shirking the record labels is Amanda Palmer, who garnered much mainstream attention for raising over a million dollars via Kickstarter for her new album, proving that label support isn't necessarily a necessity to be successful in the music industry.
Brown is an admirer of Palmer, laughing: "She's got a lot more energy than I do." He started following her on Twitter in 2007 when she had 15,000 followers, "and now she's the queen, the motherfucking queen of the Internet."
He again notes that he doesn't have the energy for that kind of success. "But I do get a certain warmth in my heart watching her conquer that whole thing. It's like: yes, this is the girl that the major labels are going to try to assassinate. She is the one. She's the one who's going to bring balance to the Force, to the galaxy." After more praise, he finally adds, "you just sleep well at night knowing that there's an Amanda Palmer out there, kicking so much ass."
While Wheatus doesn't have quite as many followers as Palmer (who has well above half a million and counting), Brown keeps his own Twitter fairly active. While on tour, merch girl Joey Slater handles the "internet stuff", but "when we're at home," Brown adds, "it's mostly just me talking to people. That might be one of the reasons it's slow-growing, with low numbers right now."
Brown is not much for doing things "because your publicist said to. I feel like if the music I'm making isn't interesting enough, then the numbers are where they need to be. That's a measure of what we actually are."
They'll be flying out to Australia in September this year, twelve years after their first and only other tour in December 2000, when 'Teenage Dirtbag' first hit the charts. While the band hasn't played here in a while, Brown has been back a few times.
In fact, after their last tour, he lived in Australia for a time, and wrote almost all of the third record in Byron Bay. "It was cool," he states. "It was the first tour where people didn't hate us."
Wheatus are playing as part of Fat As Butter Festival 2012 this September, as well as playing their own four date headline tour. Full dates and details here.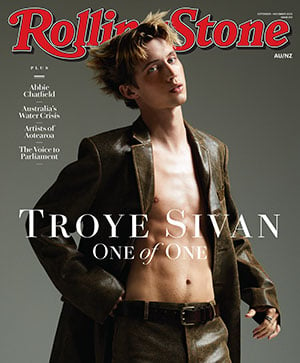 Get unlimited access to the coverage that shapes our culture.
Subscribe
to
Rolling Stone magazine
Subscribe
to
Rolling Stone magazine