Hi. My name is Yeo. I am a little boy trapped in the body of a young adult. I like baseball, playing video games, climbing fire-escapes, watching sci-fi movies etc.
The pop music I make is composed of the thoughts that run through my head and the feelings that beat through my heart. I've never been able to limit myself to producing one style within the genre of pop, so in my back catalog you'll find influences sprawling from hip-hop to country, and funk to punk.
I am about to put out my latest record, cheekily titled Sell Out, and on it you will find a lot of synthesizers, electronic drum beats, reverb, and side-chain compression. I hope it makes you dance, and inspires a deep thought or two. Most of all, I just hope you have some fun, because I sure had fun making it.
What's your earliest memory of performing and who inspired you to start?
By 2006 I had seen a lot of DVDs of music concerts (eg. Ben Folds Five – Sessions At West 54th) that I wish I had been to, so I had a bit of hunger in me to get on stage. At that point in my life, I had only ever been experimenting with music in my bedroom. My songwriter friend Scott Spark invited me to play a show, and that got my ass into gear. I put a band together and we developed a set over two months. The show was absolutely nerve-destroying, but I'm glad I got started.
You must answer this question honestly or we steal your rider. What and where was the first gig you went to?
Silverchair, Diorama Tour. I went with my friend Amanda Sargeant while we were still in high school and I am not quite sure where it was, but it was either the Brisbane Convention Centre or the Brisbane Entertainment Centre. Always get confused between those two.
What's your music the best soundtrack for?
Sell Out is good for a boogie, drive, or very late night mini-house-party session with friends. Scott Spark (mentioned above) likes to go running while listening to it.
You've named your album Sell Out, can you tell us why? And what's the worst sell-out in music you can think of?
It's a tongue-in-cheek reference to the state of the music industry, how money-driven it is, and how musicians spend their lives trying to make a buck, then when they finally do, they're labelled as something with particular connotations. This whole album is also an experiment to see what kind of reaction ensues when I start using commercial music as an influence on my production style.
Worst sell out music off the top of my head? Cafe Del Mar. But hey, there's a market, and where there's a market, there's a musician making a buck. How could I disparage them? Even the least deserving pop star has a team of talent behind him/her, earning bucks. The way of the world, I tell you!
You began last year with a folk album, Home, and now you're dropping an album that's a hybrid of soultronica, neo-RnB, and funk pop. What inspired the move away from your style and then the return?
To be honest, it was a natural drift. With Home, I was very focussed on lyrical content, as well as creating spacious, natural atmospheres. Stripping back all the production tricks and using mostly acoustic instruments gives you a lot of space to play with the voice and words, which is enjoyable. Eventually, I missed gettin' crunk to the beat of an electronic drum, and started experimentally converting some guitar-written songs into dance pop numbers – so here I am again in electro-world.
Who's that lovely voice on the opening track of the album duetting with you on 'Art of A Ghost'? What's that song about, or evoking?
First answer is my friend Hannah Crofts, and she's one of those quiet achievers in the music industry who is also a siren who can lead a ship to wreck. Second answer is sex.
There's a strong narrative element to a lot of your songs – cuts like 'Bottom of the 9th Lake', 'Wishing Well', and 'Jacob's Ladder' – do they contain references to autobiographical events? Or are they ficitonalised?
'Bottom Of 9th Lake' is a violent celebration of everyone's minor problems, particularly when they add up and drive you insane. 'Wishing Well' and 'Jacob's Ladder' are songs adapted from real experiences – however the ladder (latter…ha!) didn't become real until after I wrote it. Funny how that happens.
'Like I Don't Already Know' sees you rapping and having a go at the music industry, what inspired that?
Over a period of a couple of years, I had a really rough time understanding the saying 'It's who you know'. Some professionals we 'know' are incredibly helpful, but there are a handful who simply aren't helpful, or just plain stupid, and I've seen this handful (who generally consider themselves royalty in this tiny pond we swim in) treat many of my friends terribly.
'Like I Don't Already Know' was written when I was at my most frustrated, but now I've gotten all that rage out, it's a comedic song to me. I've learnt to care less, and just avoid/ignore the douchebags. The beautiful thing is I've also learnt to focus on the parts of my network that matter most, and I've developed friendships with industry folk that are built on proper respect. Oh, and I love rap, so I thought I'd give it a go.
Now we're going to get you to pick your favourite children. What's a moment or song on the album that still resonates with you when you hear it back? Or that you're really proud of?
My favourite child is probably the song 'Burden'. It emerged from dark times, and materialised (from conception to completion) in a matter of hours. Began at midnight, finished by 5.30am in the morning – and still communicates exactly how I felt at the time. You can hear my oil-heater ticking overtime in the rough quality of the vocal take.
You've always been known to offer your wares to bands around town. Can you tell us a bit about some of the bands/artists you play with?
On the regular, I play keys in Big Smoke, which is a 70s rock and roll project. I play keys for Luke Brennan, who's one of the greatest minds of our generation. I'm working hard on synths for the incredible Coach Bombay, and I've recently joined as keyboardist for a new project called Super Hooper, who have a spectacular 12″ available. Done a lot of guesting too, both in the studio and on stage, for friends like Lisa Mitchell, Francolin, and Danco.
Because it's more fun to do things together, which living Australian artist would you most like to collaborate with? Tell us why?
How about this: Since we're in fantasy land, I'd like to start a band with Iva Davies (of Icehouse) and Quan (of Regurgitator). Even if we made a crap song together, we'd spend hours sharing totally sick music with each other, and I'd be about one billion trillion happies because I'd know what records to buy for the rest of my life.
Do you have any particular ritual before you go on stage, or even a lucky charm you take with you?
I avoid eating before I play and I like to remind my band that mistakes don't matter on stage as long as we put in the work in the rehearsal room. People get it. We're only human.
If you could curate your own festival, where would it be, who would be on the bill, how many people would you let in and what features would it have (attractions/food/bars etc)?
It would be a rotating pair of stages set up on the rooftop of a 13-storey car park on Flinders Lane. From late afternoon until the sun sets, there'd be Wye Oak, Land & Peoples, Buffalo Daughter, Blake Mills, and Okkervil River.
After dark, Kavinsky, Kate Boy, 7Bit Hero, Clams Casino, and RL Grimes. RAC deejaying between sets for the whole day. I'd let in 500 people, and there would be おこみやき (Okonomiyaki) and そば (Ramen) hawker stands, with a Gumbo Kitchen stall on the other side. In terms of drink choice, apart from all the regulars, there would be single-malt whiskeys available for purchase in mini-flasks for serious drinkers.
Where we can see you play next, what releases do you have available and where can we get them? 
The official launch date for Sell Out is Saturday the 9th of February. That evening, we'll be playing at The Toff In Town with Francolin and Dot.AY. From that day onwards, there'll be physical copies available in selected record stores across the country, and also for order online (in digital format too) at snackswithyeo.bandcamp.com. There's a bunch of previous releases on Bandcamp too, for free or donation. Keep your eye on my website, yeo-yeo.com, for the latest information.
You can listen to a sample of Yeo's Sell Out below:
Yeo – Sell Out Album Launch
w/ Francolin and Dot.AY
Saturday 9th February – The Toff In Town
$10 on the door
Tickets: thetoffintown.com/shows
details: here.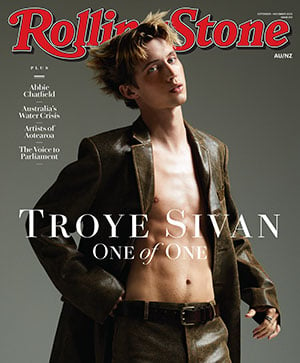 Get unlimited access to the coverage that shapes our culture.
Subscribe
to
Rolling Stone magazine
Subscribe
to
Rolling Stone magazine