As reported yesterday, Michael Chugg, Australian music industry figurehead and boss of the globally recognised Chugg Entertainment, lashed out commercial radio for their perceived lack of support of Australian music in his keynote address at the recent AWME conference.
"Mainstream radio will not fucking play Australian music until they have to. It's awful," noted the music mogul during the hour-long forum. "I'm sure eventually it will change, but it's very frustrating the short playlists and the domination international music has on commercial radio stations."
The alternative for supporting and encouraging Australian music has always been the all-important community radio stations, those broadcasters around the nation who continue to thrive more on their passion and programming than their meagre budgets and funding.
A recent report shows that in the twelve months since going digital, community radio has been going from strength to strength, and as The Music Network points out, the latest survey from McNair Ingenuity shows that a quarter of the Australian population are tuning in on an average week.
The figures show 4,446,000 listeners on an average cycle, with the figure rising to 10,611,000 when "occasional" listeners are taken into account, the results were taken from a survey of 9,250 people – nearly double the sample of last year's – showing that while most tune in for local news, the local music featured on community radio was the second highest reason people were listening.
The survey's figures and report also suggested that many preferred the alternative coverage and support coming from digital community radio in contrast to commercial radio.
Despite the considerable growth however, community radio's survival on the digital spectrum could be in jeopardy with the Community Broadcasting Association of Australia (CBAA) stressing that government cuts to its digital radio funding could mean that may have to switch off services in order to meet the black hole in the budget. "The level of funding committed by the Federal Government in the May 2012 budget is not sufficient to maintain the existing community digital radio services." – CBAA General Manger, Kathy Leach
As Radio Info reports, the government is considering pulling the plug only a year after 37 community stations went on digital air throughout Sydney, Melbourne, Brisbane, Adelaide, and Perth. The sector is concerned that it will not be able to meet its contractual obligations to pay the multiplex operators that broadcast community digital radio, and broadcasters estimate they need an extra $1.4 million in consistent funding to keep all services in five capital cities on air.
Popular community stations – including Melbourne's PBS and 3RRR, Sydney's FBi, Brisbane's 4ZZZ – Zed Digital, Perth's RTRFM, Adelaide's ThreeD and Radio Adelaide – are all part of the community sector under risk. The sector is entitled by legislations to a 2/9 share of each broadcasting multiplex, while commercial radio stations take the lion's share at over 5/9 to each multiplex.
While the commercial radio stations can look to advertising and other revenues to ensure they can 'meet the bills', community radio, by its very nature, is struggling to fulfil its financial obligations.
It's an issue that CBAA General Manager Kath Leach is prioritising, saying that the community sector's "continuing focus is to have that funding fixed… but we must also recognise that there are contractual arrangements with long notification periods… we need strategies to get us through this funding uncertainty."
Communications Minister Stephen Conroy responded to the concerns about switching off the community digital radio in a statement to RadioInfo that said the Government "recognises that the community broadcasting sector is unique in the broadcasting industry for its diversity, localism and commitment," but added that "whilst not providing additional funding to expand the coverage of community digital radio in this year's budget, the government has committed another $9.3 million over the next four years to allow the existing services in mainland capital cities to continue to operate."
Conroy noted that this was in addition to the $11.3 million already committed to establish community digital radio in the five mainland capital cities, adding "the government is also continuing to provide community broadcasters with access to spectrum free of charge."
But CBAA's Kath Leach retaliated by saying that the $11.3 budget and free access was a privilege also enjoyed by commercial radio. In her own statement, she conceded Minister Conroy's comments "re-affirms the Government's long-standing commitment to ensuring affordable access for the community broadcasting services on the digital radio platform;" but the funding allocated by the May 2012 budget (approx. $2.2m per year) is "not sufficient to maintain the existing community digital radio services launched in 2011.""The Australian Government recognises that the community broadcasting sector is unique in the broadcasting industry for its diversity, localism and commitment." – Communications Minister Stephen Conroy
Leach adds: "The funding shortfall of approximately $1.4m per year is not to expand the coverage of digital radio services but simply the funds required each year to meet the transmission and connectivity costs for digital radio services in those cities."
The respective statements from the Communications Minister and the General Manager come after the CBAA's annual conference, in which community digital radio representatives considered options to address the funding shortfall, including a single national feed, cutting back services in each city, looking at the switch off as a last resort to address the budgeting issues.
As Leach's statements says:  "There was unanimous recognition of the importance of maintaining free-to-air community digital radio services at the CBAA conference, and stations operating digital services were united and committed to maintaining a dialogue with Government to ensure services continue."
Stressing that "the diversity and depth that these services add to Australia's media landscape is especially critical at a time of broad scale media digitisation and re-structuring." Including keeping community digital radio free-to-air for listeners. Affirming that listeners "should not have to pay at an individual user level – by way of data charges – to access basic levels of media diversity in a digital environment. Part of the Digital Dividend should be utilised to preserve and protect free-to-air broadcast services."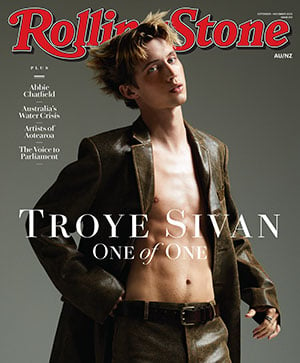 Get unlimited access to the coverage that shapes our culture.
Subscribe
to
Rolling Stone magazine
Subscribe
to
Rolling Stone magazine