The best songs that should replace the Centrelink hold music.
Years ago, Brisbane band Dick Nasty proclaimed 'I'm More Australian Than A Book Full Of Bush Poetry By Russell Crowe', but in recent months we've discovered what is quite possibly the most Aussie thing ever, and that's 'Smoko' by The Chats.
Yes, these Sunshine Coast lads have delivered what is undoubtedly an instant Aussie classic. Now, in anticipation of the group's upcoming show at the Miami Shark Bar this weekend, we've decided to take a look at the five songs that we reckon could replace the soundtrack for another typically Aussie experience: being put on hold by Centrelink.
'Smoko' – The Chats
A loving ode to what makes the 9-5 workday worthwhile, 'Smoko' shows The Chats embodying the annoyances of the average Australian, touching on themes of harsh summer heat, the frustration of Centrelink, and the annoyance of being bothered while on smoko.
Having formed just a few years ago, 'Smoko' has seen The Chats break into the public eye here in Australia, and gain fans all over the world thanks to their quirky, typically-Australian style. With the group having just scored a support slot for the Cosmic Psychos upcoming tour, they're scheduled to play at the Miami Shark Bar in Queensland this weekend. Supported by Israeli Chicks, Boing Boing and Cherry Pickers, this could be your last chance to see them as a small, up-and-coming band.
'Nice Day To Go To The Pub' – Cosmic Psychos
Speaking of the Cosmic Psychos… One of the most Aussie acts of the last few decades, the Psychos have made a name for themselves as one of the most loveable groups of Aussie blokes going around. One only need to take a look at their Blokes You Can Trust to see how many of the world's famous musos love these guys.
Coming off their 2011 album, Glorious Barsteds, 'Nice Day To Go To The Pub' sees the Cosmic Psychos singing a song about what they do best (apart from delivering awesome rock tunes). What better way to pass the time spent experiencing the monotonous hell that is the Centrelink hold queue than by listening intently to the Cosmic Psychos singing the praises of going to the pub, having a beer, and enjoying a schnitzel with chips and sauce. Only in Australia could this song work as well as it does.
Love Indie?
Get the latest Indie news, features, updates and giveaways straight to your inbox Learn more
'Carol' – The Peep Tempel
When The Peep Tempel released their second album, Tales, in 2014, few realised that it would contain one of the most Aussie songs we've heard in years. With a rough-as-guts voice that spews forth a uniquely Australian drawl, Blake Scott's lyrics in 'Carol' paint the picture of a bloke jealously calling out to the titular protagonist that Trevor is no good for her.
Despite the song's narrator coming off like somewhat of "a negative prick", the track has become a rock anthem of sorts, and undoubtedly serves as one of the most Aussie tunes released in a long time. Understandably, this anthem is enough to get your blood pumping enough to stave off the boredom experienced from one of the most quintessentially Aussie experiences out there – dealing with being placed on hold by Centrelink.
'Centrelink Kings' – Funkoars
Long before he was dominating the Aussie music scene with A.B. Original, Trials was cutting his teeth on the Adelaide hip-hop scene as a member of Funkoars. When the group first started back in 1999, they found themselves often looking for inspiration, and in 2002, they paid homage to one of their biggest influences, Centrelink, by releasing the appropriately-titled 'Centrelink Kings'.
"I'd have to say Centrelink was pretty influential," said Sesta back in 2014. "Hons would come to my house on cheque day and we'd finish a case of imported (from Melbourne) beer and a hot chicken. We passed it back and forth on a body board in a small wading pool we got from Cheap As Chips. Came up with a lot of ideas there, sort of."
'Piss Wreck' – King Parrot
Back in September, King Parrot dropped their high-octane single 'Piss Wreck', from their latest album Ugly Produce. As expected, the track saw King Parrot doing what they do best, delivering brutal music with an irreverent approach. This approach extended to the film clip for 'Piss Wreck', which, as the band explained, shows them "at the Dole Office and trying to pull the wool over the customer service representatives eyes. You can see this on any given Thursday at Preston Centrelink."
Soon enough, we see a happy ending to this whole situation, and the lads from King Parrot head straight for the bottle shop. Needless to say, after dealing with the bureaucracy of Centrelink and their marathon wait times, there's nothing more cathartic than heading down to your local and picking up a couple of cold ones.
'Get A Fucking Job' – Twelve Foot Ninja
Alright, this one might be a bit of a joke, but let's face it, it's the most honest version of the Centrelink hold theme we've heard in some time. Recorded for triple j, 'Get A Fucking Job' sees Twelve Foot Ninja delivering a piss-take of the infamous hold music by explaining that "We like to wank and make fun of ya, 'cause we are into that sort of shit. We're all lizard people from the illuminati just having a lend of you coz you're probably ripping bongs, watching tin foil hat YouTube clips all day." If anything, it at least confirms what we already thought.
The Chats @ Miami Shark Bar
(With Israeli Chicks, Boing Boing & Cherry Pickers)
Saturday, February 24th
Miami Shark Bar, Miami, QLD
More info: Facebook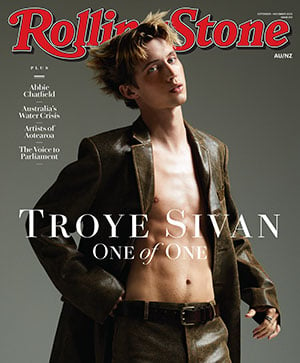 Get unlimited access to the coverage that shapes our culture.
Subscribe
to
Rolling Stone magazine
Subscribe
to
Rolling Stone magazine