Eight years ago, Simon Cowell hit the jackpot. Before him stood five teenage boys with abhorrent haircuts, a bit of singing talent, and stars in their eyes. Young and malleable, Harry Styles, Louis Tomlinson, Zayn Malik, Liam Payne and Niall Horan were strung together on the set of British X-Factor, ready to be made into cash cows superstars.
Today marks #8YearsOfOneDirection, the most iconic boyband of the decade.
After placing third on the "reality" TV talent show, One Direction rose from the ashes, with puppet master Simon Cowell using wads of cash to fan the flames. Not only did he funnel enough money to undoubtedly end world hunger into the boyband, but he also utilised the strongest resource of all: fans.
In their first feature-length film One Direction: This Is Us, Cowell revealed how he used social media to grow the groups fanbase, by enlisting what he called "superfans", aka teenage girls who would rabidly post about new artists on social media. Their growth throughout the online community meant a grassroots following of dedicated young fans, and their continual rapid rise to the top of the pop pile.
Sure, the five boys have vocal talent. They're pretty good looking. They have a giant label behind them. However, there is no way this group of five young men could have possibly achieved the success they have without their devoted legion of 'Directioners'.
People love shitting on teenage girls. Whether it be because of the music they listen to, the way they dress or their interests, for some reason wider society doesn't take a lot of young women seriously.
We get it. The feverish outpouring of love by fans for their favourite musicians can often be taken too far. Social media has aided the development of unhealthy attachments to celebrities and a toxic fan culture rife with cyberbullying. If you're able to look past these negative things though, it's hard to ignore the impact that teenage girls have on the music industry.
They are the market. They are the ones with disposable income, active Twitter accounts and time that can be dedicated to 'stanning' their favourite musicians. A label can pour all the money they have into an artist, but if fans don't purchase their music, request radio play, buy merch, and essentially provide free publicity on social media, an artist isn't going anywhere.
Say what you want about fangirls, but at some point teenage girls likely bankrolled the careers of your favourite musicians too.
So happy 8 Years of One Direction everyone! Hope you've all spun this ripper tune at least once today.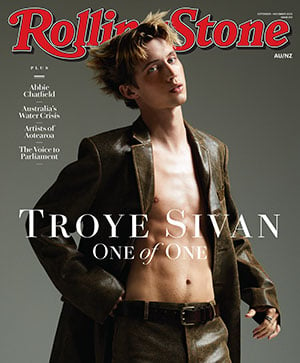 Get unlimited access to the coverage that shapes our culture.
Subscribe
to
Rolling Stone magazine
Subscribe
to
Rolling Stone magazine