Amanda Palmer waltzes on stage in a kimono with a glass of wine in one hand, a mic in the other, and announces "we're going to kick this show in the dick!"  Indie's enfant terrible has created a live show unlike any other, bursting with infectious energy and irreverence.
Palmer's unconventional approach to performance is clear right from the get go, as she introduces every support act and guest performer in her show, and later includes them in her own set.
No stranger to controversy, Palmer is currently touring her 2012 album Theatre Is Evil.  This album gained infamy before it was even released, when Palmer raised over one million dollars via crowdfunding, and gave a widely debated TED Talk titled 'The Art Of Asking.'
Palmer is undoubtedly a polarising artist, whose outspoken feminism and self-aware exhibitionism have earned her as many detractors as dedicated fans.  What sometimes seems forgotten in the hype is that she is simply a remarkably talented musician and performer.
The sold out Melbourne show kicks off with support act Die Roten Punkte, a comedy cabaret punk band.  Performers Astrid and Otto sport terrible German accents, and look like The White Stripes gone wrong.
Tongue-in-cheek tunes are interrupted by argumentative and risqué repartee.  In their final song "Ich Bin Nicht Ein Roboter (I Am a Lion)", Die Roten Punkte are joined by Palmer, sporting a "fuck Tony Abbott" shirt that gains shouts of approval, and various members of The Grand Theft Orchestra, for a riotous song and dance party.
Sabrina D'Angelo follows, a "body poet" who performs a bizarre and amusing form of modern mime.  Jherek Bischoff, a Grand Theft Orchestra member, plays an extraordinary looped piece on bass guitar, followed by an intricately looped solo ukulele piece, which he originally composed for renowned contemporary classical Kronos Quartet.  Bischoff's music is poignant without becoming saccharine, grounded in well-crafted melodies.
Brendan Maclean, musician, Triple J radio broadcaster and lover of '80s dance moves, gives an accomplished performance, including a ukulele medley of Katy Perry songs.  The gig's audience is nearly as diverse as the guest performers; the crowd looks like an exodus from Brunswick, full of circus skirts and technicolour hair.
Amanda Fucking Palmer and the Grand Theft Orchestra's set starts with a stomping rock opening, as Palmer wantonly chucks flowers into audience.  Palmer is crowd surfing by the first song, the anthemic "Do It With A Rockstar".
Palmer's two-hour-long set ranges widely from old Dresden Dolls favourites like raucous cabaret "Missed Me", to new solo songs like the punchy rock "Want It Back".  With its four members playing mostly guitars and drums, the Grand Theft Orchestra resembles a band more than any conventional orchestra.  The musicians clearly enjoy making music together, crafting a strong sound to complement Palmer's primeval and powerful voice.
Palmer keeps the audience entertained with witty banter and tales of hijinks at Cherry Bar.  She kindly helps an audience member find her mum, quipping "I bet the Sex Pistols never did this".  Palmer is a veteran performer, calmly handling a problem with her ukulele by joking "my uke is out of tune for political reasons".
The set includes performances from guests Kate Miller-Heidke and Missy Higgins.  The former plays an amusingly foul-mouthed song dedicated to her "narcissistic arsehole" ex, in a startlingly angelic voice.  Higgins delivers an acoustic unfinished song in a velvet voice.
Ever the extrovert performer, Palmer wears the three bras tossed at her from the audience, on top of her trademark corset.  Her provocative, upbeat "Map Of Tasmania" turns into an audience singalong, as does the charming cover of "I Love You So Much" by Aspergers Are Us' Noah Britton.
Palmer's show covers a wide range of feeling, from effervescent humour, to the melancholy of a Bat For Lashes cover sung with Maclean, to the musings on art in the tongue-in-cheek polemic "Gaga, Palmer, Madonna".
The audience is delighted when Palmer announces she will return to Melbourne to live with husband Neil Gaiman for some time in 2014, and sings "St Kilda To Fitzroy" inspired by Paul Kelly's "From St Kilda To Kings Cross".
After the audience thunders the house down asking for an encore, Palmer's stage transforms into a dazzling festival featuring the plethora of guest performers, dancing and belting out "Sweet Dreams" by the Eurythmics, followed by Palmer's cabaret anthem "Leeds United".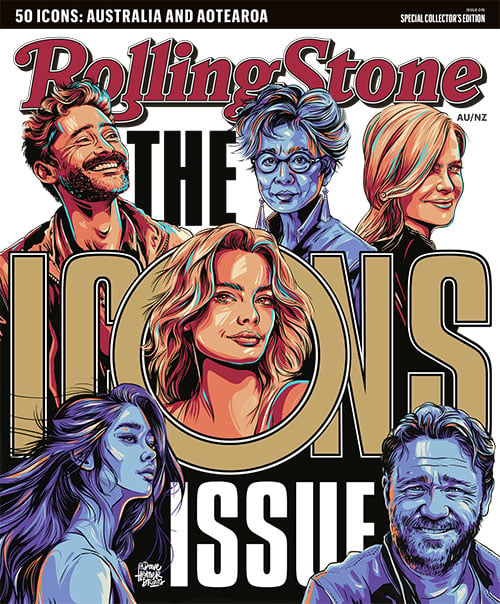 Get unlimited access to the coverage that shapes our culture.
Subscribe
to
Rolling Stone magazine
Subscribe
to
Rolling Stone magazine