A number of prominent female musicians have sounded off on the state of the Aussie music industry as a male-dominated 'boys club' that makes it harder for them to gain recognition.
The celebrated likes of singer-songwriter Megan Washington, successful vocalist Tina Arena, and veteran performer Jenny Morris have hit out at the unfair treatment of female artists in the Australian music industry in a Sydney Morning Herald article.
"The challenges women have to face in the music industry [are similar] to the challenges women have to face in most industries predominantly run by men," says Washington, who's been working on the follow-up to her ARIA-winning debut album. She likens the music scene's gender imbalance to that found in freight and logistics, in which her own mother works.
While the 27-year-old concedes that musicians are often recognised for their talent and merits rather than their sex, she adds, "when you start dealing with labels and publishers and venue managers, booking agents and bouncers that's where there's a disconnect." Especially in the discussions held in the corridors of power that often exclude women; "I think it's largely to do with language, [especially] sports metaphors," she says.
"It is very difficult to be a female in the industry in Australia, yes absolutely," agrees Tina Arena, who has spent the better part of 20 years living overseas to cultivate her singing career, dividing her time between Australia and France.
"There are a hell of a lot more stumbling blocks in your path and whether they are there purposely or not women have to work unbelievably hard to have recognition in this country because it is predominantly an industry that is run by men," adds Arena, who was voted as the best Aussie female singer in a public poll earlier this year, ranking #3 behind John Farnham and Jimmy Barnes. "It is very difficult to be a female in the industry in Australia, yes absolutely."
Despite the public recognition, Arena emphasises that making it internationally and even cultivating an Australian presence means splitting time between home and abroad, an idea shared by musical commentator Glenn A. Baker; "Where's the evidence of females who have made it overseas while they've been based here and I'm thinking 'ummm'. There aren't any," he says.
"History shows that to really make it overseas for a female it's almost essential to go there and stay there," Baker continues. "It's been very very difficult for any Australian artist to make it overseas, but that's exacerbated if you are a woman."
Arena's criticisms of the Australian music industry include a lack of support for females from commercial radio, a point agreed upon by Jenny Morris – former frontwoman of 80s band The Crocodiles and current APRA figurehead – who agrees that mainstream radio still focuses on vintage male acts, such as INXS, Midnight Oil, and AC/DC.
"It's very rare to hear women played back to back on the radio where male artists get played back to back as a rule," says Morris. "If we cannot have more women at the top of the ladder in record and publishing companies, online delivery providers and in radio, we will never get the percentages [in radio airplay] even," she adds.
Morris's sentiments echo those of MusicNSW Executive Officer Kirsty Brown, who earlier this year questioned the lack of female presence in key music bodies; "The ARIAs, AMPs, AIRs and APRAs have all faced the same challenge: why so many dudes?"
Specifically referencing the nominees for the recent 27th Annual ARIA Awards, Brown counted "only 18 women receiving individual nominations across all 27 categories." "My take is that the last couple of years at the ARIAs, and music in general, has been heavily female dominated."
But her tally excluded the mixed gender presence of nominated bands like Big Scary, San Cisco, and The Preatures, whose sole female member, Isabella Manfredi counteracts the view that the popular Awards body is under-representing women.
"My take is that the last couple of years at the ARIAs, and music in general, has been heavily female dominated," Manfredi told Tone Deaf in a recent interview about The Preatures' making in-roads internationally, along with the likes of Melbourne singer-songwriter Courtney Barnett and the recently Grammys-nominated, female-fronted Hiatus Kaiyote.
The Preatures singer-songwriter concedes that the condition of women in the industry is "a vast and complex issue," but that it's not as dismal as some are claiming.
"All you have to do is look at the last few years at the ARIAs to know that it's been a huge couple of years for women in music. Megan Washington won Best Breakthrough Artist a few years ago. Lisa Mitchell, Sarah Blasko, and Kate Miller-Heidke have all performed," says the singer. "The Vanda and Young Songwriting Competition has been won all three times by women," including Manfredi herself, who took the $50,000 first place prize earlier this year.
Washington is also positive about the situation improving for the perceived gender divide, telling SMH that a broad trend towards "female empowerment" in Australia would encourage a shift; also applauding female artists in Australia for not catering to the overtly sexualised pop antics of their international brethren, "that makes me really proud and gives me hope," she says.
It's a topic that's founded heated debate in recent months in regards to the claims of sexism and racism levelled against Lily Allen over her lampooning of Miley Cyrus, Rihanna and similar pop stars and music video tropes.
A younger vanguard of female musicians has also taken a stand in the ongoing gender debate; 17 year old New Zealand sensation Lorde declared "I'm not a spreadsheet with hair" in a sophisticated and striking anti-sexism editorial about her swift rise to fame, while Chvrches singer Lauren Mayberry penned a poignant piece that tackled the misogyny she regularly faces in the music industry.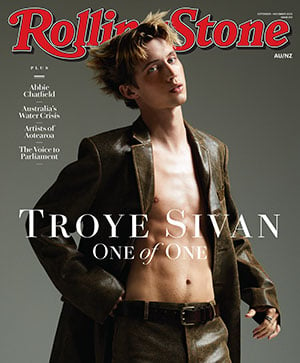 Get unlimited access to the coverage that shapes our culture.
Subscribe
to
Rolling Stone magazine
Subscribe
to
Rolling Stone magazine