ARIA has this morning revealed its Top 100 list of the highest selling singles and albums for 2012, and while its the kind of list typically dominated by commercial mainstream and pop acts, there's some healthy statistics to be gleaned showing that the selling power of Australian acts is still relatively healthy.
"It's been a fantastic year on the ARIA Charts, where we've been introduced to new artists, both local and international, along with some exciting new music," remarked ARIA CEO Dan Rosen of the highest selling lists.
"Our Australian artists performed exceptionally well this year on the Charts, in particular Guy Sebastian, Missy Higgins, The Temper Trap, Justice Crew, Karise Eden, Reece Mastin and Hilltop Hoods, who all had #1's. After such a great year, I look forward to what lies ahead on the ARIA Charts in 2013," says Mr Rosen
Beginning with the Top 100 Albums Chart, Australian artists represented 27% of the total list, which was topped by Pink's The Truth About Love, which represents the second time in three years the American entertainer has achieved such a feat.
One Direction came in at #2 with sales exceeding three times platinum, while Adele's 21 took out the bronze position. The first Australian showing comes from the winner of The Voice, Karise Eden, coming in at #6 (just behind popular UK singer-songwriter Ed Sheeran and his album +) with her double platinum selling album My Journey.
Fellow reality television contest alumni Guy Sebastian also featured in the Top 10, achieving double platinum sales with Armageddon at #9. Hilltop Hoods trailed behind at #13 with Drinking From The Sun, while the soundtrack to independent Australian movie The Sapphires proved its longevity at #15.
Melbourne hip hop superstar 360 came in at #17 with the critically and commercially lauded Falling & Flying, with Keith Urban ranking next at #19 with The Story So Far, making for six Aussie artists earning albums in the Top 20 list.
The upper reaches of the list also featured popular international successes like The Black Keys (at #11 with El Camino), Mumford & Sons (#12 Babel), Lana Del Rey (#14 Born To Die), and Florence + The Machine (#16 Ceremonials), but sitting just outside the Top 20 was The Ol' Razzle Dazzle, Missy Higgins' comeback album, ensuring her enduring popularity with the Australian public."It's been a fantastic year on the ARIA Charts, where we've been introduced to new artists, both local and international…" – Dan Rosen, ARIA CEO
Two more popular Aussie acts The Temper Trap and Gotye, who acted as successful ambassadors overseas in 2012 as well as scooping the ARIAs back home, had their respective sophomore efforts – The Temper Trap and Making Mirrors – come in at #33 and #39 respectively.
Australia's other huge international success story, Tame Impala and the strong presence and dominance of their second album Lonerism, ( which conquered the the hearts and ears of the Tone Deaf audience in our Readers Poll) was only meagrely reflected by the record-buying public, scraping in at #94.
The likes of Cold Chisel, Boy & Bear, and Delta Goodrem fell just inside the Top 50 (at #44 – #46 respectively), while slightly further down the rank came rising rock outfit The Rubens, with their self-titled debut claiming the #56 slot, while Sydney beat-maker Flume's own eponymous record was close behind at #57.
Angus Stone's folk stylings earned him the #67 position with his solo album Broken Brights, Parkway Drive's Atlas – which recently earned Gold status sales – ranked at #83, The Presets' third album Pacifica at #96.
Classic acts also proved popular, including The Seekers (#56 The Golden Jubilee Album), Crowded House (#90 The Very Best Of Crowded House), a second showing from Cold Chisel (#76 No Plans), and AC/DC's first live album in 20 Years, Live At River Plate came in at #81.
Rounding out the remaining list are Hillsong Live's Cornerstone compilation (at #85) and a number of pop reality TV acts, including Samantha Jade (#59), Darren Percival (#91), and two albums from Reece Mastin (#54 & #69).
While the album representation was strong from Australian acts, making up more than a quarter of the Top 100 list, singles-wise, Australians were less successful, with a paltry 11 acts featured, which rather depressingly is two more acts than in 2011.
The coveted #1 spot went to Canadian pop sensation Carly Rae Jepsen and her global hit 'Call Me Maybe', staving off Korean Youtube phenomenon 'Gangnam Style' by Psy, both singles that sold close to nine times platinum during the last twelve months.
Gotye's world-conquering 'Somebody That I Used To Know' however, curiously flagged in the rankings. Despite the ubiquitous duet with Kimbra being named the highest selling single in America and UK, it came in at just #40 on Australia's own chart.
Guy Sebastian instead flew the flag for Australia, landing in the #3 with his Lupe Fiasco featuring track 'Battle Scars', while Justice Crew joined Sebastian in the Top 10 at #7 with their former #1 hit 'Boom Boom'. Matt Corby's Into The Flame EP qualified as a single release, which off the back of the inescapable 'Brother' was catapulted to #13.
360's 'Boys Like You' featuring Gossling landed just inside the top quarter of the list at #23, while fellow hip hop icons Hilltop Hoods and their own Sia featuring hit 'I Love It' complemented at #66. Pop songstress Delta Goodrem's 'Sitting On Top Of The World' – best known as the track that 'liberally borrowed' from Arcade Fire's 'Rebellion (Lies)' – clocked in at #49; while fellow pop performers Samantha Jade and Timomatic charted with their own singles at #74 and #83 respectively.
The singles chart rather accurately reflects a number of things about the Australian buying public, while many are perhaps turning to the popular streaming services like Spotify to get their singles fix, as shown in ARIA's recently launched streaming singles chart. Those that are still paying for individual songs and downloads are perhaps strongly influenced by the tastes and trends of commercial radio.
Chiefly because the statistics reflect the rather disastrous lack of Australian presence on the recent poll of the 100 most played songs on mainstream radio.
The results from last December of the Music Network's Hot 100, which annually polls commercial radio to list the most heard songs on Australian airwaves, demonstrated that mainstream broadcasters are failing dismally at supporting local talent, showing they're not getting the much-needed exposure and support they need.
Luckily, community radio is more than picking up the slack, particularly given the crucial contribution of the Australian Music Radio Airplay Project (AMPRAP). Since its launch in 2008 over 4.4 million Australians have tuned into community radio every week, and AMRAP has helped facilitate a 5% lift in Australian music airplay on community radio nationally, bringing the average up to 37%.
Though it was staring down the barrel of oblivion due to lack of funding, luckily, AMRAP has ensured its survival for the time being with a financial injection of $250,000 from the federal government, less than a week before it was due to run completely out of funding.
For the full Top 100 lists, head to the next page.

ARIA End Of Year Top 100 Albums Chart
Australian acts in bold.
1 THE TRUTH ABOUT LOVE P!nk
2 UP ALL NIGHT One Direction
3 21 Adele
4 CHRISTMAS Michael Buble
5 + Ed Sheeran
6 MY JOURNEY Karise Eden
7 RED Taylor Swift
8 TAKE ME HOME One Direction
9 ARMAGEDDON Guy Sebastian
10 BIRDY Birdy
11 EL CAMINO The Black Keys
12 BABEL Mumford & Sons
13 DRINKING FROM THE SUN Hilltop Hoods
14 BORN TO DIE Lana Del Rey
15 THE SAPPHIRES Soundtrack
16 CEREMONIALS Florence + The Machine
17 FALLING & FLYING 360
18 BANGARANG EP Skrillex
19 THE STORY SO FAR Keith Urban
20 MERRY CHRISTMAS, BABY Rod Stewart
21 MYLO XYLOTO Coldplay
22 THE OL' RAZZLE DAZZLE Missy Higgins
23 MYTHOLOGY Bee Gees
24 OVEREXPOSED Maroon 5
25 DOO-WOPS & HOOLIGANS Bruno Mars
26 NORTH Matchbox 20
27 TEENAGE DREAM: THE COMPLETE CONFECTION Katy Perry
28 SOME NIGHTS fun.
29 BELIEVE Justin Bieber
30 HERE AND NOW Nickelback
31 SORRY FOR PARTY ROCKING LMFAO
32 GRRR! The Rolling Stones
33 THE TEMPER TRAP The Temper Trap
34 TRIPLE J'S LIKE A VERSION 8 Various
35 TORCHES Foster The People
36 STANDING OVATION: THE GREATEST SONGS FROM THE STAGE Susan Boyle
37 CELEBRATION DAY Led Zeppelin
38 UNORTHODOX JUKEBOX Bruno Mars
39 MAKING MIRRORS Gotye
40 ULTIMATE HITS: ROCK AND ROLL NEVER FORGETS Bob Seger
41 THE AWAKENING James Morrison
42 GREATEST HITS…SO FAR!!! P!nk
43 TRIPLE J'S LIKE A VERSION 7 Various
44 THE BEST OF COLD CHISEL – ALL FOR YOU Cold Chisel
45 MOONFIRE Boy & Bear
46 CHILD OF THE UNIVERSE Delta Goodrem
47 BLUNDERBUSS Jack White
48 PINK FRIDAY…ROMAN RELOADED RE-UP Nicki Minaj
49 LIVING THINGS Linkin Park
50 VOWS Kimbra
51 NOTHING BUT THE BEAT David Guetta
52 STRONGER Kelly Clarkson
53 SIGH NO MORE Mumford & Sons
54 BEAUTIFUL NIGHTMARE Reece Mastin
55 MY HEAD IS AN ANIMAL Of Monsters And Men
56 THE RUBENS The Rubens
57 FLUME Flume
58 THE GOLDEN JUBILEE ALBUM The Seekers
59 SAMANTHA JADE Samantha Jade
60 CALIFORNIA 37 Train
61 HITS Seal
62 TALK THAT TALK Rihanna
63 GREATEST HITS Foo Fighters
64 THE STORY OF MY LIFE – ULTIMATE COLLECTION Michael Crawford
65 WILD ONES Flo Rida
66 THE ULTIMATE COLLECTION Whitney Houston
67 BROKEN BRIGHTS Angus Stone
68 UNAPOLOGETIC Rihanna
69 REECE MASTIN Reece Mastin
70 19 Adele
71 THE ULTIMATE COLLECTION Creedence Clearwater Revival
72 SCARY MONSTERS AND NICE SPRITES Skrillex
73 THE 2ND LAW Muse
74 THE ULTIMATE BEE GEES Bee Gees
75 PLANET PIT Pitbull
76 NO PLANS Cold Chisel
77 TUSKEGEE Lionel Richie
78 CHANNEL ORANGE Frank Ocean
79 18 MONTHS Calvin Harris
80 #3 The Script
81 LIVE AT RIVER PLATE AC/DC
82 WRECKING BALL Bruce Springsteen
83 ATLAS Parkway Drive
84 COEXIST The XX
85 CORNERSTONE Hillsong Live
86 HEAVEN Rebecca Ferguson
87 BETWEEN TWO LUNGS Florence + The Machine
88 ROCKET MAN: THE DEFINITIVE HITS Elton John
89 NOTHING BUT THE BEAT ULTIMATE David Guetta
90 THE VERY VERY BEST OF CROWDED HOUSE Crowded House
91 HAPPY HOME Darren Percival
92 APOCALYPTIC LOVE Slash Feat. Myles Kennedy And The Conspirators
93 STORYTELLER – THE COMPLETE ANTHOLOGY: 1964-1990 Rod Stewart
94 LONERISM Tame Impala
95 WASTING LIGHT Foo Fighters
96 PACIFICA The Presets
97 BORN AND RAISED John Mayer
98 BATTLE BORN The Killers
99 NEED YOU NOW Lady Antebellum
100 OWN THE NIGHT Lady Antebellum
ARIA End Of Year Top 100 Singles Chart
1 CALL ME MAYBE Carly Rae Jepsen
2 GANGNAM STYLE Psy
3 BATTLE SCARS Guy Sebastian
4 WHISTLE Flo Rida
5 WILD ONES Flo Rida Feat. Sia
6 STARSHIPS Nicki Minaj
7 BOOM BOOM Justice Crew
8 SKINNY LOVE Birdy
9 THRIFT SHOP Macklemore & Ryan Lewis Feat. Wanz
10 DON'T YOU WORRY CHILD Swedish House Mafia Feat. John Martin
11 PAYPHONE Maroon 5 Feat. Wiz Khalifa
12 WE ARE YOUNG fun. Feat. Janelle Monae
13 INTO THE FLAME EP Matt Corby
14 LEGO HOUSE Ed Sheeran
15 SOME NIGHTS fun.
16 GOOD TIME Owl City Feat. Carly Rae Jepsen
17 WHAT MAKES YOU BEAUTIFUL One Direction
18 ONE MORE NIGHT Maroon 5
19 WE ARE NEVER EVER GETTING BACK TOGETHER Taylor Swift
20 HALL OF FAME The Script Feat. will.i.am
21 BANGARANG Skrillex
22 ONE THING One Direction
23 BOYS LIKE YOU 360 Feat. Gossling
24 PARADISE Coldplay
25 EARTHQUAKE Labrinth Feat. Tinie Tempah
26 BOM BOM Sam And The Womp
27 I KNEW YOU WERE TROUBLE Taylor Swift
28 LOCKED OUT OF HEAVEN Bruno Mars
29 I CRY Flo Rida
30 NEVER LET ME GO Florence + The Machine
31 FEEL THE LOVE Rudimental Feat. John Newman
32 DIAMONDS Rihanna
33 ASS BACK HOME Gym Class Heroes Feat. Neon Hitch
34 SET IT OFF Timomatic
35 WIDE AWAKE Katy Perry
36 THROW YOUR HANDS UP Qwote Feat. Pitbull
37 SEXY AND I KNOW IT LMFAO
38 LITTLE TALKS Of Monsters And Men
39 BACK IN TIME Pitbull
40 SOMEBODY THAT I USED TO KNOW Gotye Feat. Kimbra
41 I WON'T LET YOU GO James Morrison
42 LONELY BOY The Black Keys
43 DIE YOUNG Ke$ha
44 TURN ME ON David Guetta Feat. Nicki Minaj
45 PART OF ME Katy Perry
46 DON'T WAKE ME UP Chris Brown
47 SCREAM & SHOUT will.i.am Feat. Britney Spears
48 BLOW ME (ONE LAST KISS) P!nk
49 SITTING ON TOP OF THE WORLD Delta Goodrem A
50 HEY HEY HEY Laurent Wery Feat. SwiftKid
51 TRY P!nk
52 SPECTRUM (SAY MY NAME) EP Florence + The Machine
53 WHERE HAVE YOU BEEN Rihanna
54 PUMPED UP KICKS Foster The People
55 SWEET NOTHING Calvin Harris Feat. Florence Welch
56 DRIVE BY Train
57 TURN ALL THE LIGHTS ON T-Pain Feat. Ne-Yo
58 SHE WOLF (FALLING TO PIECES) David Guetta Feat. Sia
59 SUMMER PARADISE Simple Plan
60 YOUNG, WILD & FREE Snoop Dogg & Wiz Khalifa Feat. Bruno Mars
61 I LOVE IT Hilltop Hoods Feat. Sia
62 BOYFRIEND Justin Bieber
63 I LOVE IT Icona Pop
64 FIGHT FOR YOU Jason Derulo
65 TURN UP THE LOVE Far East Movement Feat. Cover Drive
66 TAKE CARE Drake Feat. Rihanna
67 A THOUSAND YEARS Christina Perri
68 BEAUTY AND A BEAT Justin Bieber Feat. Nicki Minaj
69 GIRL ON FIRE (INFERNO VERSION) Alicia Keys Feat. Nicki Minaj
70 TURN UP THE MUSIC Chris Brown
71 WE'LL BE COMING BACK Calvin Harris Feat. Example
72 LET ME LOVE YOU (UNTIL YOU LEARN TO LOVE YOURSELF) Ne-Yo
73 THE FIGHTER Gym Class Heroes Feat. Ryan Tedder
74 WHAT YOU'VE DONE TO ME Samantha Jade
75 GOOD FEELING Flo Rida
76 LEVELS Avicii
77 LIVE WHILE WE'RE YOUNG One Direction
78 AS LONG AS YOU LOVE ME Justin Bieber Feat. Big Sean
79 DON'T WORRY BE HAPPY Guy Sebastian
80 THIS IS LOVE will.i.am Feat. Eva Simons
81 MIND YOUR MANNERS Chiddy Bang Feat. Icona Pop
82 WINGS Little Mix
83 IF LOOKS COULD KILL Timomatic
84 HOW WE DO (PARTY) Rita Ora
85 PARTY ROCK ANTHEM LMFAO Feat. Lauren Bennet & GoonRock
86 COUNT ON ME Bruno Mars
87 POUND THE ALARM Nicki Minaj
88 I'M ALL YOURS Jay Sean Feat. Pitbull
89 WE FOUND LOVE Rihanna Feat. Calvin Harris
90 I WILL WAIT Mumford & Sons
91 THE A TEAM Ed Sheeran
92 BOTH OF US B.o.B Feat. Taylor Swift
93 MOVES LIKE JAGGER Maroon 5 Feat. Christina Aguilera
94 SCREAM Usher
95 HANGOVER Taio Cruz Feat. Flo Rida
96 INTERNATIONAL LOVE Pitbull Feat. Chris Brown
97 BROKENHEARTED Karmin
98 DEDICATION TO MY EX (MISS THAT) Lloyd Feat. Andre 3000 & Lil Wayne
99 STRONGER (WHAT DOESN'T KILL YOU) Kelly Clarkson
100 LIVE MY LIFE Far East Movement Feat. Justin Bieber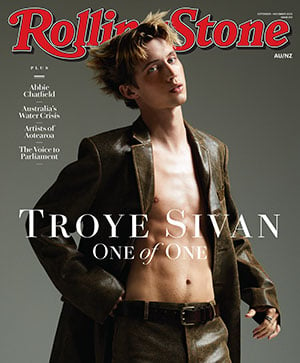 Get unlimited access to the coverage that shapes our culture.
Subscribe
to
Rolling Stone magazine
Subscribe
to
Rolling Stone magazine