The Big Day Out for 2012, supposed to be a celebration of 20 years since the original Big Day Out, has instead turned out to be something of a nightmare for promoter Ken West. Ticket sales have been lacklustre, loyal heavy rock fans feel betrayed, his business partner made a quick exit, and three of the dates have been scaled back.
Now in a candid interview with the New Zealand Herald, West explains how the festival was nearly cancelled, how New Zealand was supposed to be pulled, and that the rumours of Eminem, Blink-182 and Prince were true but didn't eventuate into an actual booking.
"We got asked over a year ago by Prince's representation to say, 'We really want to do the Big Day Out'," he told the paper. "At the same time we had Blink 182 chasing us for a year, saying, this'll get Travis (Barker) on a plane. Neither happened. It just kept going to the end of the line and nobody ever really said, 'No'."
West also chased Eminem for the headline spot but the rapper had no interest in doing a large-scale touring festival. "It was la la land to think he could ever do the Big Day Out," said West. "Even though we offered $6 million."
But the biggest blow to West was when his business partner of over 20 years, Vivian Lees, decided to abandon ship after the backlash over social media proved too much for him. The final straw was when the first ticket sales reports came in, cementing Lees decision to quit.
The underlying problem this year, claims West, was that "with the 20th year [anniversary of the event] we were trying so hard to deliver the impossible." West eventually suggested to Lees that they take a year off from the troubled event, but Lees wasn't open to the idea. But when fans took to social media to publicly voice their division over the two eventual headliners in Soundgarden and Kanye West — a reaction that was confirmed in ticket sales — Lees decided he'd had enough.
"When we went through the process, I said 'It has to go forward,' explains West. "My business partner decided after it went on sale — he looked at all the figures and decided that he didn't want to do it ever again. It was over. I was prepared to wear whatever losses might be involved this year to get through, [Lees] wasn't. So I ended up with twice the amount of losses to get through."
Love Eminem?
Get the latest Eminem news, features, updates and giveaways straight to your inbox Learn more
"If you look at the line-up…it's a great show," he said. "But it's in the context of what it is. What I successfully managed to do, without any choice, really, is to piss off the heavy rock fans by actually having Kanye close [the festival]. And then get all the vitriol from Facebook. Which is part of the reason why my 58-year-old [business partner] — it went on Friday Saturday, he turned 58 on Saturday, Monday he wanted to turn it all off — he couldn't deal with it. This show is actually victim of Facebook abuse."
"[Lees] took it all in. Everybody said, 'Don't look at that stuff.' But what did happen is that the Kanye supporters were quiet. They weren't really vocal [in saying], 'Great, Kanye's on [the bill]," until he was off [in Perth and Adelaide]. So it pissed off the heavy rock fans, and then pissed off the Kanye fans. So I've managed to piss off everybody. Without being able to do it any other way."
"When my business partner pulled out, the show was basically over. Or was over for three days, totally," he said. "As I went through this process as basically a receiver of my own event with the international acts — principally the Soundgarden and Kanye people — there was a great deal of confusion, anger and lots of contract waving. Until I just went, 'Well actually, we're the three biggest stake holders now. For this event. The two biggest acts and myself.' And so what came down at the end of the day was, I had to nurture what we all needed."
West also blamed the current climate of the Australian festival scene for some of Big Day Outs woes. "It was kind of a perfect storm." he said. "The competition levels in Australia went crazy; the bidding wars went crazy; everything got bidded up. Two years this is going to go on for. Maybe about only another six months. Until the Northern Hemisphere understands the Southern Hemisphere isn't just a place to come down and take money back home."
"You're in this quandry of you're trying to do something that's important to the local scene," says West. "But other people are just trying to cherry-pick the things that work out of your event, get rid of all the subtleties and the value [add-ons] on the day. Be it silent discos or all that kind of stuff that goes on, [things] that aren't selling tickets. Because it comes to the point that, if it's not on the poster and it doesn't look like it's going to sell any tickets, [people think] it's not there. And that's the danger zone of festivals because that's not what a festival is about."
But really we're all still lucky to even have the Big Day Out, it was supposed to be retired permanently after the festival took a year off in 1998. "[After] '97 I stopped [and] I wasn't actually coming back. It was just too hard. That was meant to be the end of it. It wasn't a year off, it was gone. Didn't want to do it again. It was putting too much pressure on my nerves, my life. It was a small group of people. It was putting everything I own on the line every year — my home, everything."
Listen to the whole interview below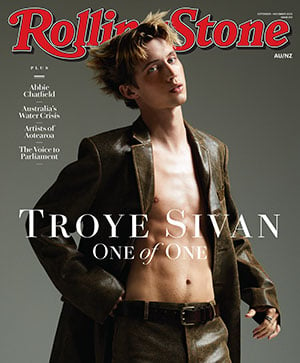 Get unlimited access to the coverage that shapes our culture.
Subscribe
to
Rolling Stone magazine
Subscribe
to
Rolling Stone magazine