Coming from a country such as Australia, it can be easy to take it for granted that most of the music that is both popular and available to us is performed in the English language. But have you ever wondered about all those fantastic artists you're missing out on because they don't exclusively sing in English?
To celebrate Latin American superstar Juanes' upcoming Australian tour, which also features a huge appearance at Bluesfest later this month, we've decided to take a look at some of the best artists who have done their best work in a language other than English. While some of these artists have of course dabbled in English during their careers, you'll find the vast majority of their work is in their mother tongue.
Juanes
No matter how you slice it, Colombia's Juanes is undoubtedly one of the biggest musicians in the world, even if his name hasn't crossed your radar too often. Ever since first entering the world of music 30 years ago, Juanes has managed to sell over 15 million records in his career, and even won 20 of the 26 Latin Grammy Awards that he's been nominated for. Needless to say, that's the sort of career not many would see even if they were around for 60 years.
With only seven albums under his belt, Juanes has also made a name for himself as one of the most enjoyable live acts around. With an immersive and charismatic performing style, Juanes' shows are often sold out affairs which fans often rate among the best they've seen. Let's face it, with 15 million records sold and countless awards to his name, he must be doing something right.
Sigur Rós
Forming in Reykjavík, Iceland in 1997, Sigur Rós have since become one of the world's most revered members of the post-rock genre. With a stunningly ethereal style of playing, the group's music makes use of both Icelandic lyrics, and their own, made-up language called Vonlenska, which is described by the band as "a form of gibberish vocals that fits to the music". Whatever the case, there's no denying the beauty of the music that Sigur Rós creates.
Ana Tijoux
Born in France to Chilean parents, Ana Tijoux first rose to fame as the leader of Chilean hip-hop group Makiza in the '90s. Leaving the group in 2006 to form a solo career, Tijoux's music has seen her unapologetically confront themes of civil unrest, equality, and government resistance, leading to her being noted as one of the most prominent musical commentators in Latin America.
Gogol Bordello
Formed by frontman Eugene Hütz following his arrival in America after leaving the Ukrainian SSR, Gogol Bordello is a mix of global cultures so varied that its hard to pinpoint what style of music they actually play. Often described as "gypsy punk", Gogol Bordello's music has seen the group sing in a wide variety of languages, including English, Russian, Spanish, Ukrainian, and Romanian.
Famed for their constant international touring and mind-blowing live shows, Gogol Bordello have truly gained themselves a fanbase made up of members of countless countries around the world, just like the membership of the band itself.
Wyclef Jean
To many, Wyclef Jean might be known as one third of hip-hop legends the Fugees, but to others, he's one of the most diverse and intriguing artists in recent decades. Born in Haiti, but finding fame in the United States, Wyclef Jean is well-versed in a number of languages, including French and Haitian Creole. But it was a rather famous freestyle of his that showed him showing off how how talented he is at spitting bars in different languages, effortlessly switching between French, German, English, Japanese and Spanish during his spot.
Kraftwerk
Often named as pioneers of the electronic music genre, Germany's Kraftwerk made themselves known as one of the most innovative groups of the '70s and '80s. With their music shifting between a mix of German and English (with many albums being released in both English and German versions), Kraftwerk's influence stretched far beyond the world of electronic music, with many of today's rock musicians citing the group as inspiration for their current sound.
Tinariwen
Tinariwen formed in Algeria back in 1979, but didn't manage to return to their native Mali until a ceasefire was announced in the '90s. Upon returning, the group began to find a more widespread level of fame for their highly socially-conscious music, resulting in them releasing their first album in 2001.
Having since released a total of seven albums, Tinariwen are often cited as one of the greatest groups in the 'world music' genre, while their social activism is seen as unrivalled by many political commentators.
Shakira
While Shakira might be known for some of her huge pop hits that soundtracked many high school discos during the early '00s, many might not realise her career began years earlier. In fact, Shakira's first album was released all the way back in 1991, but it wasn't until 2001 that this Colombian superstar began to perform in a language other than Spanish.
Since then, Shakira has recorded seven more albums, though she has dipped back into Spanish to record the entirety of 2005's Fijación Oral, Vol. 1, the majority of some of her recent records, and to lay down some alternative versions of her more mainstream hits as well.
Shonen Knife
Having formed back in Osaka, Japan in 1981 after being inspired by numerous punk and pop groups of the '60s and '70s, Shonen Knife have found themselves unprecedented levels of fame in the ensuing decades, even being cited as Kurt Cobain as one of his favourite bands. With their years of relentless international touring, the group often alternate between singing in English and Japanese, though many hardcore fans will tell you it is their Japanese songs that show the band at their best.
Rammstein
It's hard to look at the metal genre without mentioning Rammstein, the German legends whose live shows are just as spectacular and fiery as the music they create. Having released six albums in their almost-quarter century existence, the band have amassed a worldwide following that is among one of the more dedicated fanbases out there. While they haven't released an album since 2009's Liebe Ist Für Alle Da, fans are eagerly awaiting this long-overdue seventh record.
Juanes Australian Tour 2018
Monday, April 2nd
Enmore Theatre, Sydney, NSW
Tickets: Bluesfest
Wednesday, April 4th
170 Russell, Melbourne, VIC
Tickets: Bluesfest
Also appearing at Bluesfest
Thursday, March 29th – Monday April 2nd, 2018
Byron Bay, NSW
Tickets on sale now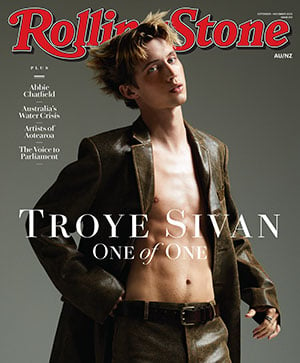 Get unlimited access to the coverage that shapes our culture.
Subscribe
to
Rolling Stone magazine
Subscribe
to
Rolling Stone magazine