The lack of gender diversity on festival lineups has been spoken about for so long now that it's amazing there has been no change. Considering that it's a known issue that is frequently discussed, numerous festival lineups around the world are being criticised for their lack of bands featuring female members. Now, Melbourne's Camp Cope have hit out at the organisers of Falls Festival for their gender bias.
While it's no secret that females are frequently left off of festival lineups in favour of their male counterparts, bands such as Camp Cope have been doing their best to make a stand and make sure their voices are heard when it comes to this matter.
Recently, the band dropped their single 'The Opener', which criticises the mindset of misogynistic gig promoters. With powerful lyrics such as, "It's another man telling us we can't fill up the room/It's another man telling us to book a smaller venue/'Nah, hey, c'mon girls we're only thinking about you'/Well, see how far we've come not listening to you/'Yeah, just get a female opener, that'll fill the quota'," the band have been making people stand up and listen for this ridiculous inequality.
Now, the band has used their recent spot on the Falls Festival lineup to criticise the beloved festival for their lack of gender diversity.
Taking to Instagram yesterday, the band posted two videos of their set at the Byron Bay leg of the festival. The first of which, showing the band performing their track 'The Opener', is captioned with the phrase "it's another festival saying we can't play a main stage," and shows singer Georgia Maq changing the lyrics to "It's another man telling us we can't fill up a tent, it's another fucking festival booking only nine women."
The band also shared another video, this time consisting of a performance of their track 'Lost (Season One)', and captioned with lyrics to the song, stating "maybe they'll never get it," before adding in "putting women higher on a bill."
UPDATE: Falls Festival organisers have since responded to the band's claims, with festival co-producer Jessica Ducrou issuing a statement to The Music.
"We book the best bands available at the time of booking taking gender balance into consideration, which can be challenging," Falls Festival's statement reads.
"Whilst we have a very conscious and strong agenda to book female talent, it isn't always available to us at that headline level. We have a long term strategy, which is present on this year's Falls line up, of giving opportunities to new and middle range female Australian artists, to nurture and grow the future pool of female headline options.
"We support the core message of gender balance and have been working towards a more balanced line up at Falls. We have seen other bands who are passionate about this topic go out and started their own events where they have total control of the line-up, with great success and we applauded their initiative. Taking control yourself, is a great way to effect change."
While the band are yet to make any sort of statement in regards to this, we can only hope that this is just another step in the right direction for concert promoters and bookers to start realising that female acts are just as capable as their male counterparts, and can draw just as a big of a crowd.
Check out Camp Cope's 'The Opener':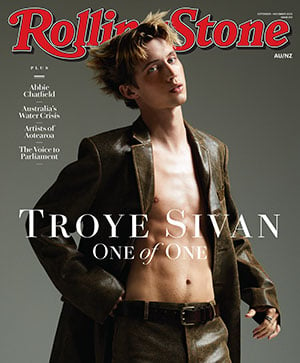 Get unlimited access to the coverage that shapes our culture.
Subscribe
to
Rolling Stone magazine
Subscribe
to
Rolling Stone magazine