Since bursting onto the international stage in 2014 with single 'Bridges' New Zealand's brother-sister duo BROODS have been flat out. Touring with their first EP and later debut album in the US and Europe with the likes of Haim and Ellie Goulding, even making appearances on American TV and late night talk shows.
After a massive 2015 the band seeming disappeared off the face of the earth before re-emerging with a fresh new single 'Free' as well as a sophomore album in the works. We caught up with Caleb, one half of BROODS, to chat about the bands downtime and the new music they're bringing to eager fans.
"We've been off the grid" explains Caleb of the bands absence. "doing a bit of writing and finishing off the album I guess. Getting everything sorted to come back with a bang".
Just before the bands departure from the public eye, Georgia and Caleb were honoured by their fans in New Zealand at the 2015 New Zealand Music Awards, taking home awards for Album of the Year, Best Group, Best Pop Album and Radio Airplay Record of the Year.
Caleb was understandably humbled by the experience. "It was pretty surreal to be recognised for all the hard work you've put into your project".
"You've put everything you've got into it so to have that recognition from New Zealand is awesome, it means a lot to us". With the benefit of time off the radar the band returns with the promised bang in the form of single 'Free'.
The new sound and visual style of the video have rich meaning for the siblings, Caleb explains that "it's kind of an anthem for the underdog. Not being pushed around by anyone to do anything you don't want to do".
Known for their visually metaphoric videos, the group have managed to set the bar even higher with 'Free'. A distinctly different visual style Caleb muses that "I think this is by far the best video we've ever done. It's very industrial, very full on hectic kind of song".
In the interest of continually raising the bar the group have recently made the move out to LA. Caleb feels that this is the best way for BROODS to take their music to the next level.
"We want to be more involved in writing with other people" he said explaining the recent move.
"We want to learn more and we wanna' grow as musicians and artists, and to learn you need to be surrounded by the best and the best of them are there".
'Free' is out now via Universal. For more info on the duo pop by BROODS' Facebook page for more info.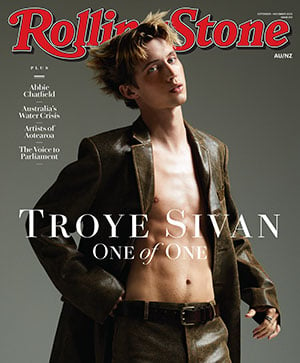 Get unlimited access to the coverage that shapes our culture.
Subscribe
to
Rolling Stone magazine
Subscribe
to
Rolling Stone magazine