England has Glastonbury. America has Coachella. These two titans of the music festival world have enormous crowds and equally gigantic lineups in common.
Their popularity is well known and with Coachella's online streaming bringing us even closer to the event then ever before it's becoming increasingly harder to deny the appeal of seeing so many of the world's best musicians in the one place.
While witnessing these acts with around 75,000 other people or so might not be ideal to some Coachella has gained its plaudits through its booking abilities and the event's tendency to provide unforgettable live moments.
Few other festivals provide the highlights and headlines that a hologram Tupac and a R.Kelly/Phoenix collaboration have caused in years past.
This is after the fact that the lineups have already put the music world into a spin with band's like Jane's Addiction, The Postal Service, Pixies, Iggy and The Stooges, Rage Against The Machine, The Jesus And Mary Chain and Pavement who all reunited around the time their Coachella booking was announced.
From the beginning Coachella has always been able to produce bills of the mouth-watering variety. Even though the inaugural 1999 event suffered financial difficulties – which many consider the reason behind its no show in 2000 – they still put together Beck, The Chemical Brothers, Morrissey, Tool and Rage Against The Machine on the one lineup.
The 2001 event moved to a single day in April, however it wasn't until the two-day format returned in 2002 and 2003 that Coachella started making waves abroad.
Love Rage Against The Machine?
Get the latest Rage Against The Machine news, features, updates and giveaways straight to your inbox Learn more
Perhaps the combined effort of putting Bjork and Oasis side by side one year and the Chili Peppers, Beastie Boys and the reunited Iggy and The Stooges the next was what allowed Coachella to eventually transform into one of the world's biggest music events.
2005 saw the festival sell out for the first time with a 50,000 capacity per day courtesy of Pixies, Radiohead, The Cure, The Flaming Lips and Kraftwerk. As more stellar lineups continued over the years 2007 saw Coachella move to three days.
With minor hiccups along the way (including a non-sell out 2008 year) Coachella's popularity continued to snow ball. So much so that the organisers decided 2012 would see the festival run over two weekends. A trend they started which other festivals, such as Austin City Limits, have mimicked since.
With the aforementioned names it's little surprise Coachella's popularity has ballooned.
And regardless of whether or not you have the endurance for festival crowds or love the party atmosphere there are few opportunities for seeing this amount of high calibre acts in the one (or two) weekend.
Lineup

It should be no surprise to see the Grammy winning Canadian outfit headline the Sunday of this event. Last year's guerilla promo blitz and subsequent praise for their fourth studio album, Reflektor, was inescapable. The buildup to the headline set of the final day of both weekends will be supplemented by the ever prolific Beck, dance maestro Calvin Harris, the recently reunited Neutral Milk Hotel and headline stealer Lana Del Ray.
However the big news to come out of the lineup announcement was the confirmation of Big Boi and Andre 3000's reformation as Outkast. No less exciting is the billing of Swedish duo The Knife who will play songs from 2012's sublime Shaking The Habitual outside of Europe for the first time.
Day two will see rock titans of two very different varieties in Muse and Queens Of The Stone Age bring the raw guitar power of their latest releases to the masses.
While on a slightly smaller scale Flume, Jagwar Ma, The Preatures, Empire Of The Sun, Flight Facilities and Anna Lunoe will add some homegrown tunes into the mix.
As always Coachella in 2014 is just as mammoth as past editions. Check out the full lineup here.
Where And When

View Larger Map
Coachella Valley Music and Arts Festival is located at the Empire Polo Club in Indio, California in the Inland Empire's Coachella Valley.
The first weekend of the event will run from 12th to the 14th of April, while the second 2014 edition will be held a week later from the 19th to the 21st of April.
How To Get There
Depending on the length of your holiday and whereabouts you fly into America your route to the Californian festival will differ. However we'll assume that you'll be making your way there via Los Angeles as most flights into the States go through the City of Angels and due to its relative close proximity to the event.
You can fly to LA through Qantas, Delta Airlines, Singapore Airlines, Virgin Australia and Emirates amongst others.
The following are estimated return airfares from major Australian cities that were available at the time of writing.
Adelaide: One-stop flights via Melbourne are valued upwards of $1700.
Brisbane: Direct flights start from $2600, while one-stop flights are valued upwards of $1500.
Melbourne: Direct flights start from $1700, while one-stop flights are valued upwards of $1700.
Perth: One-stop flights are valued upwards of $1800.
Sydney: Direct flights start from $1800, while one-stop flights are valued upwards of $1200.
From LA ticket holders have the option to hire a car and drive. If you choose so you should follow these directions:
Interstate 10 East towards Palm Springs. Pass Highway 111. Exit 10 at Jefferson Street or continue on and exit at Monroe Street. Travel South. Traffic personnel and/or signs will direct cars to the Empire Polo Club, and event parking & camping.
Otherwise the bus option might just be more cost effective. Greyhound and Crucero both provide services to Indio with the shuttle bus service departing nearby at the Indian Wells Tennis Club. Just remember to purchase an "Any Line, Anytime Shuttle Pass" when you're buying your tickets.
Where To Stay

The camping site is located adjacent the festival area on a nice grass field that is a little less dusty than you might expect for a festival in the desert. The area opens from 9am Thursday and closes at 12 on Monday of each weekend.
There are four different camping options and all include showers, free wifi, phone charging stations, a general store, portable toilets and hand washing stations and recycling.
Car camping for cars, utes or vans are valued at US $85, while the companion car parking option for an additional car load of people is worth $30.
Standard tent camping comes in at the same price as car camping and same goes for the companion tent camping.
Lake Eldorado is a camping option of pre-prepared tee pees that are a little more luxurious than the standard camping option. A four-person tent and four festival passes will set you back $3400. A two-person tee pee and two festival passes are worth $2000. VIP tickets can be purchased with these options for $450 extra per person.
If you want to take your festival experience a step further than the Safari Tent option is the way to go. Located in a secluded area with fully furnished air conditioned tents you'll also get an onsite concierge, private car parking, breakfast and late night snacks, outdoor lighting, games and more. The price for these luxuries? Just a keen $6500 (tickets included) for two people is all it requires.
If the above doesn't suit your needs there are hotels listed in the area that might be worth checking out. We recommend you take a look at Coachella's own listings over at their website to start hunting down the accommodation that's perfect for you.
How To Get Tickets
Tickets to Coachella are now on sale  with general admission and camping having already sold out. There are still some packages available.. You can check ticket availability here!
Insider Tips & Tricks/Things You Shouldn't Miss

We're betting on the fact most Australian ticket holders will be sleeping in the cattle class camping area. Even still the bare minimum that this festival offers is far greater than most. Apart from the aforementioned amenities that the camping area provides you'll also be able to shop for food at a certified farmers market, get massages, do pilates or yoga, play dodgeball, shop for clothing and flex your own creative tendons at the Coachella Art Studios.
If that's not enough there are shuttles available between 7am-1pm to supermarkets just in case you've forgotten anything. There are $10 VIP showers at your luxury, while the Silent Dance Party will keep you entertained from 1.30-3.30am.
In 2013 Coachella teamed up with ZIA Record Exchange to offer punters a place to purchase new and used records and CDs. Three record store day exclusives were sold both weekends with ZIA also in charge of the artist signings tent. Expect a similar arrangement to occur in 2014.
You probably don't need the point emphasized but Coachella is about as massive as music festivals come. Which is why we suggest you download the official app to plan your schedule. The map included is also extremely handy, however if you're smart phone deficient you can check out it here.
If food is important to you then we suggest you check out this link. It'll be updated closer to the event with the full list of 2014's vendors, but you can bet that much like last year vegetarians, vegans, gluten free eaters and meat lovers alike will all be catered for. From the 1920s style cocktail bar to the local restaurants at The Terrace you won't be left wanting for some delicious grub.
There are ATM's at Coachella but we recommend you take a sizeable amount of cash if you want to avoid the hefty fees that are ridiculous even for Americans let alone international travellers.
As those who witnessed Jimmy Kimmel's excellent trolling of festival goers with fake band names will know a lot of punters unfortunately head to the event just to show off their 'fashun' (or lack thereof). While minimal clothing might be okay under the valley sun during the day by nightfall you'll be freezing. Be smart. Dress in layers.
Last but not least the festival gates open at 11am each day and this will be the first of many long lines to come. So be patient, wear sunscreen, stay hydrated and have fun.
For more details head to Coachella's official website.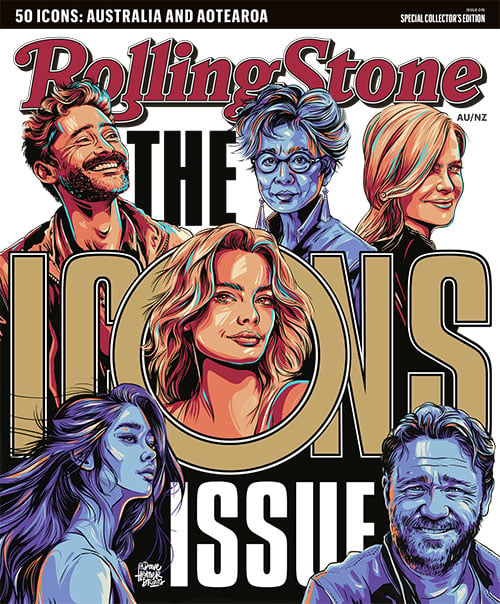 Get unlimited access to the coverage that shapes our culture.
Subscribe
to
Rolling Stone magazine
Subscribe
to
Rolling Stone magazine