What do you get when you combine the vocals of one of Australia's best blues musicians with the prolific talents of one of America's most famous alternative blues-rockers? Well, apparently you get the new album from Jack White, according to a new teaser released today.
Yes, Jack White has been alluding to his third solo LP for quite some time now, having previously confirmed he was at work in the studio, releasing new single 'Battle Cry' back in April, and then admitting back in October that the "bizarre" new record was "practically done". Now, we've received an even further update.
Released today, Jack White unleashed a four-minute teaser video out into the world. The clip, titled 'Servings and Portions from my Boarding House Reach', seems to be a collage of sounds involved in the new record (which may or may be called Boarding House Reach), set to some rather erratic visuals. Needless to say, the choppy nature of the clip makes it hard to listen to and watch, but there's a little secret in there for those who listen closely, especially around the 2:40 mark.
Yes, if you listen closely you can hear a rather familiar voice in the mix. Yes, that's C.W. Stoneking, one of the Northern Territory's finest bluesmen showcasing his chops. With Stoneking having covered The White Stripes' back in 2008 for his Like A Version performance, it was no secret that he was fond of Jack White, but it's wonderful to see that White has returned his admiration.
As The Music notes, they reached out to Stoneking's management for confirmation of the guest appearance, and were told that it is indeed him singing. Considering we only just heard this one clip, it's hard to say how much of a feature C.W. Stoneking has scored on LP #3, but we can only assume this has to be one heck of a career highlight.
At this stage, we're waiting for further details about the release of Jack White's new album, but we're pretty sure that when it drops, it's going to be one of the highest-selling vinyl releases of the year.
Check out C.W. Stoneking covering The White Stripes' 'Seven Nation Army':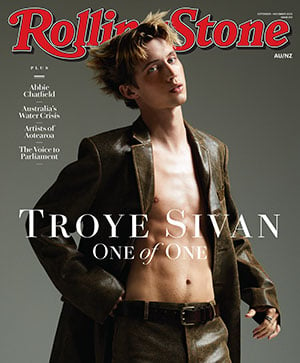 Get unlimited access to the coverage that shapes our culture.
Subscribe
to
Rolling Stone magazine
Subscribe
to
Rolling Stone magazine