Review: Download Festival Australia at Flemington Racecourse, Melbourne, March 24 2018
When the first-ever Download Festival was announced to be taking place in Australia this year, music fans were understandably ecstatic, and after the festival's long-awaited debut yesterday, it's easy to see why.
For years, fans of rock and metal music in Australia found themselves rather spoiled in the first few months of the year, with annual festivals like the Big Day Out and Soundwave making the rounds each year, bringing with them a healthy dose of local and international acts who were more than eager to showcase their rough-and-tumble sounds come festival season.
Sadly, with both of these fests falling by the wayside in the last few years, festivals such as UNIFY Gathering tried their best to step in and provide a suitable alternative for Aussie audiences. However, when it was announced in October of 2017 that Download Festival was finally coming to Australia, metal fans finally realised their prayers had been answered.
As eager fans made their way to Melbourne's Flemington Racecourse yesterday, they were met with some of the worst weather that this fine city had seen all year. This sea of long hair and black tattoos almost became part of a literal sea as unrelenting rain made the festival's first few hours a rather miserable experience.
However, as soon as the grounds began to flood with the musical masses, concerns of the wild weather were put to on the backburner in favour of some of the finest heavy bands that Aussie music fans had the pleasure of witnessing. While local acts such as High Tension, Clowns, Ocean Grove, and Northlane helped to warm up these shivering punters with their wild performances, some international visitors soon became the place to be for many in attendance.
Over on the Avalanche Stage, Los Angeles' Bad Cop/Bad Cop were hard at work delivering their political punk sentiments to a very intrigued crowd. With influences of pop punk and alt-rock shining through, the group's highly-talented members switched between vocalists to treat listeners to a full-on punk assault as they tore their way through a stunning set.
Love Rage Against The Machine?
Get the latest Rage Against The Machine news, features, updates and giveaways straight to your inbox Learn more
Meanwhile Of Mice & Men showcased their metalcore sound to a main stage audience with crushing riffs, pounding rhythms, and raw, primal vocals added to their set, which also included a cover of Pink Floyd's classic hit 'Money'.
The Red Stage was soon darkened by a bunch of Swedish musicians who appeared before the crowd to announce, "We are Sabaton, we play heavy metal," before jumping into their first Australian show in five years. With big solos, soaring vocals, and plenty of moshing fans, Saboton made sure their set was one of the most memorable of the early afternoon.
Back on the Avalanche Stage, Newcastle's Trophy Eyes delivered an absolutely stunning set which saw them showcase their genre-defying sound to one of the most dedicated crowds of the day. Tearing through plenty of their best known hits, including 'Chlorine' and 'Hurt', the band proved themselves to be one of the day's homegrown highlights as they played one of their first shows following some time off to record their new record.
Back on the Black Stage, France's Gojira played their first live show in close to half a year as they showed off a thunderous sound which was accompanied by pyrotechnics, unrelenting rhythms, and dissonant guitars which were so loud that they became the first band to put a noticeable strain on the festival's sound system. Of course, fans who had been waiting to see the band for quite some time were placated as the band made sure to promise that they'll do their best to return to Aussie shores more frequently in the future.
Over on the Dogtooth Stage, a rather small crowd gathered to watch American metalcore band Issues show their stuff. With frontman Tyler Carter employing some rather confronting vocals along with his remarkable stage presence, the group performed a full-on aural assault to their fans, who ate up every second of the band's set.
Back over on the Red Stage, Viking metal legends Amon Amarth took to the stage to show off the sound that has made them become a household name in the world of melodic death metal. With the group's brutal sound on full display, complemented by the incredibly deep vocals of frontman Johan Hegg, all of the band's members seemed far too happy to be performing in Australia for a group that sounded as dark and menacing as they did.
Soon, a huge crowd began making their way over to the Avalanche Stage to see Welsh pop-punk group Neck Deep perform a blistering set which featured huge singalongs, powerful breakdowns, and plenty of crowdsurfing. It was clear the band were performing with as much passion as they could possibly muster as they tore through such songs as 'In Bloom', which was understandably one of the biggest crowd favourites for their set.
The Black Stage soon saw metal royalty Mastodon take to the stage, showing why they're considered one of the best groups in the genre around today. Fresh from a Grammy win for their track 'Sultan's Curse' (which opened their stunning set), it was clear that all this fame and recognition had done nothing to hamper Mastodon's ability to deliver a show so well-received that fans would undoubtedly be buzzing for days afterwards.
Back on the small Dogtooth Stage, the controversial Falling In Reverse returned to Aussie stages for the first time in two years to deliver a high-energy performance that saw the entirety of their huge audience seemingly singing every word to every one of their songs. However, following a couple of sound issues, fans found themselves witnessing one of the day's most unique moments, as they became part of a video call with Papa Roach frontman Jacoby Shaddix, who shared his love for the excited Aussie crowd before Ronnie Radke found himself almost roped into partaking in the traditional shoey.
By this point, one of the largest crowds of the day to this point had gathered over on the Red Stage for Good Charlotte's pop-punk stylings. With almost every song performed by the band being met with rapturous applause and huge singalongs, it was clear that Good Charlotte were playing to one of their most receptive crowds ever. With huge singles included 'The Anthem', 'Girls & Boys', and 'Dance Floor Anthem' filling the air, fans soon made it obvious that Good Charlotte needed to be more of a constant presence on Aussie stages.
Meanwhile, the Avalanche Stage was playing host to Californian punk legends Suicidal Tendencies, who showed why they're one of the most influential punk bands of the last 30 years, as they played through some of their most beloved tracks, including 'Subliminal', 'Possessed To Skate', and 'Cyco Vision'. Sadly though, many of those in attendance began to filter out after the band's biggest hits, leaving them finishing their set to an all-too small crowd.
However, it soon became clear that these audience members were making their way over to the Black Stage, where nu-metal legends Limp Bizkit were getting ready to show off the classic performance style that made them household names at the end of the '90s. With DJ Lethal back in the fold, Fred Durst, enigmatic guitarist Wes Borland, drummer John Otto, and touring bassist Tsuzumi Okai played through some of the group's most enduring hits as if they had been released just yesterday.
Following the intense moshing that began following the classic introduction of 'Hot Dog', Durst declared that there "ain't no party like a Melbourne party," as he ventured into the crowd to perform, with tracks such as 'Rollin", 'My Generation', 'Break Stuff', 'My Way', and even a cover of 'Smells Like Teen Spirit' all getting an airing.
As the intensity of Limp Bizkit began to die down, it was picked right back up by the mere presence of supergroup Prophets Of Rage over on the Red Stage, whose membership consists of musicians from the legendary Rage Against The Machine, Public Enemy, and Cypress Hill. With huge political cuts including 'Testify', 'Take The Power Back', 'Insane In The Brain', and 'Bring The Noise' all seeing some huge applause, fans became aware that they were in the presence of something special just by being part of this performance.
As guitarist Tom Morello showed off signs on his guitar, which included "Fuck Trump" and the Australian Indigenous flag, the group then paid tribute to late Soundgarden vocalist Chris Cornell, by way of a sneaky snippet of Audioslave's 'Cochise', and an instrumental performance of 'Like A Stone'. This stellar set soon culminated in a huge performance of Rage Against The Machine's 'Killing In The Name', with many becoming aware that this is quite possibly the closest they will ever get to seeing Rage performing live. Needless to say, the sound of thousands of fans chanting "fuck you, I won't do what you tell me" in unison is a goosebumps-inducing experience.
As Prophets Of Rage played through their set, Hot Water Music were busy playing to one of the smallest crowds of the day at the Avalanche Stage, a huge shame for one of the most vital punk bands of the '90s and '00s. With frontman Chuck Ragan showing off his trademark gravelly voice to some dedicated fans, the group continued to play their heart out, understandably trying to make sure that they everyone not in attendance would be jealous of what they missed out on.
Back over on the Black Stage, Korn took to the stage for their one and only Aussie show. The first time the group had played in Australia since Soundwave in 2014, they more than made up for lost time as frontman Jonathan Davis pushed his voice to the limit to perform some of their biggest hits, including 'Falling Away From Me', 'Made Me Bad', and the stunning 'Got The Life'. With the band's huge sound a brilliant way to end out music on the festival's main stages, it's clear to see why, 25 years after first forming, Korn are still one of the biggest nu-metal bands on the planet.
Meanwhile, punk legends NOFX closed out proceedings over on the Avalanche Stage with their trademark irreverences, showing exactly why they're one of the most beloved punk bands in the world. With a blistering 18-song set in the space of an hour, guitarists Eric Melvin and Aaron "El Hefe" Abeyta, and bassist "Fat" Mike Burkett (who presented himself in a dress along with his trademark mohawk) traded classically-immature jokes between each other while plowing through a stunning set of the band's hits and recent classics.
After punters had waited so long for Download Festival to finally make its Aussie debut, it's more than clear this was truly the start of something wonderful for the local festival scene. While there's no definite word as to whether the festival will be making a return trip in 2019, it's more than clear that this year left almost everyone in the audience counting down the days until we see an offical announcement about the festival's future.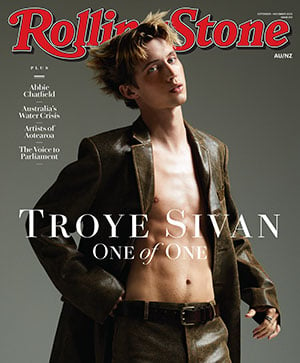 Get unlimited access to the coverage that shapes our culture.
Subscribe
to
Rolling Stone magazine
Subscribe
to
Rolling Stone magazine