There's no need to worry about being forgiven for sins when confessing to this particular Father. Josh Tillman – more commonly known as former drummer for Seattle's Fleet Foxes or as the solo artist "J. Tillman" – is  now Father John Misty, and he is a monster.
"No, seriously, I am. Put a microphone in front of me and I'm totally insufferable. It's even more so now with Father John Misty, if you can imagine it," says Tillman.
Fear Fun is the debut album under this new moniker and Tillman will return to Australia for the second time in 2012, after touring with Fleet Foxes over the summer, as a part of Splendour in the Grass, along with a couple of sideshows as well.
After seven solo, mostly mournful, long players as J. Tillman, Fear Fun is a breath of bluntly crisp and wickedly delicious fresh air and its creator has welcomed the change.
"I feel like I'm not even playing guitar these days. I'm really enjoying being able to focus all my attention on making sure the audience is having the greatest night of their life and not worrying about this weird piece of wood strapped to my body," explains Tillman.
The J. Tillman act fooled everybody; his fans, the industry heavyweights and critics alike fell for the "tortured soul" (albeit to quiet critical acclaim). It even threw the man himself off the musical path he thought he was on. After realising his in between-song banter entertained audiences better than the actual music did, it "was a bit of a sobering realisation; I hadn't realised it was as simple as putting that energy into the songwriting process;" and thus, Father John Misty was born.
"With the J. Tillman music, my personality, my outlook, my brazenness, my humour, all of that was in direct opposition to the music I was making – the very serious, very sombre, very vulnerable stuff. As I've gotten older (Tillman has recently celebrated his 31st birthday), I just love not having to answer to this person who wasn't me."
"It's easy," reasons the newly christened John Misty, "it's just really easy for me to get in front of an audience and do what I'm doing now. I don't have to go into this other headspace in order to pull it off. It's even much easier doing interviews and every aspect of this whole thing is a little easier because I don't have to put on any kind of act."
Tillman is enjoying his newly found self in every art form available to him. It began with the novel he wrote in Laurel Canyon, a piece of fiction titled Mostly Hypothetical Mountains, about bedbugs among other unexpected oddities, and the three film clips we've been graced with from the album (for "Nancy From Now On", "Hollywood Forever Cemetery Sings" and "This Is Sally Hatchett") are slices of twisted, cinematic genius. Tillman stars in each of them.
"The film clips are the realisation of dreams I've had; lucid dreams, more often than not." His dreams appear to include a manically drugged young girl (played by Parks and Recreation's Aubrey Plaza) crashing a funeral wake, a shroom-obsessed pizza shop owner being accosted by three beautiful-but-lethal women; and a relationship between a genteel man and a lady specialising in BDSM.
"Like, I met Aubrey Plaza at a party, for example, and (Los Angeles) is just the kind of place where everyone's talking about doing stuff. It sounds unbelievable but it's an innocent sort of place. If I said to my friends in Seattle, 'Oh, I want to do this video for this song,' they'd be like, 'Pffft, Josh, that's a stupid idea;' but here everyone is like, 'Oh cool, yeah, let's do it!'"
Tillman "fucking loves acting" (indeed, he has some screen time coming up later in the year) and he decrees the Californian luxury hotel, Chateau Marmont, as "one of the last relics of a classier time than the one we live in today; it's one of my favourite places."
His love for Los Angeles and its surrounds is reflective in almost every track off Fear Fun and gives the album a sure sense of location. Whilst drenched in West Coast Americana folk-and-country rock, it's not twangy enough to be of the often irritating Deep South variety of country music. But it's a hell of a pleasing leap from the mild folk fans may be used to hearing from Tillman.
"A lot of my previous music, in retrospect, really wasn't intended for much of an audience; it was really awkwardly vulnerable or something live," reflects the formerly serious troubadour. "It's best suited for listening alone, not really for an entertaining night out. With this music, I was bearing in mind it was for someone to hear and that informed the element of humour. You know, it just sounds like something someone would say to another human being and I think there's something engaging about that for the audience to realise, 'Oh, he's talking to me about him!'"
He continues, "It's my job to turn a lukewarm audience into an enthralled audience. Some of these early tours, they've been really fun because people don't really know what to expect out of it." Does he use that opportunity to "be a monster", in his own words? "Somewhere deep down in the most evil parts of my soul I know how to work an audience and the best way to never play is to just make sure you turn every audience into some kind of riot."
If you caught a Fleet Foxes show over the December 2011 – January 2012 period, you'll remember the harmlessly sardonic drummer almost stealing the show with his wit. Now that the stage belongs to him solely, you'll not want to miss one of Josh Tillman's own shows, relishing his charmingly self-loathing sense of humour – in both song and in presence.
Fear Fun is out now through Sub Pop. Father John Misty plays Splendour In The Grass at the end of July and two sideshows in Melbourne and Sydney. Full dates and details here.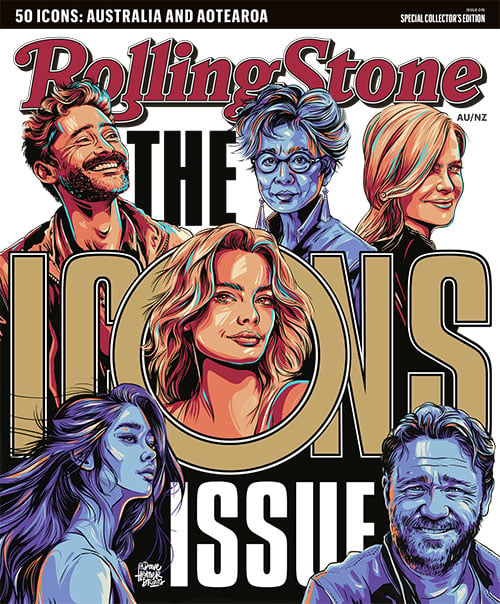 Get unlimited access to the coverage that shapes our culture.
Subscribe
to
Rolling Stone magazine
Subscribe
to
Rolling Stone magazine